Moving to Thailand will turn you Gay
Notice how many gays, lady boys, toms, lesbians there are in Thailand? Have you also noticed how many straight heterosexual guys there are that come to Thailand and end up sleeping with men? Now when I was young I was pretty prejudice, if we thought some kid at our school was gay or anyone gay for that matter we'd kick the shit out of them make their life miserable to the point they'd have no friends basically a living hell. So in the west we'll have this saying in the closet and out of the closet yet in Thailand they don't have a closet you can basically be whoever you want without ridicule and without a bunch of homophobes beeting you up.
Thailand isn't the only country like this either amazingly China has the same culture of Gay and lesbians as Thailand does in fact it's probably even more open then it is here. In China there's so many single dudes being gay may be the only option and since there's so many single girls in Thailand stands to reason why there is so many lesbians as well. But what about all the foriegners who come here. I honestly beleieve that a lot of dudes come to Thailand have never even thought about being gay then arrive in Thailand and somehow change their sexuality.
Now I'm not gay no interest in that and even if it were Ploy the best looking ladyboy in Thailand I gotta be completely open and say I just would never go there. But Thailand does something to people, I believe coming to Thailand can make you gay.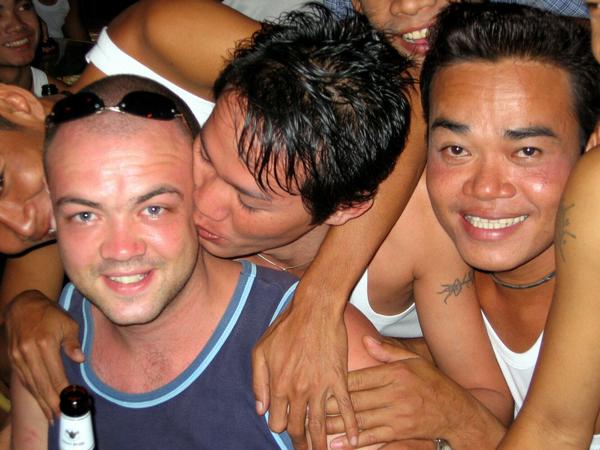 Earlier I mentioned how in the west we'd beet up gay kids and even if you didn't do it yourself you know other people who did. Damn must be hard on them they probably should have lived in Thailand because at Thai schools you don't get ridiculed as much as you do in the west and certainly you don't have to look over your shoulder that some dude is gonna crack you on the skull because of your own sexuality. It's not really a Thai Trait to really hate on someone else, Thai's are no way near as agressive as we are in the west!
I know a guy we used to hang out a bunch we'd go on double dates with really hot thai girls and there was never any hint he was gay or liked ladyboys until one day we're up on Tapae road on our way home late at night and he stops and picks up a ladyboy. Before I could get a chance to ask him what the F' are you doing he speads off and enjoys the night with his man dressed as a woman lover.
Now you know this is Thailand and I'm trying to live Thai so I don't want to judge or anything but it just makes me curious you know. Does coming to Thailand mean that you might become gay? Now I'm not gay so I don't really understand if your born gay or you later on decide to switch or whether or not both is possible all I know is  that guys are coming here guys who were never ever gay arrive in Thailand then go have sex with men.
Related Posts: