Stupid questions Thai people ask you
When I lived in California I got asked a lot of really dumb questions about Austrlaia, things like "how much for a bus from LA to Sydney". Mostly it was amusing at how little americans new about the land down under but for Thai people they take the cake. A mate of mine Josh asked me to write an article about stupid things Thai girls were asking him when they met him and what answers you should give so here we go.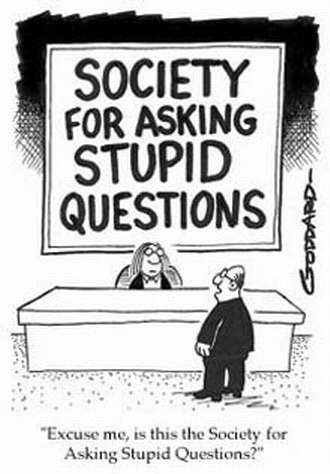 Q. How long you stay Thailand?
Meet anyone in Thailand who doesn't know you from a bar of soap and you'll get this quesiton asked. It's one of those questions where you have no idea what they are saying. This question you never really know what they are asking you, is it they want to know how long your going to be in Thailand or how long you have been in Thailand.
Q. How big is it?
When I started trolling the internet for Thai girls that have never been with a farang before 8 out of 10 of them would ask me this question. How big is your C*&%$. I'd never been asked this question before unless of course I was meeting the girl off Adultfriendfinder. But for Thai girls it's a big curiosity. Sure Thai guys are smaller than us I think by an inch but for Thai people who base most of their information on TV instead of books think we're all hung like a horse. If they havn't seen porn it's either their friends that have told them or from things they have heard about porn movies. A lot of girls won't even go with a farang because they are scared it's too big and it's going to hurt them. Even in many soapy massage parlours some girls won't go with farang because they are scared it's too big.
Q. Why do farang only like dark tanned girls?
This is the most annoying question Thai chicks will ask me. Mostly because I personally prefer the whiter more chinese looking girls than the darker isaan girls. And if you think about it most farang in the greater world have white girlfriends. So if you were looking at it in general farang prefer white girls to dark asian chicks. I've had a number of Thai people on this blog blast me for generalizing Thai people but what about Thai people who generalize us. The biggest generalization is that we only like Tanned girls and the milky skin of a Chiang Mai girl is just something we're not into. My take on this and what I try to explain to them is that in Thailand 85% of girls have very tanned skin so just by numbers alone of course we always have a tanned girl by our sides. The second part is those who are very tanned get told since they were kids that Farang like that style so by the time the're at dating age they have it in their head that the only guys that are attracted to them are farang.

Q. Do you love me?
After a few days or even after just meeting someone if they like you they may pull out the L word. Thai people in general use the word love very loosly I believe. What on earth can you say back to this after a week of dating if you call it dating. I once took a girl i met to the short time hotel fooled around then came home, next day i got messages from her professing her love for me. As soon as they say this I put them on the black list.
There are probably heaps of other stupid questions Thai people ask just can't think of them right now, if you have any others please put them in the comment area below I'd love to hear them.
Related Posts: