10 Good Hotels Near Soi Cowboy Bangkok
If you don't know where or what Soi Cowboy in Bangkok Thailand is all about then I suggest you read my article about Soi Cowboy first before you decide to go there. I think if you havn't been then you should probably go on your next trip. I prefer Soi Cowboy to Nana Plaza because I don't feel as intimidated it's smaller and more manageable but the go go's on Soi Cowboy are good enough to spend a few nights around there. My favourite place there is the Tilac Bar check it out.
The following hotels are close to Soi Cowboy and the Asoke BTS station and underground railway, not all the hotels here are guest friendly unless otherwise stated:
Jasmine Executive Suites Hotel
Definitely not a cheep place to stay the Jasmine Executive Suites Hotel isn't exactly a monger hotel but for those who like luxury suites you'll feel right at home here. Voted one of the best places to stay for business travellers I only wish when I worked my boss has sent me here! Joiner fees sure but do you really want to bring back a bar girl here anyway?
For more information or to book a room click here.
S Sukhumvit Suites Hotel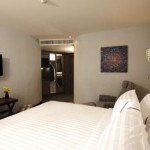 Very close by Soi Cowboy perfect for those going to take a look the prices here are reasonable and I stayed here years ago and thought it was good value for money, anything cheaper sometimes I'm just a little hesitant to book but this place is at the right price and close to transport. The beds are typically Thai in the sense they are not very cushy.
For more information or to book a room click here.
Asoke Suites Hotel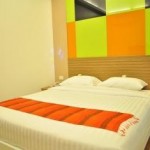 Looking for a smoking room? Cause a lot of hotels in the Soi Cowboy and Asoke area are not completely non-smoking but the Asoke Suites Hotel Bangkok still is smoker friendly and for an awesome price too only $40 on agoda and best of all it is guest friendly the rooms have a fun atmosphere to them but somehow look like a child fit them out.
For more information or to book a room click here.
Citypoint Hotel Bangkok
Citypoint if you book through Agoda at the time of this article are discounting the cost of the hotel by 60% so if you like hotels in the upper ranges of 3 stars then you'll love the citypoint. Close to Terminal 21 and Soi Cowboy at this price it's worth checking out. I've never stayed here so if you do come back and let us know.
For more information or to book a room click here.
Grande Centre Point Sukhumvit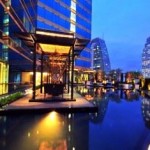 If you love world class shopping awesome views of the skyscrapers of Bangkok but you also want to delve into the Adult playground that is Soi Cowboy then what better place to stay then on top of Terminal 21 at the Grande Center Point on Sukhumvit. As one of the newest hotels in the city you can expect that it's exceptionally decked out.
For more information or to book a room click here.
Sam's Lodge Hotel Bangkok
Regular readers would know this is my favorite cheap ass hotel in all of Bangkok because it's down a soi that is not crowded and you don't get hassled and it's close enough to the train station and Soi Cowboy and you can even walk to Nana from here not that I do I'm lazy I take the sky train. Video security but you don't even walk past reception when you bring a girl in, perfect!
For more information or to book a room click here.
Tai-Pan Hotel Bangkok
Just cause this hotel is on the list doesn't mean I'm exactly recommending this hotel but looking at the current deals for the hotel it's worth mentioning breakfast included for $50 can't complain with that right plus it has a swimming pool spa and gym which makes it bloody good value for money.
For more information or to book a room click here.
Sacha's Uno Hotel Bangkok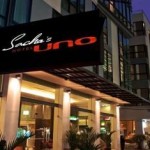 Still I rate this one of the best hotels in Bangkok when I first got to stay here it was only $40 now the price is up to $100 believe the ratings too this place is awesome, no joiner fees either and has one of the best beds i've ever slept in my life seriously! Stay here one time and you'll never want to stay anywhere else. Did I mention they also have the best breakfast for value and taste anywhere?
For more information or to book a room click here.
SilQ Bangkok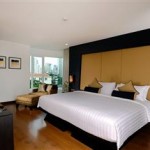 With an ideal location in Sukhumvit, this new hotel should definitely be checked out by travelers flying into Bangkok. Being just 150 meters from both the sky train and the underground allows guests to reach all major business, shopping, and entertainment venues with ease. Business travelers are bound to appreciate the proximity to the Queen Sirikit Convention Center, while shopaholics will appreciate malls and shops within walking distance. After a busy day, relax in the lobby with a drink, and watch the city go by. With natural light seeping in, SilQ Bangkok Hotel offers bright and comfortable living accommodations in the 'City of Angels'.
For more information or to book a room click here.
Wellness Residence Bangkok
Well-placed in the shopping, restaurants, nightlife area of Bangkok city, Wellness Residence provides a most conducive spot for you to take a break from your busy days. From here, guests can enjoy easy access to all that the lively city has to offer. With the city's main attractions such as MRT Sukumvit, Ban Kamthieng, BTS Asoke station within close reach, visitors to the hotel will just love its location.
For more information or to book a room click here.
Related Posts: