Awesome 5 Star Hotels in Luang Prabang Laos
I've been doing some research lately on getting your visa done in different country and most people have said that they are heading to Loas. Now Loas is a pretty poor country and very old school and I'm sure when people think of Loas they think of backpackers and people passing out on too much substance, I always thought that those with some more coin to throw about went to Singapore and Hong Kong for Visa Renewal but amazing Loas and especially Luang Prabang have a thriving 5 star hotel business here is a list of some awesome 5 star hotels in Luang Prabang Laos.
Xiengthong Palace
Hope your not hoping for a cheap getaway to Loas at this awesome 5 star hotel conveniently located edge of the river in the center of Luang Prabang. Has free WiFi accessible in all areas and if you like your privacy this estate only has 29 rooms, Rated Fantastic on Agoda the Xiengthong Palace if you can even pronounce the name is an excellent choice.
For more information Click Here.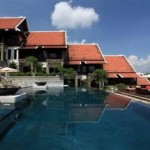 Kiridara Hotel
Recently built in 2011 the Kiridara Hotel had some great expectations and it looks like they did just fine. I know when I stay at a 5 star hotel I always expect the best breakfast and that's where the Kiridara has not let people down offerent an al-a-carte breakfast including in the room booking cost. Hotel isn't by the river so is better for those who like mountain views.
For more information Click Here.
Luang Prabang View Hotel
You can probably see why they call this place the Luang Prabang View Hotel because it has the best view of Luang Prabang. The infinity pool looks very inviting especially as it can get super hot during the summer time. The hotel isn't located in the city so if your just into lounging about looking at the view every room has the best view of the mountains but close enough to the city as well.
For more information Click Here.
The Luang Say Residence
Very strange name for a 5 star hotel but don't let the name fool you the Luang Say Residence is nothing but grande with dinners being served by the pool at night this place is heaven. Only 24 fantastic rooms with absolutely stunning views that you won't soon forget this place is my pick for those who really want to unwind.
For more information Click Here.
Maison Souvannaphoum Hotel
It's so weired the names of these hotels in Luang Prabang because who would name a hotel something most people would have no idea how to pronounce let alone remember but whatever way you end up deciding how to say the Maison Souvannaphoum Hotel I'm sure you and countless of other travels will say it's awesome.
Fore more information Click Here.
Satri House Secret Retreats
Well I guess the secret is out now I'm telling you all about it. The Satri House in Luang Prabang is one of the best rated hotels in all of Luang Prabang and I'm certain this place upholds all expectations. The most beaufiful gardens will help you relax and get into the slow pace life of Loas.
For more information Click Here.
Le Palais Juliana Hotel
Currently there is a special running on Le Palais Juliana Hotel at half the price you can still enjoy luxury. Located right on the edge of town it's not only convenient it's also a great place to spend with your special someone. No need to pack much as this hotel has pretty much everything you need.
For more information Click Here.
Related Posts: