Day tour to Mok Fa Waterfall Chiang Mai Mae Tang
If you're visiting Chiang Mai and want to try something tourists don't get to do, then how about swimming at the Mok Fah waterfall just 60km outside of Chiang Mai and on the non-tourist road to Pai, Mae Hong Son. It's really a spectacular waterfall and one of few you can actually swim at. I went there the other day to check out the waterfall and see if it's really OK to swim at. I was really surprised, the waterfall is beautiful, it was a super hot day and swimming in the crystal clear water was exactly what I needed after driving in the heat for 60km.

My only regret was that I didn't have time to check out the other waterfalls in the National Park, something for another trip. If your going to Pai then i suggest you take this route there and spend your time at the waterfalls along the way. You really don't need a map because unless you can read Thai the map isn't going to be much help to you anyway, besides Thai's don't learn how to read a map at school so asking someone is going to get you lost further, though it's hard to get lost once your on the road i'm going to take you to.
Start your journey out by getting to the Khuang Sing overpass on the superhighway of chiang mai. Alternatively you could start out at the Chang Puak gate and follow the Chang Puak road all the way to Mae Dtang.
The journey to Mae Dtang is a really easy drive it's about 47km from Chiang Mai, you'll pass Mae Rim about 25km into your journey, just keep going straight. Before you get to Mae Rim though there is something cool to do, how about shoot a gun on your trip to Chiang Mai Thailand? Really good fun, this day though I didn't get a chance.

When you get to Mae Dtang there will be no signs at all but here's a tip, first you'll pass an intersection with big signs that go to Pai, don't turn left at this intersection, keep going, you'll pass Tesco Lotus on your left and it's only about 300 meters up the road. You'll get to a 3 way light intersection and the Mae Dtang market will be on your left, look and study the pictures so you know where you are but again it's not far past the Tesco Lotus, you'll recognize the market because it looks like all other markets. When you get to this intersection turn left. Then follow the road for about 16km, there will be a big blue sign on your left turn left and follow the road for about 1km until you get to the ranger station.
If you don't have a Thai drivers license (which is easy to get) you'll have to pay 200 baht, but this entrance fee get's you in to all the other waterfalls in the National Park for that day. Thai's or those with Thai drivers licenses only pay 20 baht!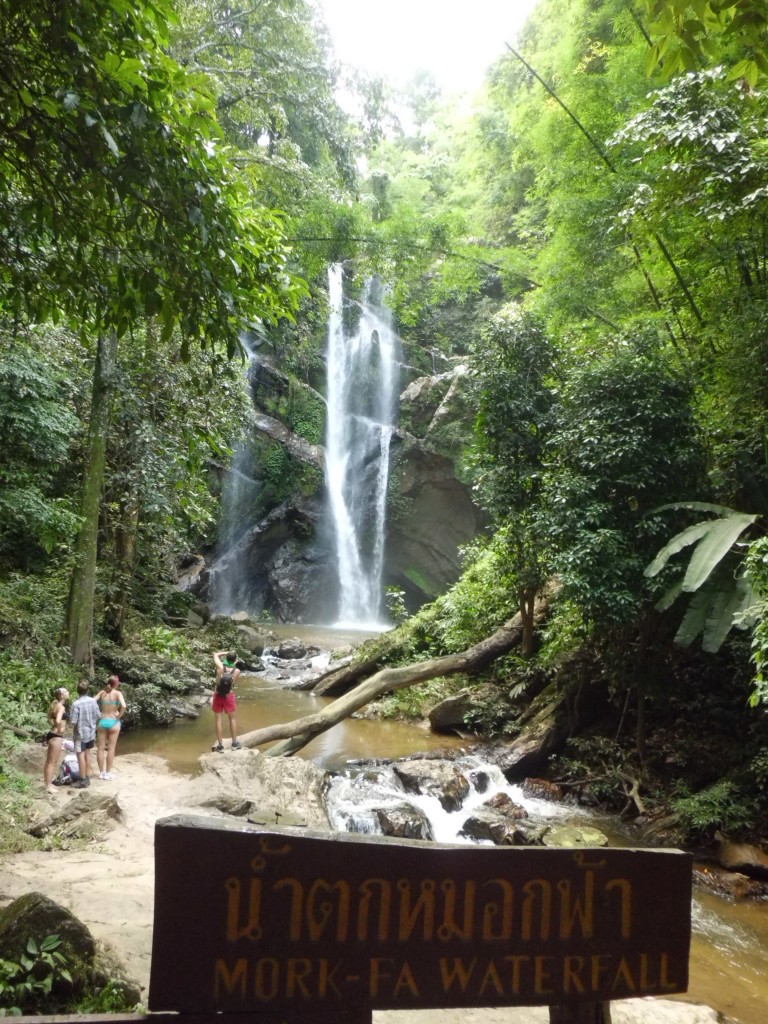 Mok Fa Waterfall Chiang Mai - Mae Tang
The bat cave at the Mok Fa waterfall is worth going to see if you are still there at around dusk, this is when the bats start flying out, don't stand near the cave entrance though because they will run right into you. Even if your not there at dusk it's worth going up to have a look, not at the cave but the view of the waterfall. Be careful crossing the stream though it's slipery.
Related Posts: