Making money from Real Estate in Thailand
You ever wondered how in a country where minimum wage is below what most would call poverty that there are so many nice cars! Mind you the price of a luxury car in Thailand is at least twice what you would pay in the states. Where and how do some Thai people make so much money? I've often wondered the same thing and while those cars are probably paid for by credit in order to qualify for credit you really need to be making a decent income.
Small business owners in Thailand rarely make much money at all and just because the cafe you sit at every day is full doesn't mean that the owners are rolling in it either. Even the omelette guy that sells 500 eggs between him and his wife would be lucky to clear 1000 baht profit a day. So how do Thai people make money and lots of it?
There are exceptions to every rule like this guy I met at a conference in Bangkok started a little noodle store in Isaan and is now worth millions you've probably eaten his product before....champ noodles found on roadsides across the country. Now this guy is an exception the majority of Thai's that have money in Thailand were born with money.
Once a Thai reaches a certain level of wealth typically only a few million baht it becomes easier to make even more money. Consider lets say a guy who has 10 million baht in the bank. The interest alone could have a Thai living the rest of their life without working. Yet back in a western city it wouldn't last 10 years. But who would leave 10 million sitting in the bank, there's way better ways to make money and most Thai's are doing it through real estate.
If you live in Chiang Mai or have visited recently there is a construction boom going on. Thousands of brand new condos, apartments, and houses are being build right before our eyes. Seems everywhere I turn in this city there is a new building going up. The boom isn't just in Chiang Mai either but in most major city centers around Thailand. While the Chiang Mai boom has only started in the past few years Bangkok notably has been booming for decades in fact land prices in Bangkok alone have consistently gone up by 4.6% for the past 15 years and in many cases up 300% in the past 10.
You've probably met a lot of so called poor families in Thailand who live in a simple house and scrape by day to day. Most have met these through their associations with the bar industry. "My family is poor have no money" and in most cases this is true. But that doesn't mean they are without wealth. I met one such family in Central Thailand who really didn't have any money but their house sat on 15 rai of land that I later found out was worth 15 million baht. That's more wealth than 80% of expats I know. Are they really poor? No. Are they cash strapped, yes.
Many Thai's lose their property simply because they have no cash. Often is the case that a family member becomes sick and they hand over the deed to their place to the local sketchy dealer who gives them a small loan which they never have the money to pay back and subsequently lose their land or find themselves paying for the loan with crazy interest rates.
I'm not a money manager and have no experience with Real Estate but the numbers are pretty clear. Owning property especially land in Thailand has and continues to be one of the best ways for Thai's to create wealth.
People often ask my why there are so many condos being built in Chiang Mai right now, who's going to stay in them? Who's buying them? Are they a good investment? Like I said I'm not an expert and I personally have no interest in buying in Thailand but the majority buying are Thai's not farang.
Take a look at this screen shot from Thailand's biggest property site DDproperty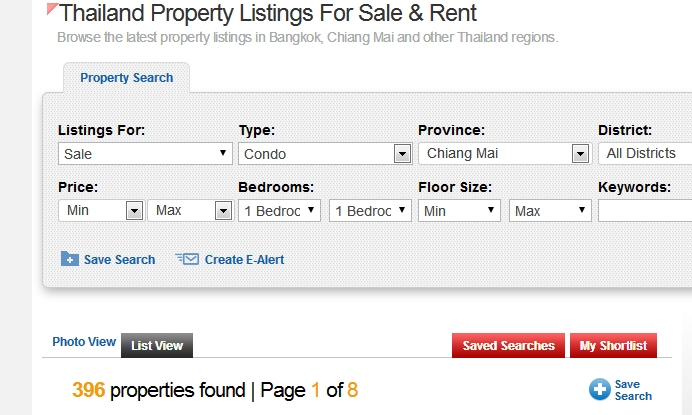 A quick search for condos in Chiang Mai province (not just the city) reveals a pultry 396 properties. Of those properties half of them haven't been built yet. And if you did another search for condos greater than 40sqm it would half again. So lets say you were looking for a property in the center of Chiang Mai greater than 40sqm with a view you might be lucky to find 5 properties available for sale! No wonder they are building them so quickly there simply isn't anything available!
Unlike westerners Thai's can and often do get up to 100% financing on Bank backed property provided of course you have a good income history and already own a few assets then getting credit is much easier. Averaging 4.6% inflation in Thailand you can expect the value of the investment to at least rise to that of the inflation. But 4.6% on your money isn't going to make anyone excited but 4.6% on the banks money is.
This is how you make money
Purchase a 2 million baht condo with 20% down.
Rent it for 5 years to avoid hefty taxes.
Compounding interest on the property value after 5 years is now worth 2.5 million baht!
Sure this isn't Dubai where property prices have tripled in a few years (except for Bangkok) but you can see with a small sum of 400,000 baht it's possible to double and even triple your investment within a few years.
Getting finance is very difficult for foreigners without history in Thailand if not impossible and foreigners cannot own land but for Thai's with good income and savings history it's much easier and with a bit of daddy's money they can quickly build a Real Estate empire. Don't believe me, ask your landlord how many properties he/she owns.
Final note if you were to invest in a condo in Thailand remember that you make money on the Buy and not the sale. So always buy under value but regardless to get the best re-sale value and to make it easier to rent follow these points to make sure you are buying a saleable asset.
Must Have a View of mountain or city
Seller pays transfer fees or shared
Property must be located near public transport and within the city limits
Must be 40sqm or larger
Must have swimming pool / gym
Not be within 200 meters of a temple or government building
Be within 100 meters of a 7/eleven
Related Posts: