Sex wearing Thai Uniform is Better
Students from Thammasat university are in protest about wearing the Thai university uniform when going for the mid term exams. The students are forced to wear the uniform for if they don't the grade will not be appointed to them. So in protest they made up this poster which is pretty funny.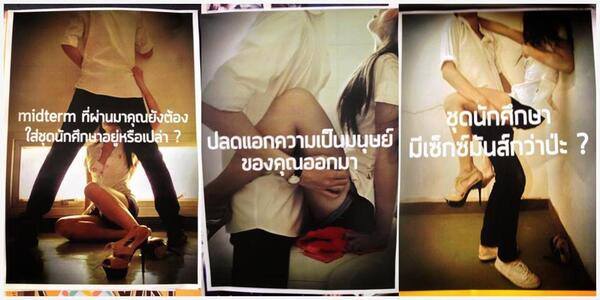 The poster reads:
Picture 1: Last midterm exams were you forced to wear the university uniform?
Picture 2: Liberate the human inside of you
Picture 3: Does wearing the uniform make sex better for you?
I totally understand where the students are coming from. I mean you should be made to feel as comfortable as possible and frankly have you seen the Thai university uniform? It doesn't look at all comfortable especially for guys i'd prefer to wear shorts. But I'm glad the teachers have nipped this one in the bud. Imagine Thailand without the penguin uniform? What on earth would I do, and yes, sex with a girl wearing the uniform is better!
Related Posts: