Speed Dating in Bangkok Thailand
For less than the cost of a Dating site you can go to a speed dating event in Bangkok and meet 20+ single girls in one night! I simply love this concept. I've been to speed dating events in California before and they were really fun so I can just imagine how much fun speed dating in Thailand would be like. If you live in Bangkok and are single you should definitely try it out.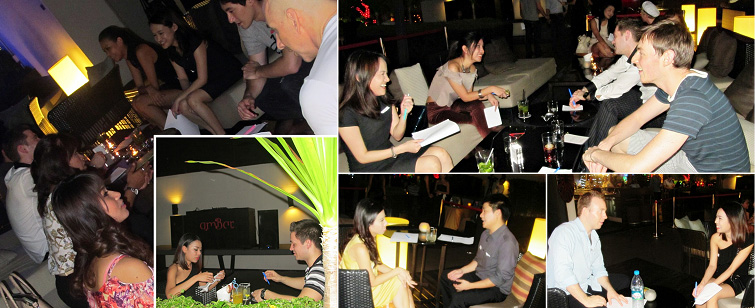 Full details of the Bangkok Speed dating event can be found on their website www.bangkokdatingevents.com or at their facebook book page www.facebook.com/bangkokdatingevents
For example it's a little different from a standard speed dating event because the participants won't be ticking boxes and waiting for a day or two to know their matches.
Instead:
You will be talking for 5 - 7 minutes with each single guy/girl.
Guys move around from one table to another while the girls sit down at their table.
Girls will give their contact details (name, phone number etc.) written in notes to guys they were interested in right after being instructed to move. They will give blank notes to the other guys. Guys will not be able to look at the
notes until the organized part of the event has finished.
Guys are then encouraged to go talk more with girls who gave them their numbers and who the guys are also interested in. Thus
you get immediate matching and you can have an instant date after the event if you both want.
So you only have like 5 minutes to impress the ladies so if you go make sure you look as sharp as you can, the women going are interested in Farang and can speak English but with 5 minutes you're best bet is to make her laugh, come up with a number of jokes and dress to impress.
An added bonus of this kind of event is not that you get to meet other women but also get to meet other interesting guys who come as well. If you are a single White female I think this is a great event to attend as well!
The next event will be at the amBar March 3rd at the Four Points by Sheraton on Sukhumvit soi 15 so it's easy to get to half way between Asok and Nana BTS. If you're interested in going register and sign up, talk to Tero on Facebook he's the guy running the show and cool guy also.
So if any of you guys have been to the past event or end up going to this even please let us know how it was by placing a comment below.
Related Posts: