Pure Bangkok Escorts World Cup Promotion
My mate, and one of my biggest sponsors is throwing a huge promotion for the World Cup at Pure Bangkok Escorts. During the World Cup, if you buy 2 escorts at the same time, and you mention that Living Thai sent you, you will get the second escort 20% off! If you mention that you are a VIP member, you will get 25% off! (contact Chris first for VIP special) There has never been a better time to knock out your first threesome. Give it a try, you wont be disappointed. Visit their website Pure Bangkok Escorts and check out the pics of the ladies available. I'm sure you will find 2 you like.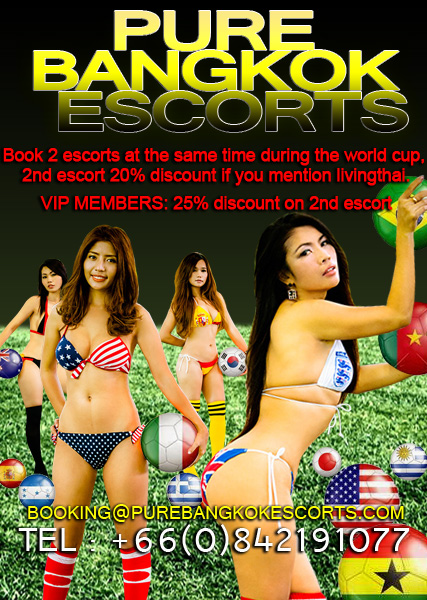 when does the world cup 2014 start and end?
This summer's World Cup in Brazil starts on Thursday June 12.
The opening game of the tournament will see the hosts take on Croatia, with the game kicking off at 9pm BST.
The game at the Arena de Sao Paulo will be preceded by the opening ceremony.
In total there will be 64 games in Brazil ending with the final at the Maracana in Rio de Janeiro on Sunday 13 July.
Related Posts: