Honeymoon Suites in Pattaya
Pattaya is probably the least likely place you'd think of to have your honeymoon, however it still remains one of the most popular places couples go to have their honeymoon. Typically Pattaya is the honeymoon destination for mixed couples foreign/Thai but it is also the honeymoon destination for Russians. Thousands of Russians marry and spend their honeymoon in Pattaya because of it's relatively closeness to Russia as well as visa requirements and cost is next to none.
Pattaya is known more for it's nightlife than anything else, the beaches are fairly average but when it comes to 5 star hotels in Pattaya, none can compare to what's on offer in this small fishing village turned international honeymoon destination.
The place to spend your honeymoon is the Marriott Hotel Spa Pattaya, it sits right amongst the best nightlife Thailand and Pattaya has to offer as well as being a Marriott brand it lives up to it's name in 5 star accommodations. This seaside resort is only steps away from the famous Pattaya beach where jet skiing and water sports are abound. Hop on your own private boat and go to any number of small islands dotted along the coastline, truly if you are having your honeymoon in Pattaya the Marriott Resort is the place to stay.
Limited Time Only, save up to 70% off your honeymoon Suite at the Marriott Pattaya.
Other amazing Honeymoon Hotel deals in Pattaya
The Dusit Thani Hotel Pattaya is the leading name for Thai run hotels in Thailand. These 5 star accommodations are unlike any other, with it's own private beach and swimming pool it's the ideal destination for your romantic honeymoon. The Dusit offers fabulous spacious suites and can cater to newlyweds. Like most other hotels in Thailand the Dusit hotel Pattaya offers in room massages as well as 5 star cuisine.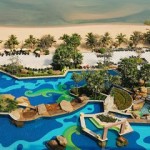 The Zign Hotel Suites In Pattaya is one of those jaw dropping hotels you never want to leave. Right beside the private beach to the unbelievable swimming pool, the Zign hotel Pattaya exudes romance. For that special occasion like your perfect honeymoon, you can simply stay at this 5 star resort and never leave, they have all the activities you'd get from downtown pattaya but with all the smut taken out. This is a holiday destination like no other.
Honeymoon In Chiang Mai
Honeymoon In Bangkok
Honeymoon In Phuket
Related Posts: