7 Good Hotels in Ubon Ratchathani with free WiFi
I'm planning a trip to Ubon next month something I've been meaning to do for a long time. Ubon Ratchathani isn't really a tourist destination and from what I've heard it's pretty much just temples and dry farmland. Nonetheless I'm going into the heart of Isaan country and these are the hotels I've shortlisted based on reviews from Agoda. They all have free Wifi which is what I'm looking for so let me know in the comments section which hotel I should choose.
#1 The Ratchathani Hotel
As my number one pic the Ratchathani hotel looks very promising, bathroom pictures look good it's right in the middle of the city place looks a little dated but other than that the reviews on Agoda were pretty good.
#2 Dusita Parkview Hotel
I picked this hotel as my second pick because you don't have to go through a lobby to get to your room. This isn't very secure but it's so much easier to walk to your door and the prying eyes of the hotel won't see me bringing back any girls.
View this Hotel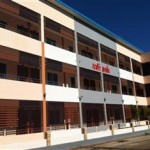 #3 Gongaew Mansion
Based on the photos I wouldn't really have given this place a try just looks too motel-ish to me but it's got 77 reviews and rated 7.9 so they must be doing something right.
#4 Tohsang Ubon Hotel
Now this place looks really promising free WiFi rooms look good best location and a massive king size bed that you can fit 3 people, you guys know how I like it, actually I should have made this the number one pick!
#5 Rapeepan Vill Hotel
With a fantastic rating had to check out what the fuss was about this hotel in Ubon Ratchathani. The place isn't in the best location having a car would help if I was to stay here .
View this Hotel
#6 Laithong Hotel
There arn't many budget hotels in Ubon that have a pool and I guess I'm saying budget and cheap say 1000 baht a night is pretty standard and reasonable. This hotel does have a pool not much of one but better than nothing.
View this Hotel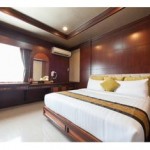 #7 Sri Isan Hotel
One of the best deals I could find on any hotel in Ubon was the Siri Isan Hotel looks super basic and cheap but with free WiFi and a tight budget might actually be one of the best picks for a hotel in Ubon Ratchathani.
I actually made calls to several of these hotels in Ubon and asked them if they are bachelor friendly or if they charge a fee if I bring someone back to the room, most of the receptionists either chuckled or just thought the question was weird therefore I think it's safe to assume that they are guest friendly hotels.
Related Posts: