Do people understand why we live in Thailand?
There is a certain type of person that Thailand just agrees with. Whether you vacation in Thailand or you live in Thailand as an ex-pat, you are most likely one of these people. To me it seems so obvious why we spend time here. It's cheap, it's beautiful, it's warm, there's plenty to do, the food is great….and oh yea, the women don't hurt either. The "What's not to like?" list is short compared to most other places. Why do so many of us get strange reactions from people we know back home whenever the topic of us spending time in Thailand comes up?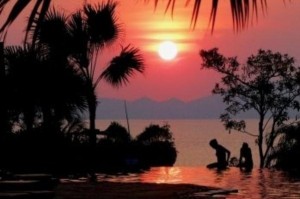 Do some of these sound familiar:
"People don't just get up and move to Thailand…you must have been in trouble with something"
"Isn't Thailand dirty and filled with nothing but prostitutes?"
"Can't you find women in your own country who won't just like you for money?"
"Oh, you're a sex tourist"
My personal favorite is, "I bet you're miserable there and you're afraid to come back."  Isn't that sweet?
We all know plenty of people who get it; you probably even have a few friends who are extremely jealous that you get to enjoy Thailand for all it's worth and can't wait to visit you or take a vacation with you. But why do so many people react to our time here with totally misguided assumptions? The answer is simple, they are jealous haters. Do you think I'm too broadly generalizing people who just don't understand the appeal? I'm not; every single last one of them is a jealous hater. We get to spend an extended amount of time in a place they can only dream of getting to experience. They've worked their entire lives to try and put a happy life together for themselves and you took a perceived "short cut" and beat them at the game; they don't want to accept it. Let's analyze a hypothetical conversation someone might be having about you behind your back at this very moment:
Non-hater friend: "So evidently Jerry is just living it up over there in Thailand".
Hater: "You mean Jerry SAYS he's living it up in Thailand…PLEASE, Jerry doesn't want to face reality so he ran away from his problems and spends time with diseased Thai prostitutes. It's sad and pathetic and I'm sure he's absolutely miserable.
Not-hater friend: "I don't think so; I talk to him a lot. He has a beautiful young girlfriend and she's definitely not a prostitute; they have a great relationship. He has no major bills to worry about, they live in a beautiful place and he does whatever he wants whenever he wants. He really is the happiest guy I know.
Hater: "It's just an act. Just you wait; he'll come crawling back soon admitting that it was stupid. He doesn't have any friends over there and nobody speaks English; how boring. I heard about crime over there and I've seen come crazy YouTube videos; let's just hope he comes back in one piece.
Non-hater friend: "I've been to where he's staying before; actually it seemed to be safer than this city. Jerry's not coming back. He has plenty of ex-pat friends there and they get together a hell of a lot more often than we do.
Those conversations really do happen; you know you're doing something right in life when you have earned this type jealousy!
Let me be clear about something, I consider myself to be very lucky that I get to spend time with pretty, young, and vivacious women in Thailand. I'm not ashamed of this, it's a true blessing. This is the first thing people attack about those of us who spend time in Thailand; they make us out to be like depraved and deviant men who spend time with poor sad girls who cry themselves to sleep every night. Good God, could that be any further from the truth? Most Thai women I see out at the bars or with their boyfriends have ear to ear grins. And as much as their argument loses all credibility right then and there, I also think it needs to be stated that there's a lot more to Thailand than just the women. Why is it one of the most infamous honeymoon destinations of the world if it's merely a brothel? The women are great, but there's a lot more to it than that. Any mentally healthy individual would recognize this.
Your true friends will be anxious to talk to you all about Thailand. Even if they don't think it's a place they'd love to visit frequently, they'll understand why you do and they'll enjoy having conversations with you about just how different things are here. The jealous haters will be somewhat disinterested or they'll ask you all of the wrong questions.
You: "Oh, the food is amazing"
Jealous hater: "It's too spicy and they don't have the same regulations and I know someone who got sick there.
IF you're getting these types of reactions from someone, just give up. It's their loss for living in a bubble where they don't want to believe that anyone could actually be living well. Your job is to be happy. Your job isn't to make other people think you're happy. Rational people will understand while jealous people will convince themselves that they're the ones who are doing it right and that there are no short cuts in life.
So, do people really understand why we spend considerable time in Thailand?  Yes, but only if they try.
Related Posts: