Thailand People – What Thai People Are Really Like
The majority of Thai people come from the countryside of Thailand, therefore to get a good idea of what Thai people are really like we can start there. The general idea that Thai people are all the same is not true, there are actually 4 different type of Thai people that are generally segregated by where the Thai person comes from. There are North, South, Eastern, and central Thai people. Thai people even have a saying about what they are like depending on where you come from a Thai person would say Northern Thai people are lazy, Southern Thai people are bad news, Central Thai people are selfish, Eastern Thai people only care about money. While you could argue the truth to this, the fact is I didn't make it up, Thai people did, and for the most part it is true.

Thai People Are Really Lazy
The truth about Thai people and a generalization about what Thai people are really like is Lazy! This is the honest truth, have you ever wondered why there are so many people employed to do the job that 1 person can do? It's not because Thai people are centered on service, in fact, Australia is a more people working in services than Thailand and it has half of it's population. The truth is the reason why 2 people are employed to do the job of one person is because Thai people are so lazy if they have to work hard, they'd rather not work at all, they are more likely to take a day off so employers are forced to hire two people for the same job. Thai people have just as much opportunity to advance their own country than China does, yet they are far behind, why, because Thai people are lazy. Notice all the trash on the streets?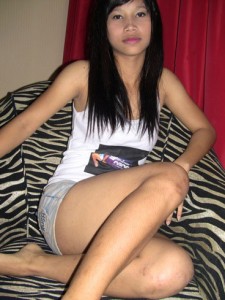 Yes this is because Thai people are too lazy to get a bin, if they get a bin they will have to clean the bin because people throw waste into it, they are too lazy to do that so instead they'll just throw the trash on the side of the street and wait for the government to pick it up, oh yeah you only pay 30 baht a month to have a bin also but instead they pay nothing so they don't have to deal with any of it. Just Lazy.
Thai People are Selfish

Anyone who has driven on a Thai road knows what Thai people are really like. Take for example the case of the ambulance, you'll never see Thai drivers pulling to the side of the road to allow the ambulance to get through, they wouldn't even do it for a police car let alone an ambulance, it can't be because everyone in Thailand is in such a hurry, they simply don't care, they only care about themselves. Another great example of how Thai people are selfish is how they are always late. You can blame traffic (leave earlier), you could blame the slow pace of life (hardly, Bangkok is a booming place), the fact of the matter is Thai people don't care about your time they only care about themselves and being late is not because they didn't mean it intentionally they did, they were doing something else and didn't care that you were waiting for two hours to arrive.
Thai people have bad manners
Contratry to popular belief about how polite Thai people are and how respect is a huge part of society, the truth couldn't be further from the truth. Thai people are rude, and swear way more than Americans do, in fact, I'd be hard pressed to have heard of a Thai person that didn't throw bad words around. As for Thai manners, it seems once a Thai person leaves high school, all the manners they have learnt cease to exist and they live the rest of their lives with bad manners to anyone they come across whether they know them or not. One great example is, if a Thai person were to work for you, they would show up late or not even show up at all and not apologize for it, though I bet if they were late to school they would have to say sorry to the teacher. Another example of what Thai people are like with bad manners is how you'll be standing in line at 7 eleven, an aisle opens up next to the current register, you go to go there, but the person who came after you would cut in front of you and not even ask you to go first. This is bad manners in any country and if you did that in America or Australia the person behind the counter wouldn't serve you and you'd get a black eye from the person you cut in front of.
Thai People are very Friendly
Most Thai people are very friendly and have no qualms about talking to strangers as long as you don't look like a deadbeat or drunk. This is the only positive about Thai people apart from the negative ones above. Thai people really are friendly with the exception of most of the Thai's who were born in the northern most parts of Thailand. Thai people are super friendly to foreigners as well as amongst themselves. If there's one reason why I keep living in Thailand it's because of how friendly Thai people really are.
This is a very objective view of what Thai people are really like, however the truth is the truth. Anyone who has lived in Thailand for more than a year will know how lazy, selfish, and bad mannered Thai people really are. The good part though Thai people are very friendly.

Related Posts: