Complete Guide to Nightclubs in Pattaya
---
RECOMMEND: Best Hotels in Pattaya
---
Pattaya is a total party town and surprisingly I've met a lot of guys who have never been. But let's face it the place isn't for everyone but for those who love to party love the nightlife and clubs Pattaya has some really awesome places to go. Most nightclubs in Pattaya however cater to certain crowds you've got the Russian clubs the Farang clubs the Thai clubs and the monger clubs and a lot of mixes too. Unless it's a Thai club then most of the girls you come in contact with are working girls which is the major attraction to clubbing in Pattaya because you miss the bar fines but what you save there you'll probably spend three times as much on drinks.

Map of Pattaya Nightclubs




This list of nightclubs in Pattaya is in no particular order
Pier Disco Club Pattaya
The Pier Disco Club has only recently opened up on Walking Street and has received mixed reviews. I like the very open dance floor but the prices for drinks are a bit too steep, as steep as the stairs you have to walk up to get into this club. The pool tables are good and so is the seating, music is great but I don't see this place as taking any of IBars business. Good place to take your girlfriend with a few mates.
Noir Nightclub
I really enjoy the Thai nightclubs I just find them more fun and when you go enough you start knowing the songs and it's a really good time. Most people who enjoy the Thai nightclubs in Pattaya tend to go to Differ but I quite like Noir it's not as packed and the girls there are way more friendly. Don't get too many bar girls in here but a lot of girls from the hotels and nearby chonburi go plus a lot of girls in Town from Bangkok. Probably the best place to pickup a non working girl in Pattaya.
Yensabai Disco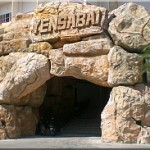 This disco has a huge Arab crowd as it's close to the Arab quarters they play a lot of the thumping dance music you hear at most of the Farang style clubs. Walking into the disco looks like it should be a themed restaurant with the rocks out the front but once your inside you know it's a nightclub. Electronic dance music is what you'll find here and is open till the wee hours. I've been into this place once and probably never go back again unless something changes, just wasn't for me.
Walking Street Club
I don't know what to call this a nightclub or a pub it's got a pub kinda feel to it and it's a welcome relief to those seeking a non-smoking atmosphere. Since it's the first nightclub on walking street as you start walking down it's the first stop. They ID everyone and have the non smoking policy so it's a good place to go, lots of western girls hang out here too if you get sick of the Thai girls. Walking street club has my thumbs up for best service of any nightclub in Pattaya.
Club Insomnia Pattaya
Just like the Bangkok version the Insomnia club has a reputation for bar girls looking for guys except that this location is probably twice as big as the Bangkok version and allows smoking in the club. It opens around 11pm which is a good time to get there so you get one of the seats on the right side of the wall. Surprisingly this place isn't that expensive if you buy the bottle but individual drinks will eat you up. If you intend to go to this place more than once then sign up for their members card at the office to the left after you enter the club. The discount is good but no need to get the VIP card honestly isn't worth it unless it's for bragging rights.
Lucifer Disko Tk Pattaya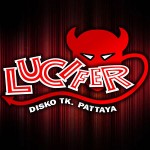 If you like hip hop and top 40 fused together with a club full of both working girls and regular girls then Lucifer is one of the best choices for nightclubs in Pattaya. It's not a large club so it's best to get there about 11pm or sooner and get your table otherwise you'll find it hard to get a table, weekends you might even want to come sooner. Great mix of live music and mixed beets if you don't like this place you won't like any of the Farang oriented clubs in Pattaya.

MiXX Discotheque
This club is probably the most multicultural club in Pattaya it isn't huge which is probably why it's so damn crowded and actually has a small dance floor which people can rip it up on strange actually since most clubs don't normally have a dance floor but probably why it makes it so appealing to most. Not a cheap place to hang out but one of the best designed clubs in all of Pattaya. I just found this place got so crowded that it wasn't fun anymore, i like a bit more room to dance.
Marine Disco Pattaya
Marine Disco on walking street has been around since as long as I can remember I first went into this club when I was 15 and helped me solidify my love for Thailand. It was a lot of fun though I remember it looking creepily old and very dark back then with trance music now it's very open and more lit up but terrible lighting and these days resembles more like an outdoor pub put inside. Still it's a good place to pick up bar girls on the cheap without a bar fine.
Differ Pub
Differ nightclub in Pattaya is a lot different to the one in Chiang Mai it's bigger and better and the most popular club for Thai's in all of Pattaya. Farang rarely go here because the girls here arn't working girls the music is all Thai and they have the live music playing popular Thai songs. I actually really enjoyed this place a lot of Thai girls go on holidays in Pattaya and where do you think they go huh? Differ! That's right and the girls don't ask for nothing when you take them home!
Hollywood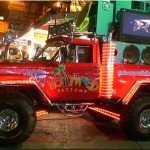 The Hollywood nightclub in Pattaya is expensive but the place is nice and a lot of fun. This place for whatever reason attracts a lot of Chinese and Japanese guests and the Go Go girls love to come here to find the big bucks, but hey when they luck out they can take me home for free! They have this huge truck that drives around Pattaya promoting the club which I think does better for the girls than it does for the tourists who seem to find their way here after getting bored of the other nightclubs in Pattaya.
CandyShop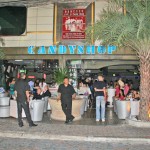 This unassuming nightclub doesn't get enough attention and i'm not sure why maybe because of it's design and the open layout and the fact that all the tourists walking down walking street can look straight into the club however it really does have some of the best tunes of any of the clubs on walking including some really good live music. I like this place because they mostly play Hip Hop and R&B. Place isn't cheap though but it's never really crowded and you can always find a table.
The Blues Factory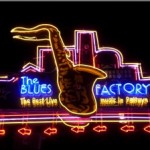 The blues factory is probably my first pick for live music in Pattaya and anyone can enjoy the line up at this club no matter your age. A good mix of live RNB rock and blues the place has been in business for over 10 years now so has a very strong following of people who love to come here I wouldn't exactly call it a place to pick up girls but it's more like a place to take a girl and have a good night out. They actually serve a good range of cocktails and the ones I bought in the place were pretty good if not overly strong. Prices were about average for what you get at nightclubs in Pattaya.

Abyzz
I'm not a fan of any club that charges you to enter especially in Pattaya where there are so many choices but that's what Thai run places like to do and their not fair about it either they want to charge the Farang and they don't care if you live here or not makes no difference that's why I'd say not to go to this place but if you have some arab friends sure take them here because they seem to like it. It's a really nice club though with like Michalangelo paintings on the roof and stuff I kinda like the old format but yeah it kinda got boring. I actually won the best looking guy in the club once lol that was a long time ago when the club went white.
Casino Club
First time I went to this place was about 5am in the morning and I was told to meet there by some Go Go girls. When I first got in there I thought I was in the wrong place cause it hardly resembles a night club at all and when everything else is closed this place is still open I can't figure out how they do it. What I found was the owners of all the other Go Go bars like to come here once their place is closed bringing with them an entarouge of Go Go girls which the spoken rule is you can't talk to them unless the fat cats know you. So really this place has become like a closed club of go go and bar owners to come and show off how many sluts they got working for them. Not really fun for the rest of us.
Irany
Middle eastern men will love this place, lots of music I don't know any of it but it sounded good. Kinda felt there were too many guys in the place and the girls were kinda average but the music was good and everyone in there seemed to be enjoying themselves. Like I said I don't know anything about middle estearn music so I'd be bias in saying the place sucked.
If you know of a nightclub in Pattaya that isn't listed on this list please let me know in the comments section and i'll make sure I have it added.
This page last updated April 22, 2013
Related Posts: