Complete Guide to Night Clubs in Chiang Mai
This is a list of all the nightclubs and late night bars in Chiang Mai. I update this list of nightclubs as clubs open,close or change their name so you can bookmark the page or link to it if you like. What I consider a Nightclub in Chiang Mai is typically an enclosed area with standing tables where people dance around the tables so this is the Thai style Night Club. Late night bars are where you go when nothing else is open. Thai people call a Nightclub a Pub thus making is confusing. A regular Pub what we think of Thai people would call a Bar. If you think this list is missing a Nightclub or any changes that need to be made to the list please email me or comment below. Also for a really fun night check out the Chiang Mai Pub Crawl.
Last Updated May 2017
This list is in no particular order so read my comments/review of each place before deciding where to go.
Map of Nightclubs In Chiang Mai Thailande

View Chiang Mai Mongers Guide in a larger map
SafeHouse Nightclub
The newest nightclub in Chiang Mai opened with a roar for the 2017 New Years celebrations and is welcome addition to the Chiang Mai Nightclub scene. Supported by the BPM dj team Safe house has some good electronic what seperates this club is a proper dance floor which is lacking from every other club in town. Located at the base of the DuangTawan Hotel is advantageous for those hanging out on Loi Kroh Road.
SafeHouse Facebook :- https://www.facebook.com/Safe-House-Chiangmai-1820265241549644/

Sound Up - Formally Mandalay Nightclub
Manadalay recenntly changed their name to Sound Up, (god Thai's are really bad at naming businesses). Sometimes this place really pops but then others is boring as anything, really a hit or miss but worth checking out. 200 entry plus free mixers it used to be this weird gay nightclub but now it's just a cheap place to party with a huge stage area all the Farangs get onto to party. If you're on a budget go with a few friends and get the 500 baht bottle of sangsom when you enter.
Sound Up Facebook: https://www.facebook.com/SoundUpCMI/
Mirror Cafe (Nightclub)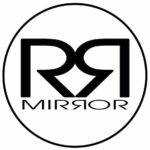 Located in the popular Nimmanheimen area the Mirror Club is where 20y/o Thai's come to party. There is a Thai band that plays till about midnight they have couch seating as well as standing tables. Thing about this place it's super cheap! You can simply buy three bears for 200 baht or a bottle of sangsom like 500 baht. Great if you're on a budget and feel like your the only white person in the club. After midnight there is a DJ which rocks. Overall i enjoy this place.
Mirror Cafe Facebook :- https://www.facebook.com/MirrorCafeNimman7/
Warm Up Cafe
Warm Up Cafe is THE nightclub in Chiang Mai. It has the hottest girls of any Nightclub in Chiangmai. Though unless your a hunky Thai male or young farang girl it's not the place to pick up girls unless A. Your a good looking guy. B. You speak really good Thai. They do play the best music of any nightclub in Chiang Mai though, and if you are looking for a night out to take a couple of girls with your mates then this is the place to go. My advice though go on a weekday and not Friday or Saturday night. The place is super crowded. You can go early and book a table on the inside while you sit outside and have dinner, they are a cafe after all and the food there is great. The prices are very reasonable as well. This place also closes 1am on the dot!
Warm Up Facebook :- https://www.facebook.com/warmupcafe1999/
Infinity
I have watched Infinity Nightclub in Chiang Mai open, close, remodel and reinvent. At it's peak it was the place to be but slowly as curfews were put in place and people just wanted to go late it suffered so now it's more of a niche place you a really good group of friends. This place looks super expensive but it isn't that bad. But it will cost less than any bar on loi kroh road. I really like this place because it's swank, new, and a tonne of hot girls. If only it were as popular as it once was, such is the nature of these clubs.
Infinity Chiang Mai Facebook :- https://www.facebook.com/infinity.chiangmai
Take It
Take It Nightclub at the bottom of the Lotus hotel behind the Kad Suan Kaow shopping center has changed it's name several times in the past 5 years. Formerly Fashion club, then Whit Club, and now Take It, this was a huge hang out for ladyboys and lesbians now in 2016 more of a late night nightclub in Chiang Mai and the only large dance hall besides mandalay open after 1am in Chiang Mai. You'll find a tonne of mostly Thai people here with DJ and electric dance music. If you're going to buy a bottle anywhere in Chiang Mai this would be the place to do it. I would get there just before midnight after Zoe Closes instead of going to Spice and only if I wasn't going to the After Bar.
Facebook :- https://www.facebook.com/Take-it-Club-523682707781363/
LUX by (Fabrique) Nightclub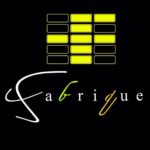 Fabrique located in the bottom of the President Hotel just outside the old Moat and has one of the biggest bar and nightclub areas in Chiang Mai. This place is called LUX for a reason and is marketed to the farang and Thai. Because of the prices it attracts a more mature crowd. When it was Fabrique (formally) it was one of my favorite hotels in Chiang Mai. Now that it's LUX I think it's too early to say the same but for the people in their 30's this is the spot to be.
Lux by Fabrique Facebook :- https://www.facebook.com/LuxbyFabriqueChiangMai/
Spicy Nightclub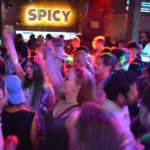 Ever since I came to Chiang Mai I never liked this place, and beyond belief this place still gets a big crowd. Spice has been around forever, noone i know knows how long, it's an institution. If you live in Chiang Mai inevitably you will end up here, I just wouldn't go around trying to find it unless you have absolutely nothing else going on. When this place closes head over to the After Bar. The reason I don't like the place is because the last 10 times i've been there i've seen fights break out. Sometimes farang on farang, bar girl on bar girl, or farang on tuk tuk drivers. Honestly the place is a hole and the only place bar girls who didn't get a pickup all night go in the hopes to get something before the night is out. Great place if that's what your looking for. Though sometimes you'll get the odd girls who got let out of say Warm Up and are looking or hoping to meet a farang come here. Good girls do go here but you'll need to be smooth enough to make them think your not the regular sex tourist. If getting laid is imperative and for a good price you can't go past Spicy.
Spice Nightclub Facebook :- https://www.facebook.com/SpicyClubChiangmai/
Zoe In Yellow Bar (ZOE Bar)
This place is in the Rasta area near Taphae gate. Lots of backpackers here and mostly a farang crowd with groups of Thai's, hookers, ladyboys. Really the only place for backpackers and younger foreign travelers to go and a great place to watch people. When people say go to ZOE While the bar may be ZOE it's an entire area that has some really cool bars like the Rasta Bar for live music and Havana Bar popular with the Anti-ZOE crowd. This area doesn't really get going until 10pm and now closes at exactly midnight because of stabbings, fights, noise, perhaps a few deaths thrown in as well. It's wise not to argue with the staff as this place.
Zoe In Yellow Bar Facebook :- https://www.facebook.com/yellowbarchiangmai/
Hua Lamphong Station 2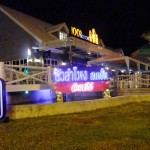 This Thai style venue is very large and not really a nightclub but it's on this list because it's one of the most popular pre-drinking places for the crowds that end up at nightclubs. It's not the kind of place you go alone so it's suggested that you go in a group, beware as there are many lesbian and tomboys. Packed on weekends. It's called Hua Lamphong Station 2 because number 1 is just up the road and is an open air pub with a live band playing every night. Lately this place has turned into a lesbian hangout.
Differ Club Chiang Mai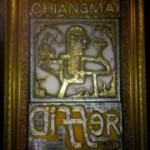 The differ nightclub in Chaing Mai located just behind Tops supermarket on Chang Puak Road is a very popular place for the younger Thai crowd. Mostly students studying at Rachapak university. It used to be known as the late night place for underage drinkers but now it's more hiso Bangkok style. The outdoor area has some of the hottest girls serving in Chiang Mai. I'd only recommend going here on the weekend as the weekdays is super slow.
Differ Facebook :- https://www.facebook.com/Differinc-Chiang-MAI-196006990551120/
Tawan Dang Beer Hall (Nightclub)
Think Flashy dancing girls, Thai Rock bands, and a huge hall filled with beer bottle and food. Long tables, excited ladyboys, you really can't get much more Thai than Tawandang. This club is in several cities in Thailand and is typically the place Thai's will ask you to go especially country folk. The string guitars and loud music and songs that all the Thai's can sing along to it's a great place to really experience and observe Thai's as they only do it.
TawanDang Facebook :- https://www.facebook.com/TaWanDang-ChiangMai-217575088273510/
Lucky Bar (Nightclub) Chiang Mai
Recently renevated the lucky bar has turned into a mini nightclub again attracting a huge crowd on Saturdays. Little expensive but the clean toilets and great furnishings make this a great place to meet before heading to one of the clubs, Mandalay, Safe House or Lux. Reputation of this place is many bar girls but i'm sure that will good for a lot of the readers here. Closes early so like i said make this a one drink place and move to the next spot.
Lucky Bar Facebook :- Lucky Bar
Late Night Bars - (no nightclub feel)

Sangdee Gallery (Late night bar)
Popular with the English Teacher and Digital Nomad crowd this place in my personal opinion blows. It's like having a party in your mothers living room. Literally a house turned Art Gallery turned nightclub with cheasy lighting can't understand why it's so popular. Best night's to visit are friday and Saturday nights. Get ready to meet people who ask you all the same questions over and over again.
Sangdee Facebook :- https://www.facebook.com/sangdeeart/
Living Room (Late Night Bar)
Known as the Farang Underground, this place is sometimes open till the sun comes up, though recently they have been closing around 4am. No facebook, no ads, this place is hidden and wants to stay that way. You walk into a room with two pool tables and a couple of weired looking locals and expats then it just gets weierder. Think "Star Wars Bar". Ladyboys, ho's, good girls and bad, you'll find every drunk in Chiang Mai at this place.
Badaboom (Late Night Bar)
I normally only go here when i have to. This place is kinda like a bikie hangout or something i don't really get the place, it's weired, got shut down recently and recopened with "sooundproofing". Not really sure what to make of this place only thing to say really is this is kinda like a last call kinda place.
I have listed all the nightclubs I know about and if your in the know of the Chiang Mai nightlife scene you're probably thinking oh he missed Riverside and Goodview. Moreso GoodView than Riverside, I just don't feel that these places really have the same feel as a nightclub.
So that's it for the Complete Guide to Nightclubs in Chiang Mai. Again if you think I've missed something or have a comment please do so below. Have and awesome night!
Related Posts: