How to Bootstrap Your Business in Thailand
When I first came to Thailand I had a job that made close to 100,000 baht a month without doing much if anything at all. While that sounds like a cushy gig it really sucked and I can see heaps of people here with the same problem. The time in the USA means that you have to work at night and schedule meetings when I'd rather be at the club or chasing skirt, or anything but having to deal with "work problems". I decided to ditch the job and start my own Business.
I've been living in Thailand for over 6 years now running this blog for almost 4 of those years and started a dozen businesses in the meantime and to be completely honest I'm super lazy when It comes to work yet somehow I've had enough success that I don't have to do anything if I chose to do so. One of my favorite posts on this site is How to do nothing in Thailand because it reminds me of when I used to literally do nothing at all and you know what? I felt busier when I was doing nothing!
There's a lot of people who would love to live that kind of lifestyle and it's really exciting to see the thousands of hopefuls who come to Thailand to start their online business to make their riches and live their dreams. But for every success there are dozens of failures. I know one guy who's been here 4 times now, each time running out of money and having to return home to a god forbid...a day job!
There are only 3 reasons why people fail to succeed in Thailand
1. Failed Business Plan
2. Failure to budget correctly
3. No work ethic and lack of focus
A few years ago there was this kid came to Chiang Mai he's like 20 something and he's whole plan was to make some website about this condition he suffered. Not at all exciting but that was his goal. The thing is, 6 months later I asked if he had finished, he had nothing to really say about it but he did have a fair few stories about bar girls including the bar girl he now had as a girlfriend 😉 I don't know the kids whole story but pretty sure he was on his last leg, was working for some other peeps and wasn't another 6 months or so until he actually had finished his project. Not long after he left for home.
This isn't the only failed Thailand bootstrap story either, hundreds of guys are doing the same thing. They seem to get here and spend their time doing everything but trying to figure out how to make a buck. If you read back to the beginning of this blog when I first started trying to make money online I would go to this hostess bar and share 3 big chang beers with my mate which cost us just 60 baht each, I had free rent at the time and just had to pay electric. Between me and my girlfriend my first three months trying to make money online I spent 23,000 baht and that was for two of us! How you could run out of money is beyond me, I still got drunk twice a week and my gf would find me girls to fuck. It took me 12 months before I was earning a measly 30,000 baht a month and I never bought a drink on Loi Kroh until the second year. When your balls to wall and focus on doing the one the thing you'll succeed.
The reason why Thailand and in particular Chiang Mai is the Digital Nomad startup gateway (made that up) is because it's so cheap you can focus on doing work instead of doing all the BS that comes with living in the west. Things like doing your own laundry will save you a tonne of time, don't worry about cooking dinner, cleaning up etc you can get all this done for you, in fact it's probably cheaper to pay to get stuff done for you than it is to do it yourself but you need to budget and you need to focus!
You'll find you have way more time on your hands in Thailand than you did back home, even if you work 10 hours a day you're still going to have hours of free time to do whatever you want. The problem I see people do is they spend the 8-10 hours playing around and only working a few hours a day, that's fine when you've made it, but when you're bootstrapping your business in Thailand you NEED to take advantage of the time you have. Stop thinking that "you're in Thailand" because all the best shit here costs MONEY and If you aren't making any you may as well be back home.
I recently bought a website from the empire flippers, made a few changes and doubled the daily revenue within 2 weeks and now makes more money than most English teachers. Probably the easiest money I've actually made in Thailand. I mention this not to brag but to prove to you that if you just focus doing the one thing you'll succeed. My focus has been on making money from content websites, yours might be trading, playing poker, podcasting, writing, whatever it is, just sit down and get shit done!
Your biggest expense in Thailand should be food. When you do your budget and you spend more money on accommodation than you do on food then you're doing it all wrong. You're better off staying somewhere cheap and eating better food than to live in better accommodation and eat shitty food.  Of course if you want to save a dime then live cheap and eat cheap, one of my good friends an iPhone app developer pays 2000 baht a month for a Thai style villa and has cold showers. He's doing it right, my other mate trying to start a web business is paying 15,000 baht a month for his little condo. He's doing it all wrong. There's no greater motivator than to improve ones situation, it's amazing how hard you'll work when you make yourself NEED the money.
If you start your journey and you focus all your energy into something and it just doesn't work you haven't failed! You've just exhausted all options and found that it just doesn't work so then move onto the next idea. That's what happened to the Kid, by the time he figured out it doesn't work, he ran out of options and had to leave, don't be that guy!
So like I said I'm just an average guy with no special talents and I'm lazy as fuck, the only thing I can attribute to my success is focus, it's focus that helped me build this site into one of the most popular blogs on Thailand. It's that focus that enabled me to figure out how to make a living online.
If you chase two rabbits, BOTH will escape
I really like this quote because it applies to so many people who have failed to make it. I have another mate that was focused on writing e-books, then he opens a bar, how he wants to buy a car for some tourism business before that was a massage parlor, a guest house etc. Nothing he does you would say is successful and that's because he's lacking focus. Bit hard to write a book when you're running a bar, but hey, maybe he'll prove me wrong.
I havn't showed an updated traffic report for this site for years and I figure the best way for me to prove the focus thing would be to show you the traffic for this site, last months traffic was down 🙁 but still fairly decent and at the top for this kind of site. I believe the reason why this site gets a lot of traffic is because for 2 years straight I did nothing but focus on this blog and living the lifestyle that this site encourages. Don't just start a project half assed you need to spend every waking minute thinking about it, you have to live and breath it!

www.livingthai.org
The main domain enjoys consistent traffic mostly from people who want sex with Thai girls right up my alley 😉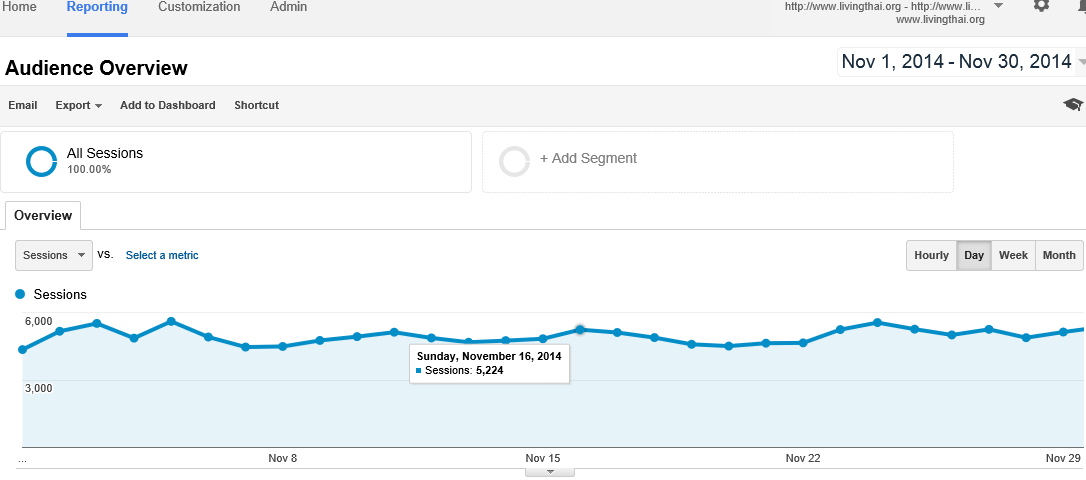 ladyboys.livingthai.org
Your probably wondering how on earth does a 4 article site get over 15,000 sessions a month! Ask Glen.

thai.livingthai.org
This was the first subdomain I made for the site, it was supposed to be for my then g/f to translate all my English articles into Thai but like most chicks here she was too damn lazy. It wasn't until a year ago that I got back in and had another girl write a bunch of "how to get a Farang" articles which would feed traffic to my dating site ThaiLoveWeb.com turned out really good when the article "Find a rich farang boyfriend" went viral and now sits on top of google.
If you have any questions on budgets or anything in this article please leave a comment below or shoot me an email.
Related Posts: