Learn to Write in Thai
I hear people say how hard Thai is because there are so many letters in the alphabet though really there is only 44 constanents and 21 vowels and 5 tone markers. So really that's only 60 you've got to remember and practice. English has 52! So it's only 8 more come on. Sure our alphabet has 26 letters but there is still upper case and lower case you have to learn to write. Writing Thai is just basic memorisation and if you've already bought the Learn Thai Alphabet in a day ebook then using the Thai Alphabet Stencils book you should be able to not only say the letters but write them too.
Remember if you are a VIP member of this site you will be able to download this book and others for free in the VIP members only area. But if you don't want to get VIP membership you can still purchase the book seperately by going to the Thai Vocabulary website and buying it for $9.
A lot of people have asked my why I don't send the printed out book so I'll explain that here. Firstly the Alphabet stencils book is just a bonus book the the Thai vocabulary training worksheets. I'd have to print out both books bind them which costs about 100 baht a book. Then I'd have to send you the book there goes another 100 baht including registered post. So now I'd be going to the post office sending out books for 20 baht a day. And I'd have to sell the book now for $20 hardly a deal. So for $9 you can download the books print them out for $2 and you've got you're own Thai language training course.
Here's a video I made to show you how the Alphabet Stencils book works.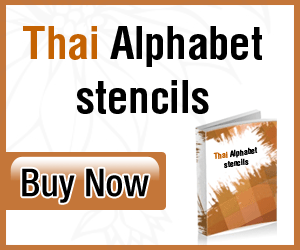 Related Posts: