Read This Before Moving To Thailand
So you've figured out your finances maybe you've got a way to make money each month while living in Thailand be it a pension, rental income, online income, or maybe you've just saved up enough money to take a year out to live your fantasies out in Thailand whatever the case or the motive you've decided to give it a try and you're moving to Thailand. But what should you really be doing to prepare?
Before you do anything get out your passport now and copy exactly what I did in the photo. You need to do this because in the event you lose your passport you'll get it back! You wouldn't believe how many people lose their passports! If you get anything out of this website this should be it. Also if you have already moved to Thailand or going on a vacation get it out now and write your contact details into the passport. I've literally had in my hand dozens of passports that were found and handed into the police station but absolutely no way to contact the owners. Also you should know if your passport has been handed into the police station it's unlikely that the police are going to mail it to the embassy so your just screwed. Do it now and if you did copy my advice let us know in the comments section so other people know it's a good idea to do.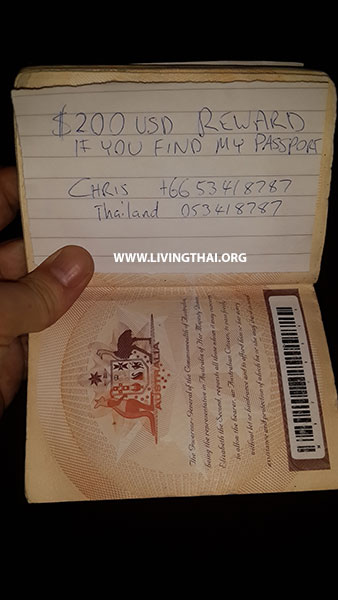 Moving to Thailand
What to Pack
The majority of people moving to Thailand for the first time pack everything they can into 2 suitcases. This is What I did and I recommend you do too. But what should you really pack? This is a list of items that you may find are more expensive or hard to find in Thailand, especially shoes. I brought over 10 pairs of shoes and I have a size 9.5 shoe. That's very easy to find in Thailand. If you have large feet 11+ or like designer trainers actually anything designer and if you can find a decent pair they will be 3 times as expensive. Honestly it's just easier to buy as many as you can fit into your bag. Another point about shoes in Thailand is they wear out quick. If you ride a scooter or walk the pavements of Bangkok they will get worn and dirty so quickly that you'll need them all. Flip flops are cheap in Thailand sure but they will dry out your feet and without moisturizer your feet will crack quickly.
shoes

laptops
cameras
mobile phones
water balloons (for songkran)
Apart from this list honestly I can't think of anything else besides clothes, you can get anything in Thailand with a bit of leg work. If not Amazon shipped through MyUS can get everything else. As for everything else leave it at home put it in storage or in grandma's basement. If you think this list needs to be longer for hard to get items please leave a comment below.
What Visa to get
Before you get your visa please check the Thai embassy website in your country of origin. DO NOT and I repeat DO NOT get a tourist visa. You can apply for one at the embassy and you'll get 60 days when you enter (depending on your country check the immigration site for more details). Then you can extend for another 30 but you will find that opening a Bank account unless you know people is going to be very difficult. Get the non-immigrant visa to enjoy a hassle free move. The ED visa will allow you to stay at least 3 years without having to leave the country.
Also you should check with the Thailand immigration website regularly for any updates up until your Visa is issued.
Manage your money
I'm not a financial planner so if you're playing with your entire life savings consult an expert. For me I've been trying a lot of different things especially in the past year on how to stay ahead of exchange rates in addition there are now online only currencies (bitcoin) I've had to deal with as well. I use a number of banks one in Hong Kong (HSCB) one in Thailand (Bankok Bank) and online currencies I store in my own wallet but exchange them safely with OKPAY another advantage of OKPAY is that I can hold multiple currencies (except Thai baht) I'm predicting the USD to be at 40 baht to the dollar in the next 3 years so i'm moving money to OKPAY and hold it in USD.
This all seems overly complicated doesn't it and if you have less than $10,000 to your name then honestly don't need to be doing all that stuff. But until you actually get to Thailand and open a bank here you can't actually send anything anyway. So make sure your current bank allows you to do international transfers via a website and check the swift codes which you'll need to send money. My advice on moving your money is to make sure you don't move everything. It's important to keep your bank account in your country with the minimum balance. Once you leave your country you WON"T be able to open a bank account again until you go back home.
What you shouldn't do before you move to Thailand
Don't rent anything long term before you get here

Don't bring your nagging white girl with you
Don't bring anything you don't need
Don't come without a backup plan
I don't recommend you book any long term rentals until you actually arrive in Thailand, what you see in the pictures is probably not what you'll get. Also since you sleep every night you'll want a decent mattress. If your budget is less than 15k a month the mattress is going to be bad to worse! You can't check the mattress from photos.
Finally before moving to Thailand it's important for you to have a plan on how to move away from Thailand. No matter how ambitious or creative you are the odds of you actually living here long term are still stacked against you. Have a plan to get out. Last thing you want to have happen is to be down to your last hundred bucks without a way home. No one is going to help you. Have a plan to be able to get back home if that means making sure you write your grandma letters every month do it! Don't become a statistic.
Related Posts: