New Craft Beer Bar Pattaya
I remember celebrating some of Thailand's beers many years back. But now, I don't know what I was thinking! While Thai beers haven't improved in decades, the craft beer scene in other countries (particularly in the U.S.) has blossomed into something special in the past 5-10 years. Microbreweries are focusing on quality first and foremost, which seems to be the last priority of the biggest brewing companies. And the explosion of amazing beers entering the market in other countries made me jealous here in Thailand, up until very recently. Fortunately, within the past year there have been a few solid craft beer bars that opened up in Bangkok – CRAFT being my favorite of the group.
But merely having a couple of expensive bars in Bangkok to choose from to get quality beers isn't good enough for me! And that is why I'm very happy to give a plug to BEERTOPIA https://www.facebook.com/beertopiathailand?pnref=lhc in Pattaya, the best craft beer spot in all of Thailand. I am fully endorsing BEERTOPIA and giving it my stamp of approval. And not just because the owner's name is also Chris.
The main reasons I think Beertopia is the best craft beer spot in Thailand:
1) The beers are 30-60 bht cheaper than his competitors in Bangkok.
2) They have the best selection of crafts, with close to 50 top beers available and new arrivals every couple of weeks.
3) They have the best MAN FOOD MENU in Thailand – seriously!
4) It's super close to Walking Street, making it the ideal pre-game bar.
5) The guys who go in are not your typical Pattaya expats who would never splurge on rare imported beers. You'll meet a good bunch of friendly guys in there. I got a chance to catch up with Chris and ask him a few questions about Beertopia.
Here's our Q+A:
Me: So how long have you been open and how's business so far?
Chris: Beertopia started its wholesale business in August 2014, and the Bottle Shop sold its first beer in January 2015 although we just had our grand opening a couple months ago.
Me: Where are you located?
Chris: Our Bottle Shop is located off of 3rd road on Soi 17, which can be found in between Pattaya South Road and Theppraya. The best way to get the exact location is to check the map from our website HERE. http://www.beertopiathailand.com/#!contact-us/c2q4
Me: Because a lot of expats in Thailand have missed the craft beer renaissance, I find that many don't really understand what they're missing. Sometimes I refuse to have Thai beers with my mates and they look at me like I'm crazy; I don't really know how to explain it to them. Can you put into words the difference between a good craft beer and a beer like Singha?
Chris: The main difference is that we are primarily serving ales, not lagers which are the only beers commercially available and produced in Thailand. All of our craft ales are fresh, always kept cold, and non-pasteurized with no preservatives. Basically you are drinking a perfectly crafted ale as if it is right out of the barrel from the brewery. It does not get any better than that. Me: I know that even within the global craft beer market, you're extremely picky about the beers you're willing to serve. Tell me about what it takes for a beer to make the cut.
Chris: We currently offer nearly 50 different beers from 8 different breweries coming from the USA, Japan, and Norway, although we do not sell all of the beers produced from these breweries; we hand pick each and every one to make sure it is the best of the best. Me: I called your menu "Man Food," because I feel like it offers so many options to indulge. What are your most popular dishes and what kind of standards do you have as far as the meats are concerned?
Chris: Our baseline menu offering started off with gourmet, 100% beef, New York style hot dogs. In Thailand it is hard to find a good hot dog, most are just made of cheap pork or chicken (yuck), so our dogs are 100% beef with a natural lamb casing giving you that proper snap from your first bite. We have 9 different varieties including my favorite, the chili-cheese dog. We also offer an Angus beef cheeseburger along with a few different styles of fresh British pies. All of this food goes perfectly with a cold draught beer.
Me: I know you don't serve a full bar, but you do have a few other choices than just beer, correct?
Chris: Yes, Beertopia is a craft beer and spirits distribution company, therefore we also offer an amazing craft bourbon that is distilled from India Pale Ale, a Vodka made from honey, and a proper Thai rum made from cane sugar (not molasses). The Bottle shop uses the cane sugar rum to make delicious daiquiris and mojitos. All of these spirits are hand-made (crafted) and unique in their own way.
Me: I have seen some of your beers available in a hotel and a bar in Bangkok, and your prices are better by at least 25%. But people should still understand that exported crafts are a bit pricey, and you do get what you pay for. Some of this is due to the import tax, right?
Chris: Yes, the import duties Thailand puts on alcohol are extremely high, to the point where it seems they just do not want to allow the alcohol into the country. We also always make sure the beer is kept cold with a continuous cold chain starting from the brewery all the way to your hand. The beer never gets warm because it is fresh and non-pasteurized, nothing like the beers locally produced in Thailand.
Me: So the craft scene has exploded in a bunch of countries, while it seems to be just starting out in Thailand. Where do you think the industry is headed here?
Chris: Currently Thailand is the fastest growing country in Asia consuming craft beer. Simply by the size of their countries, Hong Kong, Japan, and China all have a lot more craft beer available, but market studies show that Thai people love beer and are embracing craft beer whole heartedly. Hopefully the Thai laws will loosen up soon and allow additional breweries in Thailand to produced craft beer and sell it to retailers, which is at present not permitted by law. Me: Well I'm very excited about your bar and about the prospects of having quality beers served throughout Thailand. All the best to your business.
Why don't you leave Beertopia's contact info for the readers so they can find you the next time they're in Pattaya. Chris: [email protected]
http://www.beertopiathailand.com/
https://www.facebook.com/beertopiathailand
Phone: +66 863995563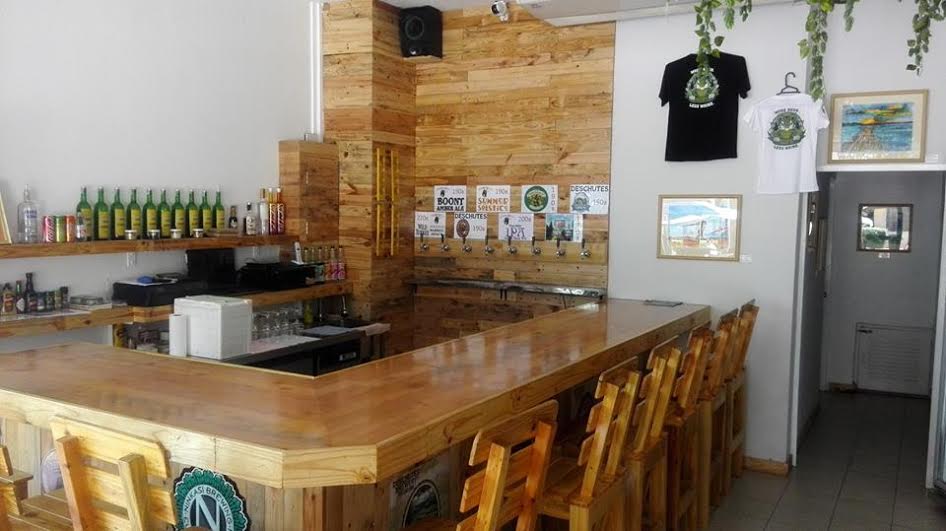 Related Posts: