Party In Chiang Mai Thailand October 1st 2011
October 1st 2011 is the first Party In Chiang Mai. A concept party I've created from an idea, an Idea that there must be something better than the regular beer bars you find in Chiang Mai.
I don't know about you but I'm tired of the same old bad looking dark skinned girls you find in the western style bars. The money games are getting bad and the talent is getter worse.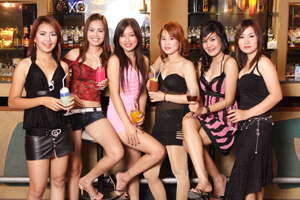 A few weeks ago I had a bunch of mates in Chiang Mai from overseas. I was thinking of what to do, something fun, not that expensive for them, but something they will remember forever. Hitting the bars can be a hit and miss and trying to keep up with which which bars had the best girls is impossible, then it hit me, why not Karaoke!
Normally Karaoke is the domain of the Asians, Thai's, Koreans, and Japanese. This is because they travel here in large groups, while most westerners, Europeans, Indians even travel by themselves or with a small select group of friends. This group of people don't normally think of Karaoke and tend to hit the beer bars. However the Karaoke Houses in Chiang Mai are teaming with young Thai University Girls that are way better looking and eager than the ones from the beer bars.
So the Party In Thailand website and Thailand Party Organizer will be a way to make it economical for single travellers to experience Thai Karaoke safely without fear of a massive bill at the end of it.
Beer and Spirits are provided, so is food, the girls, even the room and service charges are all covered for the price of admission. Transportation from any hotel in the city can also be arranged.
If you want to try something different, meet some fellow travellers and expats, I'll be there also. There are only 8 discounted tickets available so make sure your quick to grab your ticket today before they're all sold out.
For more information: Click Here To Book Your Ticket Today
Related Posts: