6 Things you might buy in Thailand but never use
You ever come back from Thailand with a pile of stuff in your bag that you thought were cool and interesting but now your back home and have no idea what to do with? Well I bet you one of those useless items you picked up on your vacation to Thailand is in this list of 6 things you might buy in Thailand but never ever use.

Wooden frog

This thing doesn't even sound like a frog, more like a cricket. They sell them at nearly every marketplace in Thailand even outside the tourist zones. Why anyone buys one is beyond me, you probably own one that sits on your shelf gathering dust.
Tuk Tuk made out of a Can

This thing looks interesting for about 3 seconds.
A pair of jeans with only one pocket
Many people will know themselves that they fell for this old Sukhumvit road jean scam. Firstly the jeans will super shrink first time you wash them and secondly you'll notice that they only have one pocket on the one side (guess to save on fabric). You've bought the jeans but now will never wear them.
A pile of pirated movies
You were thinking wow how kewl all these pirated DVD's that you've got! Awesome. Until you get home and try to use them, they don't work, in another language, BS subtitles and people continuasly crunching on popcord while the video the movie inside the theatre. Why don't you try Graboid Video
Get Graboid Video
.
Stupid looking hat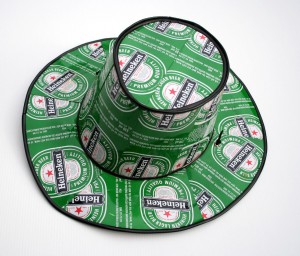 On one of the drinking binges at the beer bars either someone made you buy this or you were to drunk to realise what you were buying. These hats look funny in the photos but now the trip is done you have no place to wear them.
Fisherman Pants
I might get some slack on this one but honestly what guy walks around the streets of his own town wearing fisherman pants huh? Might be ok in Chiang Mai but definately not cool in LA.
Instead of buying all this crap try a good Bangkok shopping experience where you won't feal like you've wasted your money. Is there anything else you might have bought but will never use, if so let me know in the comments section below.

Related Posts: