Best place to stay in Bangkok for shopping
Over the past three years I must have spent over 300 hours walking around Bangkok looking for the best bargains on wholesale cloths at the 3 shopping districts of Bangkok. These deals I've been searching to sell on my eBay account. Shopping in Bangkok can be fun but you know what it's tiring and the thing I've learned over the years is you have to stay in the vicinity of the shopping districts or you'll just wear yourself out. After shopping all day then getting in a cab and being stuck in traffic when all you want to do is get back to your hotel really sucks. That's why this list of the best places to stay in Bangkok for shopping is going to help you if your on a shopping holiday to Bangkok.

The three main shopping districts in Bangkok are:
You won't find super cheap hotels in the shopping districts of Bangkok because of real estate prices but honestly you don't want to stay in something too cheap especially since you'll need to room to put all the stuff you buy you want a good place to stay in Bangkok for your shopping experience and that's what these Bangkok hotels provide.
Bangkok Chinatown shopping district hotels
The Chinatown shopping district in Bangkok is great for those seeking wholesale discounts and perfect for someone who wants to buy fabric. All the fabric sellers are in this area they will sell from 1 meter to 30meter lots. Although most people will tell you not to go shopping on a weekend the Chinatown area is the exact opposite, they set up markets in the morning around 5am that are only open on the weekend so if you go there during the week you'll miss them. This is another reason why it's best to stay at a hotel close by.
Located right on top of the Bo Bae shopping center is the Prince Palace hotel you honestly couldn't get any closer to the shopping action as you can at this place. If you love to shop you'll think this is the best place to stay in Bangkok for shopping because it's right in the middle of one of the cheapest clothes markets in all of Bangkok.
For more information or to book a room click here.
Bangkok Siam Square shopping district hotels
If mega shopping malls and designer brands are your thing you will be in heaven around Siam Square. Some say that Siam Square is the Center of Bangkok and I would say it's the center of shopping in Thailand. Literally you could buy anything and everything here. Prices are steep but I've found plenty of bargains in sale bins and shoes galore. From a Rolex watch to a brand new sports car can all be found in the shopping malls around Siam Square. Even if you don't want to buy brand name clothes you can still get most copies in the     shopping mall albeit at a higher price than you'd pay at the markets but if you don't feel like walking around in 40 degree heat what's an extra $5 to buy it in air-conditioning I say. You can get to Siam Square very easily by the sky train but if you don't feel like travelling check out these hotels in Siam Square the center of shopping in Bangkok.
Now the Central world hotel isn't exactly in the middle of Siam square but it has an advantage on location. It's an easy 5 minute walk to Siam square or another easy 5minute walk to Pratunam making it my pick for probably the best shopping hotels in Bangkok. Did I mention the hotel sits on top of South east asia's largest shopping malls? Nuff said.
For more information or to book a room click here.
Bangkok Pratunam shopping district hotels
Pratunam sounded at "bra dtoo nahm" means water gate in Thai and in the old days used to be a major canal cross roads where people would sell goods on boats. These days you wouldn't want to go near the last canal left the others have been concreted over to make way for roads is still the center of wholesale fashion in Thailand. You want to pick up 1000 pair of jeans this is the only place you need to go. But it's not just for wholesalers they still have awesome deals for tourists and Thai people alike. My advice is to go here during the week when things arn't as crowded and sellers have more time and are more likely to pick up a deal. The best deals are towards the end of the day when sellers either have had a good day or a bad day and are willing to give something up for a steal. You must bargain! It's a pain in the butt to get in and out of this place as the streets are jam packed so the best thing to do is find a hotel around the area and stay there.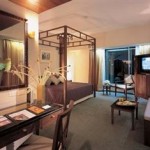 Right dead smack in the middle of the Pratunam shopping district is the Indra Regent hotel. Some of the best shopping in the world is right at your door step but that's only one reason why I recommend this place. The second is they have one of the best buffet breakfasts in all of Bangkok and when you intend to spend all day walking the markets you'll want to make sure you have the best breakfast you can.
For more information or to book a room click here.

For those of you who intend on buying a lot of clothes say for a clothes shop in Thailand or furniture you need to ship to another province in Thailand try using this shipping company which I use all the time. I can send a 30kg bag full of t-shirts from Bangkok to Chiang Mai for as little as 80 baht!
Related Posts: