Bangkok to Hua Hin – Away from the floods
I don't need to tell you about the floods in Bangkok. I live in Chiang Mai but even here things are turning to the worse because of the floods. Water bottles are scarce, many chain restaurants are closed, milk is harder to come by and beer is harder and harder to buy. Now I can just imagine how hard hit Bangkok is to the floods. But even without all this going on Hua Hin has been a big favourite for Bangkokians for ages. While this used to be a Thai only paradise the farang scene here has certainly picked up and lots of western style hotels in Hua Hin have come in.
Bangkok to Hua Hin By Train
My favourite way to get to Hua Hin is by the train, it's also the cheapest way as well. It's only 220 south of Bangkok to Hua Hin. You can check the latest train timetable here. There are 4 different classes of train tickets 1st class 202 baht, 2nd class 102 baht, 3rd class 44 baht and the lower 3rd class which is totally free.
I don't know if foreigners can get on the free train carriage or not. But personally I'm not going to even try. I've heard people who've been on them and wished they never did, more than likely you'll be standing the whole way.
The trains here arn't in the best conditions but it's the whole charm of taking a train ride. If your someone who likes to watch the world pass by for a few hours then why not try the train. Your chances are just as good as they are driving from Bangkok to Hua Hin than but it has more charm and way cheaper.
Even though the floods have stopped the train leaving from Bangkoks main train terminal Hua Lumpong station. They are still bussing passengers to Nakhon Pathom and from there the trains are going from Nakhon Pathom down.
Hotels In Hua Hin Thailand


Hua Hin has not flooded and there is no chance of the floods even hitting Hua Hin anyway so it's a safe place to go. Right now it's not high season but the prices are a little larger than normal though I'll try to put the prices as they normally are for a Hotel In Hua Hin.
If you havn't been to Hua Hin for a while then your going to be surprised at the accommodations and the Hotel variety is like. There are around 229 hotels in the Hua Hin and cha-am that you really have your choices for what hotels to stay at.
The following list of hotels are heavily discounted. The floods have hit Bangkok so some of the more luxury hotels some which go for 12,000 baht a night like the Devasom Huahin have got almost 60% off a nights stay. Me I'll probably go for something more modest but we can dream right.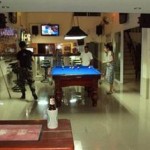 If your looking for something super cheap in Hua Hin but not a complete hole then you can't look past the Beer 0'Clock club. They have good deals going on now from less than $20  a night. The place only has 10 rooms does offer free WiFi. Being this cheap you can expect it not to be in the center of town but a quick baht bus will get you to all the action.
For more information or to book a room click here.
If you want to be right next to the beach on your stay in Hua Hin and keep your mind from the floods in Bangkok then a few nights at the Hua Hin Blue Wave beach resort will make sure all your worries are a distant memory. This is a good place to take the family or want to spend most of your time in the room looking at the views.
For more information or to book a room click here.
This small guesthouse is strategically located right near the beach so is pretty good value for money right now. The rooms are of course pretty basic but it's bearable for being pretty well located and close to the beach. Free WiFi of course makes it my best pick for a place to stay in Hua Hin.
For more information or to book a room click here.
If you drove to Hua Hin from Bangkok instead of the train then maybe you want to hit the Hideaway Resort Hua Hin. It's easier to get in and out if you have a car anyway and isn't that far from town.
Free WiFi of course
For more information or to book a room click here.
Things to do in Hua Hin
Hua Hin has a much nicer beach than Pattaya. Hua Hin has been the Thai playground for generations and is busy most weekends with Thai tourists. As such you can expect much cheaper alternatives in the Thai style tourist attractions.
The official name of the new market is Sam Phan Nam Hua Hin Floating Market. It is a another project of the group of Thai entrepreneurs who built the Ayothaya Floating Market in Ayutthaya last year. Don't expect anything too authentic but I thought it was OK to get out of town for a the day, if your only here for just a few days I wouldn't recommend this trip.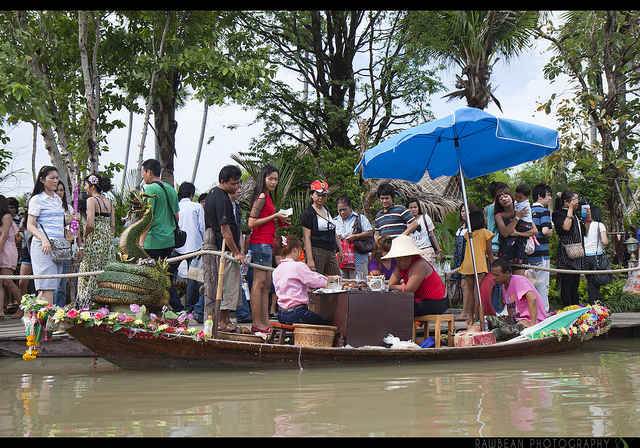 Hua Hin's first floating market is in on a man-made 50-rai plot on Soi Hua Hin 112, along Nhong Hoi-Thab Tai local road and about six kilometres from the center of Hua Hin.
My best bet for enjoying your time in Hua Hin is to do nothing more than anything. Go to the beach, eat a nice seafood meal and have a few drinks at some of the local pubs and bars.
Nightlife in Hua Hin
You might not think so but Hua Hin has a very happening night scene, but really it's expected. Being right near the beach and everyone in a very relaxed mood especially on the weekends Hua Hin can rock.
For mongers out there there are a large number of bars in Soi Bintabaht are the standard beer bar serving Heineken/Tiger for 90 Baht+, Singha/Chang for 70+ and the going barfine rate in Hua Hin is 300 Baht+. Closing time varies with the moods of the local constabulary and political events. It's usually between 1 and 2a.m. However bars will endeavor to stay open if they are busy. There are a few bars known for their late night tendencies.
Hua Hin is kinda small but there are a few late night places. The most well known is the pub at the Hilton Hotel in Hua Hin. This late night disco gets going after midnight and is said to be the next Thermae of Hua Hin, in other words the beer bars closes this is where they go. Hilton style spicy club in Hua Hin.
Maybe before you hit the club stop by the Hua Hin brewing company which has many foreign brews as well as local. They even had some belgian beer.
Related Posts: