English Teachers Are Really Babysitters in Thailand
You know I'm doing something random if I've been speaking to English teachers, better known as the bottom of the barrel when it comes to expats in Thailand. For whatever reason it seems that most ESL teachers in Thailand have a chip on their shoulder like they are better than everyone else. I don't have many teacher friends in Thailand because most that I meet have some choice words to say about guys who frequent prostitutes, instead they like to think they are better because they can't afford to, I mean, they don't pay for sex.
Whatever your reasons for becoming an English teacher I won't hold it against you. You worked your ass off in "the system" to get a degree that doesn't get you any other job except for a low paying teaching job in Asia. You'll often hear banter from these "educated" types who tell you they are working here to help the poor students of Thailand, for the experience, and that when they want to make "real money" they will go teach in Korea. Got some news for those people, English teachers anywhere in Asia don't make much money, those fancy Korean jobs you'll hear a lot of them talk about is a fantasy. Even with a master's degree and years of teaching under your belt if your teaching English as a second language you'll still make peanuts comparable to the rest of the "educated" work force even in Korea! I simply don't get ESL teachers at all and they don't get me. I don't have a degree, I didn't even finish high school, and all the jobs I've ever had I simply used google to solve any problems and make me look awesome. The teacher types tend to look down on other expats without an "education" and hate on the kids in their class that "don't want to speak English".
Actually the hating on the kids is the worse and every time i hear an English teacher telling me that their class sucks and "no one" even cares to learn just makes me cringe. WTF, I just want to kick them in the teeth. While you call yourself an English teacher you're really not, unless you're teaching university level you're a babysitter and not a teacher. You're job isn't even to teach them English your job is more to entertain and "make it fun". If I were to ask your kids what you are like and they say to me "Mr XXX is so funny and fun" you are doing a good job and you'll be loved by students and teachers alike. If you're an asshole and never smile then people are going to hate on you. Most English teachers here are assholes and don't get laid.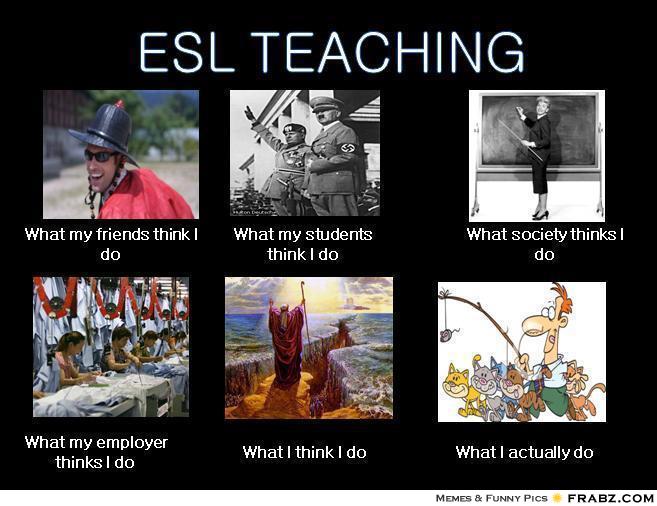 I'll say it again to be clear. If you're a teacher in an international school teaching a real subject then you're a teacher otherwise you're just a babysitter. It amazes me to hear the English teacher types complaining about their student's inability to appreciate them or their unwillingness to learn. Where did these people go to school because i went to several schools in my childhood and most were filled with kids who couldn't give a rat's ass about learning French, German, Indonesian or whatever pointless language it was they made us learn for years and everyone graduates and no one can speak a bloody word?
Most of the teachers I'm talking about are the same ones who studied French all through high school but can't speak a damn word of it then complain that their students can't speak English. WTF. I rarely meet an English teacher in Thailand who can speak any language other than English unless they learned English as a second language, in which case their accent is so terrible you wonder how they get a job in the first place
This article probably comes across like I'm teacher bashing and I guess I am, there are genuine exceptions to the case but for the most part ESL teachers here are poor, boring, and have no idea what they are really doing. (Like not really being a teacher at all).
What gets on my nerves about many (not all) English teachers in Thailand is how they belittle anyone who might have found success in Thailand, those who were lucky or fortunate enough to earn foreign wage 10 times+ their salary. Envious teachers hate the fact that 90% of his expat counterparts have a higher PPP than them (pussy purchasing power).
A lot of these teachers cross the line when they start making out they are the "good guys" and those with more money and girls are evil sinners. I've seen it all, these guys seem to think it's ok to lie to naive Thai girls and date bar girls in order to have free sex, somehow convincing themselves of their superiority.
I think it's admirable if a person gives up their economic advantage and western wage, moves to Thailand for personal freedom and self-discovery. That's awesome! Your way to do that is teaching English, nothing wrong with that at all! But don't call it a career, the kids don't want to learn English DEAL WITH IT! And stop hating on the whoremongers and guys who eat steak for dinner. I wonder just how many bar fines these guys would pay for if suddenly they found themselves with a Bangkok Multinational job and a 6 million baht a year package.
Related Posts: