To The Freakshow I Met Last Night
Sitting at a regae bar last night with some mates I had an experience that happens quite a lot to me in Thailand and that's meeting backpackers. This guy comes to the bar and orders a drink and says hello to me. The american in me would never start a random conversation especially with this dude but the outgoing Aussie in me always has to say hello. I wish now I'd got a photo of this guy however the guy looks similar to the picture below.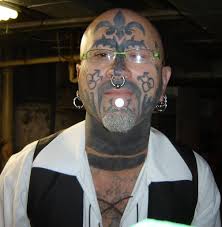 So the first thing I notice about this dude is the overly large earing he has stuck through his nose, the ear piercings that look like plates in his ears and the fact he is covered in tats. Not the kinda guy I'd hang with regardless of his personality because he'd probably scare the girls away, but whatever, i'm havin a good time I say hello back and he starts to chat.
I don't have a problem with backpackers in general but I can only stand them so much, the conversation always goes something like this:
What's your name
Where you come from
Where have you been
Where are you going
After you've answered these questions the backpacker types start telling you how they've been to 18 countries in the past few months and how you should go here and have you been there "oh your missing out" that somehow I'm less than because I don't stick a bag on my back and sleep in $3 rooms with 10 other dudes. Inevitably after they tell you all about the world they have nothing left to say except how excited they are to put the bag on their back again and sleep in another shitty room.
Listing to this guy last night I'm being polite and interested when he got to that point where he'd rambled on about his travels enough that he didn't have much more to say so he asks me what I do. So I told him part of the truth, I own Living Thai a blog on Thai girls and Thai hookers and sex in Thailand. Should of seen this guys eyes, he looks at me with total horror like I'm a child molester or something and he exclaims "I don't like that, that's wrong" maybe he was lost for words? Not sure, but I'll never forget this guys eyes it was priceless.
So this guy is obviously offended by sex (looking at him you know he doesn't get much) or at least Thai hookers or the fact that girls sell themselves for money. So yes it's true, i'm a pimp, and this site is #1 for information about Thai hookers. I don't hide the fact or pretty it up in anyway and why should I? This is life dude, this shit happens and why should I make apologies for it?
This is how these Khao San Road types are like, they'll be quick to attack you if you judge them for looping a bull ring through their nose or having enough ink to kill a whale and then attack you again if you don't also ink yourself up with tribal tats and stab yourself with rings making dance circles spinning fire singing coombaya the world is a lovely place. It's not dude, you gotta get outta your fairyland and talking to "likeminded" people to find out it's not. Try to understand the world for what it is not just suck up the shit you like. Open your mind a little.
I don't need to travel around the world to know that the world is shit, it's dark, and there are terrible people doing terrible things. So many people pass through Thailand with their eyes closed believing if they ignore it or don't partake in it then it doesn't happen or that they are helping. Many expats are like this too, they think cause they spend a few thousand dollars a month in Thailand that they are "helping" Thai people and Thailand should reciprocate with an easy and cheap visa so they can keep spending 30-40 thousand baht a month in the country. You're contribution is so small, no you do not make a difference especially to the average Thai.
I don't normally talk to dudes that look like they just came out of a clown carnival (for reasons stated) but I'm not going to judge a guy off the bat because he looks like a freakshow either. Maybe the dude would of respected me more if when he spoke to me i said "I don't talk to clowns".
Related Posts: