Food Poisoning in Thailand Cure it Yourself
Food poisoning in Thailand is a very common illness that affects everyone in Thailand not just tourists. Anyone who has lived in Thailand for a good period of time would have experienced at least a mild case. Typically symptoms include, abdominal pain, nausea, vomiting, cramping, diarrhea and it all happens very quickly within 48 hours of eating contaminated food.
Find out my quick Thailand cure to food poisoning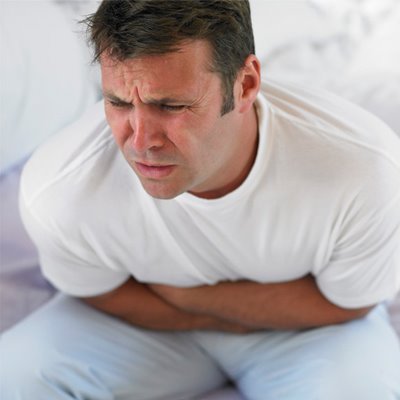 Depending on how your food was contaminated you can even experience high fever and chills, bloody stools, dehydration, your nervous system can break down and you can die from serious food poisoning in Thailand if your unlucky enough to meet with some nasty infected food. Symptoms sometimes only infect the one person even if a group of people ate the same infected food which makes it difficult to figure out what it was.
Back when i lived in L.A. they had this system where every restaurant had to put their quality score in the window so a good clean restaurant would be given an A by the department and they could put it on the window. OK so you never saw C letter restaurants but you would see some B's...you just wouldn't go in them. Thailand would do good to have the same system because i'm pretty sure most places would be graded C.
Causes of food poisoning in Thailand
There are maybe 250 known diseases that can be transmitted through food and that's just whats actually known, there are probably thousands of more diseases that we don't know about because the symptoms are so mild and we get over them so quickly no one cares to really look into them and certainly no one is going to see a doctor about them. Besides doctors don't need to check the kind of disease you get because the outcome and treatment is going to be the same anyway.
The known causes of food poisoning are normally put into two categories
Infectious agents include viruses, bacteria, and parasites.
Toxic agents include poisonous mushrooms, improperly prepared exotic foods (such as barracuda - ciguatera toxin), or pesticides on fruits and vegetables.
When you eat contaminated food you get sick, in western countries that have vigorous standards large fines and threats of closure sanitation and food preparation techniques are employed to reduce the risk of customers eating contaminated food. Thailand however has little to no such standards. In fact you can open a restaurant in most places in Thailand without a license to sell food, without ever having a visit from the health inspectors! This kind of lax standards is why food poisoning in Thailand is so common.
When you get food poisoning in Thailand it's most likely because food handlers do not wash their hands after using the bathroom or have infectious themselves that they pass to the food and you eat it. Food that hasn't been packaged properly or has been stored at the wrong temperature can also help food to become contaminated.
Don't think that just because you eat some food off a random side cart or some lady walking along the beach and your going to get sick. If they have kept the food properly wash their hands before preparing the food then it's likely as clean as some restaurants. On the flip side just because your eating food at a restaurant in Central Department Store don't think that's cleaner, I've seen the chefs there walk into the bathroom and walk out without ever washing their hands, in fact when I see Thai men use the bathroom it's rare they I'll ever see them wash their hands with soap so whether it's a large chain restaurant or a BBQ pork side-cart your just as likely to get sick.
How to cure food poisoning yourself in Thailand
The medical treatment for food poisoning is an IV drip in serious cases and dehydrating by drinking lots of water. If you see a doctor in Thailand for food poisoning in every single case he will ask you or either simply prescribe for you tablets that will stop the diarrhea. I personally recommend you not take this medication, it clogs you up and can cause serious cramping.
In 95% of cases you will not have to see a doctor unless your condition is absolutely serious and you'll know exactly when it's like that. So if your just simply vomiting and diarrhea lasting about a day then you can really take care of yourself at home by doing the following.
Don't eat any food at all if you are nauseous and or vomiting but try to drink a lot of fluids.
When you drink water make sure it's room temperature and only take small mouthfuls at regular intervals (a rush of water can actually make you vomit more)
Don't drink any alcohol, caffeinated or sugary drinks. If you do feel like vomiting the best thing to drink is not water but room temperature Sprite from a can and a straw, this old timers remedy still works today.
Once you can drink fluids without vomiting you should eat one tablet of CA-R-BON and start to try eating some solid food. Plain foods are best and in Thailand just white rice and chicken or rice soup with pork are the best things to eat. If you are not lactose intolerant then milk is OK to drink and will not affect or increase diarrhea.
If you live in Thailand it's inevitable that you are going to get food poisoning no mater what prevention you take, even the place you've been eating at safely for the past year can give you food poisoning.
You can buy CA-R-BON at most 7/11 stores it's 25 baht it's a natural remedy and actually works!! this is how it looks.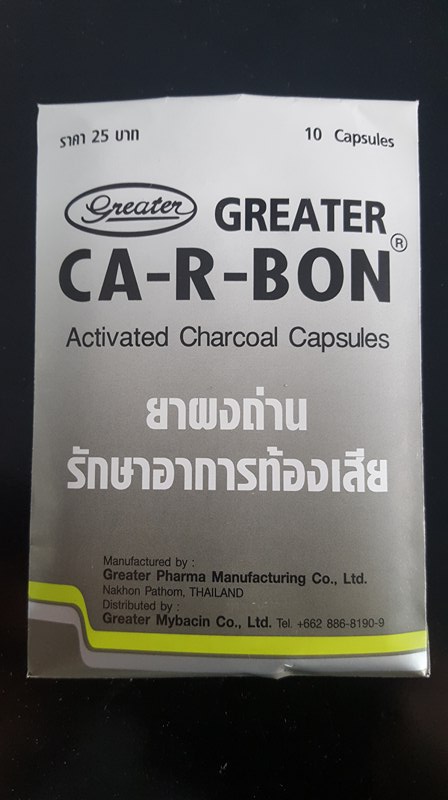 Related Posts: