Mad Yank Poker Player Jailed For 10 Years For Killing Thai Bar Girl
American man Ronald Fanelli a former Navel officer has been sentenced to 10 years jail for killing a Thai bar girl and stuffing her into a suitcase before taking the body to a remote part of the island Phuket and dumping her body. The apparent murder was caused from a spat between him and the Thai bar girl over a star wars toy.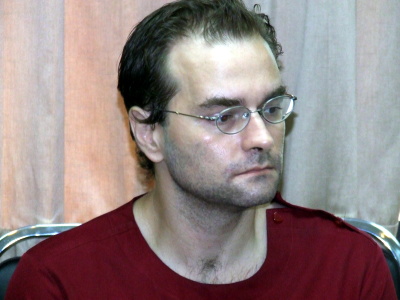 On Tuesday the Phuket provincial court handed down the sentence of 10 years jail for Mr Fanelli. He has already been in jail for some 471 days which is concidered part of the 10 years. Ronald has complained about overcrowding in the Phuket jail which houses 1600 inmates meant for 1000. He has the opportunity to move to a jail close to Bangkok though conditions are probably just as bad there as they are in Phuket.
American Ronald Fanelli was an expat living on the island of Phuket Thailand. He ran a blog about poker and was a big player in the London poker scene as seen below in a picture of him playing poker in London.


Apparently though he wasn't a very good poker player, according to the Hendon Mob Database he only accrued $45,000 dollars in live winnings.
The lady he killed Whanpen sure she was a hooker, she was trying to pay to raise for her kids. Wanphen was the mother of two children that she had with a previous husband. Her daughter, named Farm, is 3 years old. Her son Iang is in the sixth grade (not sure how old but probably around 10 or 11). She was financially supporting her partially blind mother who is now charged with taking care of Wanphen's two children without any form of financial support since Wanphen was an only child.
Honestly I don't know whether to feel sorry for the guy or not. He said it was an accident but then why would you chop up the girls body put it in a suit case and dump it on a remote part of the island. If it truly was an accident you'd call the police and explain your innocence. This is Thailand I know it's scary. But if it really was an accident then i'm sure there is some money you could pay and get off without 10 years in jail!
Well mate your in for it now, your going to have to live with the consequences now. I know heaps of expats in Thailand quite a few live in Phuket and Chiang Mai but they don't go around murdering bar girls and hookers! Best of luck.
Interview of arrest of American man Ronald Fanelli
Related Posts: