Stupid dating profiles on ThaiFriendly.com
I've had a membership on Thai Friendly for the past 2 months checking it out comparing it against the other dating websites here in Thailand. Any dating website works well as long as it has 3 components. The ability to send and receive messages and has chat enabled. Though for me I hate using the chat because I'd rather be talking on the phone so I typically disable this feature. After searching through ThaiFriendly I found that the class of girls on there are much lower than what I found on Thai Love Links. But that's OK for me because I prefer a simple farm girl over a hi-so stuck up cow any day.
Anyway while using the ThaiFriendly.com Thailand dating site I came accross a whole bunch of ridiculous profiles. Sometimes these girls just don't think and surprisingly they are very open as well. Here are 5 stupid dating profiles I came accross with explanations on why if you come accross these girls you should just block them immediately.

Thai girl want's an Iphone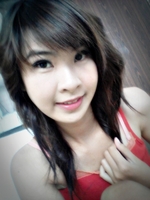 So here is a 19y/o good looking Thai girl her title reads "หาคนรักจริง" which means "looking for someone who really loves me". Then she goes on to say in Thai that she's looking for someone who will love her for real, love long time, easy to talk to, not serious. Wow sounds like a great girl right? Until her last statement.
อยากได้ iPhone 5 คัยใจดีซื้อหน่อยค่ะ
I want an Iphone 5, who is nice enough to buy one for me?
Now a lot of these girls get annoyed when guys message them for sex yet they don't seem to mind asking for laptops, iPhone and other stupid shit they really don't need. This girl is high maintenance she doesn't really want real love she wants a sugar daddy. I'm sorry but it's not going to be me!
Thai girl doesn't want sex cam!
So take a look at this profile http://www.thaifriendly.com/JewlyJewly seems like an alright profile but what a dumb ass. She puts up all her photos where she's in bikini's shows off her cleavage half dressed then tells people she doesn't like sex cam she hates it! I'm sure she gets more than enough people sending those requests normally but putting up photo's like that what can she expect just stupid.

Thai girls want expensive meals
Well you know me, I don't mind spending 1300 baht on a bottle of black but when it comes to girls i'm happy to just buy a bowl of noodles and get down to it. When a girl says she only wants to eat Fuji or something else I'd rather pass on the girl. Mostly because I honestly believe this kinda girl is just fishing for a free meal. Take this girl for example http://www.thaifriendly.com/Mayfriendly there is already an area on your profile to say what kind of foods she likes saying that she likes Fuji in the header is a dead giveaway she's fishing for a free meal.
The sexiest ladyboy on ThaiFriendly.com
The guy who runs Thai Friendly does an awesome job deleting spam profiles and making sure there are no under aged girls on the site and in terms of lady-boys he does a good job of making sure that the lady-boys are in the right section but looks like he missed one. Though I'm not sure if he should change this one because she/he is probably the best looking lady-boy I've ever seen on the site and actually better looking than 95% of the girls.
Thai Girl Just Wants Sex
Actually this isn't a stupid profile it's probably one of very few profiles that has a Thai girl openly admitting that she wants sex and with Tits like this i'm sure she is getting a million messages a day and after this post goes through i'm sure she's going to get another few thousand. Personally though I don't like girls like this, they bore me easily and are too loose. Some guys like a real experienced girl but in Thailand that could mean Aids and other nasty shit you can pick up. Give this slut a pass.
Tip for using ThaiFriendly.com
I'm honestly not a big fan of free dating sites, too many guys on them, think about it. When you use a free dating site so does everyone else and you can send so many messages from them that the girls get overwhelmed and don't respond to you. I still prefer Thai Cupid which has less guys using it making the odds more in your favour. That said the trick to using ThaiFriendly is still to send as many messages to girls as you can therefore the only way to do that is to pay the monthly fee.
You can pay for a year which makes it cheaper if you use it a lot but I disagree with this method, you need remove your profile every 25 days and make a new one because then you'll show up as a new member and everyone wants to check out the new members!!
If you havn't used the website before here's the deal. It's free to use but you can only send one message every 10 minutes, that's OK and it was for me until you meet these girls who keep sending you stupid messages every 10 minutes for which you reply and ask for her number and it takes 10 messages to get her number so you've just wasted 2 hours! That's why the free thing doesn't work, try it out and you'll see what I mean.
Related Posts: