The Best Escort Agency in Bangkok
I came across some fliers for an escort agency in Bangkok more than a few times and their marketing must have worked because I was curious enough to check out their site Bangkok Escorts and to look into their services.
The results are in and I'm basically blown away. They're not the first company to come along that offers high end escort services in Bangkok, but they're the cheapest and the most professional. Their roster of "talent" is loaded with superstars. See for yourself!
I'm not saying you should use this service or one like it every chance you get. What I am saying is that it should have a place in your regular lineup of "outlets." Sometimes you want a soapy massage and other times you might want to hit the bars and discos. But I believe there is definitely more than enough appeal to paying 5,000 baht for 2 hours with a model at your convenience, and at your hotel or apartment. They have other packages available for longer stays including 24 hour service and even multiple day service. But let's go over some of the positives and possibilities for the varied escorts available at different rates.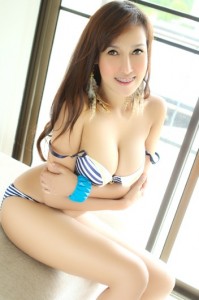 If you're married or you have a girlfriend and you just want to get your rocks off with an explosively hot woman with no mess or fuss, I think this option is a winner for you. The company is flexible on appointment times so it shouldn't be difficult to secure a short window of time to do the deed. The only other way I can think of to get a girl of the same quality would be to go to the high end GoGo's, but that can be hard to pull off when you have the ball and chain waiting for you. Even a man on a mission won't be home before 1AM if the plan is to spend a short time session with a gorgeous dancer. Compare that to this escort service in Bangkok where you can do everything you need to do in roughly the same time it would take you to go to the gym for an intense workout or catch a couple beers with your buddy at a pub. Those white lie excuses certainly wouldn't work for a night involving a Go Go.
Price comes into play as well. 5,000 baht is a lot for short time compared to spending 500 baht on a street walker, but that's not really a fair apples to apples comparison is it? Let's say you don't have a girlfriend and are free to do whatever you want for a given night in Bangkok. And let's say the one decision you have made is that you want to spend time with a perfect 10. The urge to pick one up while Go Go hopping is understandable as that can be a really fun night. Price-wise I'm not sure you save any money though. By the time you pay for drinks, bar fines, a high end dancer's short time rate, and a taxi ride or two, I think you're right in the same ballpark as the Bangkok escort price. I'm not saying either option is necessarily better, but on certain nights where I don't feel like dealing with the hustle and bustle of a full night out on the town, a beautiful woman coming to my door step with no questions asked sure has appeal. Sounds like a perfect Tuesday night to me.
Perhaps one of the best times to think about using Bangkok Escort Service is when you're going to or coming from the airport. If it's your first night in on a holiday and you're sorting out your jet lag, I think it's a nice treat to yourself to start the vacation off properly. Or maybe you live in Thailand in another city and you're traveling in and out of Bangkok. Why not spend a night at a hotel with a beautiful girl the night before your A.M flight rather than torture yourself with a long commute to the airport followed by a long plane ride. And this ties into a go-to trick of mine for getting away with escapades while you have a girlfriend or wife. I always tack on an extra day to my "trip." And that extra is always spent in Bangkok, either the day before I take off or the day after I arrive. So if I'm headed back home for 7 days I'll tell my girlfriend that I'll be gone for 8. I'll even offer for her to tag along either dropping me off at the airport or scooping me from the airport. Whichever end of the trip she doesn't come to Bangkok for is the full day and night I have all to myself in Bangkok where I can choose the escort model of my choice from the website.
Related Posts: