Top 10 best RC remote control helicopters
There are many RC remote control helicopters to choose from and knowing which one to buy can be a little daunting especially for someone who doesn't know much about them. There are remote control helicopters that just go up and down others that can even fly upside down. From one channel to two channel controllers single or double blade RC helicopters and your overall budget there are many different RC helicopters to choose from. This list I hope provides you with some good inside into remote control helicopters and maybe help you buy the best remote control helicopter for you.
Syma S107/S107G R/C Helicopter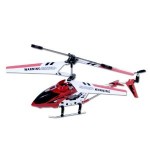 If your looking for a good starter remote control helicopter than maybe take a look at the Syma S107. If you've never owned a RC helicopter before and just want to play around first to see if you take up this hobby or not then try this cheap RC it has a gyro so you can move forward it can't do fancy tricks like flying upside down but when you crash it, and you will! It won't cost you an arm or a leg.
Newest DH 9053 26 Inches Volitation 3.5 Channel Outdoor Metal Gyro RC Helicopter
If your looking for a basic helicopter for learning or maybe as a gift to someone you couldn't go wrong with this durable remote control helicopter the DH 9053 Gyro RC heli. It has more of a learning curve than the previous Syma. The only problem with the copter is it only has a 15 minute flight time per charge so you might want to buy more batteries since it takes two and half hours or so to charge the battery full again but it does take about 8 AA batteries so if you had a bunch you could fly it for hours but recharging the batters is annoying.
Syma New S022 Big CH-47 Chinook 3 Channels RC Helicopter
If you want a remote control helicopter that is not a toy for kids then the chinook might be just for you. It's quite large and as I say it's not really a kids toy. It does fly longer than some of the other cheaper helis but it flies great. Great thing if you get this and a few extra batteries is it'll fly for about 10 minutes under a 30 minute charge so if you have 3 batteries you could fly this RC helicopter for as long as you like but keep changing the batteries.
New Double Horse 9100 "Hover" 3-Channel Sports R/C Helicopter w/ Built in Gyroscope
The Double Horse 9100 remote control helicopter is a great serious helicopter for kids it says 3 and up but I wouldn't give it to a 3 year old to play with. A little more difficult to fly even but with a bit of practice you'll have no problems with this good rc helicopter. This 3 channel rc helicopter has great responsiveness so be careful when you first start flying it especially if you've never flown a heli before. If your thinking about getting this copter go to youtube and check out the 9100 training video.
Syma S109G Apache AH-64 3-Channels Mini Indoor Helicopter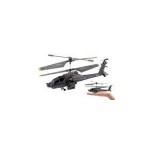 There are plenty of cheap indoor remote control helicopters but the Syma S109 has got to be one of the best but smallest rc helicopter on the market. It's quiet and flies without a problem around the living room as long as your mom isn't at home! What a difference the gyro makes to the stability of flying the RC heli as is the led lights that help you fly this thing at night just like the real Apache helicopters.

Syma S031G RC Helicopter with Lipo battery Newest Version
The Syma S031G is a good remote control helicopter and is a great first helicopter that is good for flying outdoors. It doesn't have the best battery life but then if you just buy a few spare batteries you'll get some good flying time. There is no way you could fly this thing in your home or even in the backyard you really need like a footy field to fly this thing around. Somewhere that has some grass because it helps on the impact when you crash the thing and you will crash it!
SPY HAWK 3.5CH Metal RC helicopter RTF + Gyro and SPY Camera + FREE SD memory card - Large Size 12" wide
So I'm not going to lie the Spy Hawk isn't the best remote controlled helicopter out there in fact it isn't even close to being the best but it is one of the best deals because of the features the Spy Hawk has. One of those features is the on board SD memory spy camera one of the cheapest RC helicopters with a camera on it. You might need to make a number of modifications to chopper before it's really worthy of spy plane status but that's the great thing about this hobby you can really go all out and update an inferior heli and make it an awesome helicopter.
Esky Honey Bee King 3 RTF 6-Channel 2.4Ghz RC V3 Helicopter ---New!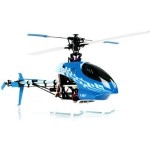 If your starting to get serious about your RC helicopter hobby then you might want to climb up to the next level and get this 6 channel honey bee it's a total beast. It goes way faster than the four channel variety. It is a little expensive but it goes super quick and fast I saw a video of this RC helicopter flying upside down though I'm sure that takes some real skill to do that and I'd better start with a 2 channel heli variety first.
Align T-REX 500 ESP Superior Combo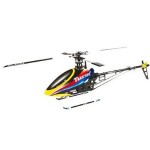 This is only one of the best remote control helicopters you can buy from Amazon with its super fast torque and turbo speed manouverability if you can fly one of these babies will be impressive. the T-Rex 500 is no toy at all and only experienced pilots should drive this thing. The box says 13y/o and up and I'd only let a 13y/o fly it if he had started on an earlier version first but either way this T-Rex 500 does offer some very stable flying.
Align T-REX 600 Nitro Super Pro Combo KX0160NPH New
The person who buys the T-Rex 600 Nitro would know more than I do about flying remote control helicopters so here I can't say to much. But it does look like a great machine and with the 1500-2200 Rotor RPM electric motor this baby would fly really well. I don't know how much flight time I'd get with a battery.

Related Posts: