Two fantastic Buffets in Pattaya
With nearly 100 buffets to choose from in Pattaya there are no shortage of options. Having lived here for many years and having gone to most, I thought I would share my two very favorite places with you.
Daruma Shabu and Sushi Buffet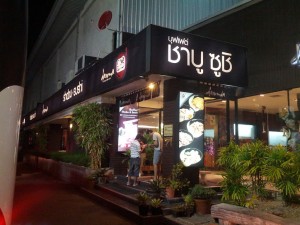 Located across from Big C on 2nd road in North Pattaya, Daruma is my favorite restaurant in town. It's very conveniently located, the food is great, it's a nice place, and its open 24 hours! Business isn't exactly booming there and I'd be heartbroken if they had to go out of business, so go and check it out if you haven't already done so. The place is probably too large for it's own good, but at least you'd never have to wait to eat there.

Atmosphere/Service- It's a nice newer looking place with cool air always pumping. When you walk in you notice a room with tables and chairs that is always empty. It's a shame that they miscalculated, but the front dining room is basically just for show. When you walk into the main hall there is nothing but 4-6 person tables, all with the Shabu hot pot. And there is a revolving line of sushi that goes all around the restaurant. You've probably send some places like this before, like Shabushi; but this place is much nicer and there are no "bar stool" seats. The service is solid; it always seems like someone is around when you need them and the Sushi Chef's don't have a problem making you something for free as long as it's on their normal list of sushi rolls.
Food- The food is great. My girlfriend is always preoccupied with the hot pot and she insists that the quality of the fish and meats they give you to cook is higher than the larger chain restaurants. I raid the large and delicious sushi rolls as they come by. I also have never had less than 10 servings of salmon sashimi when I'm there; they have the best in town. The all you can eat sushi destroys any other like it in Pattaya.
Price- They have special rates for lunch, with a more limited choice of options on the rotating line. Dinner buffet is 399 Baht per person. It may sound like a little too much, but there's no way they can justify giving you the quality of the Sushi and meats for the Hot Pot at a lower price. Drinks are about the same price as they would be at a larger chain restaurant. You're looking at 1,000 Baht for a dinner for two with beer.
Help me keep this place alive! I go there about once per week for a reason. Anyone I have brought there with me always loves it and I'm sure you will too.

Aroy Chang Party Buffet
Like Daruma, this restaurant is also an all you can eat buffet, but they have just about nothing in common past that. The Party Buffet is located on Sukhumvit (the side of the street closer to town/beach) in what I would guess is Central Pattaya. There is a very bright liquor store next door to it also called Aroy, so if you keep your eyes peeled for the bright liquor store you'll have no problem finding it. This restaurant's appeal comes down to seafood and price. The customers are 95%+ Thai, and on many occasions I have been the only non-Thai there. I think this is a good thing because you know you're getting a good value for your money with so many Thai's frequenting the establishment.
Atmosphere/Service- Just like many non-chain Thai buffets, the restaurant has no walls and no Air. With the hot pot steaming in your face sometimes the heat can be a little uncomfortable, but only for someone on a holiday; permanent ex-pats here are used to this type of place. There's nothing nice about it; but you really feel like you're IN THAILAND when you're in a place like this and I suppose that's worth something. The service is perfect, no complaints.
Food- They have an assortment of meat and vegetables for the hot pot, as well as some staple Thai dishes, a little bit of Sushi, and some type of chicken or pork streak. And I don't touch any of it when I'm there. I actually think all of that food may even be slightly below average for a buffet of this style (judging on looks) and I could care less. When I'm there it's for nothing but the seafood. For the price I have never seen a seafood selection quite like it. The shrimp/prawns are larger than most places carry, and they usually have oysters and clams available as well. But they also have rock lobsters! The grill man cooks them up and cuts them up perfectly. Rock lobster is no Maine lobster, but these happen to be pretty tasty and there's no limit. I get downright gluttonous with the lobsters. I'm never a big fan of over tipping in Thailand, but I make it a point to give the grill man 50 Baht, which is the least I can do since he loads me up with 5-7 lobsters at a time, and I go up many times. I eat so many lobsters there that they have offered to give me a 1or 2 kilograms of lobster to take home at their cost, which is less than half of the fish market's price. I guess they figure at least they don't lose money on me that way. Anyway it's quite an experience if you're a seafood lover.
Price- You can't beat 179 Baht per person for that type of seafood selection; it's fantastic! They also have the large bottles of Asahi beer for 79 Baht to wash down all of those lobsters and shrimp. Value for the money is off the charts here.
So if feel like putting on your cheapest t-shirt and getting messy with an excessive amount of seafood for 179 Baht, this is the spot!
Related Posts: