22 year old Australian Aziz Zyzz died in Thailand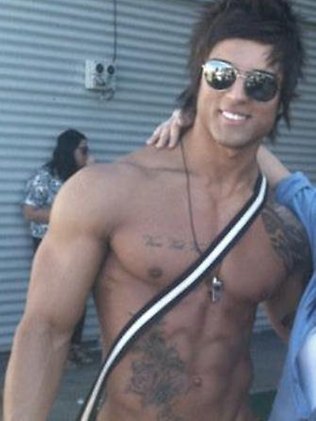 A PIN-UP boy of Sydney's amateur bodybuilding scene has died after apparently suffering a cardiac arrest in Bangkok.
Russian-born Aziz Sergeyevich Shavershian, known as Zyzz, died after being found unconscious in a sauna, a post on his fanpage said yesterday.
The 22-year-old did not compete in bodybuilding competitions but built a strong reputation with tens of thousands of Facebook fans who admired his muscle-flexing and adopted his vision of "getting aesthetic".
Mr Shavershian, who began bodybuilding after completing his HSC to build strength and attract girls, lived in Eastwood in Sydney's northern suburbs and was a personal trainer, aspiring model and part-time stripper.
He also sold a whey protein supplement named Protein of the Gods.
Posts on a Facebook memorial page said Mr Shavershian suffered a cardiac arrest three days ago at a hotel in bangkok. His 25-year-old brother Said, who is also a bodybuilder and known as Chestbrah, said he was devastated by the death.
Did you know Zyzz? Tell me below
"Would do anything to have you back home safe with me. 22 years old. U were far too young," he wrote on Facebook.
"I F ... miss you sooo much my baby brother, I can't live without you comeback please. Don't do this to me."
Chestbrah was last week fined $400 in Parramatta Local Court for possessing anabolic steroids. Fanpage zzyzcentral.com said the cause and circumstances of Mr Shavershian's death were unknown: "It is a sad day for all of those whose lives Zyzz inspired and motivated. The best way we can cherish his memory is by living life to the fullest, by training hard, getting aesthetic and not taking life too serious."
The Department of Foreign Affairs and Trade confirmed a 22-year-old NSW man died in Thailand.
Related Posts: