Changes in Chiang Mai
It's amazing what can happen in only a few months in Asia while back home things change slowly here it's at lightning pace. Change is inevitable and Chiang Mai is certainly changing. I woke early this morning and decided to drive around the City I love to see what has changed. Well not a lot but construction on all the new shopping malls seems to be going full steam ahead. Here are some photos of the changes happening to Chiang Mai.
Walking Street (Sunday Walking Street Chiang Mai)
For years now Ratchadamnoen road (Sunday Walking Street) was a disaster area. Driving along it on a scooter felt like being shoved in a washing machine. Before I left they were still working on the road. It's now complete and I must say they did an excellent job of not only fixing the road but the sidewalk and the drainage system. Well done!
Star Avenue
While the Mc'Donalds has finished and the shops out the front, the back still has a ways to go, honestly looks the same as it did 2 months ago.
Promenada Chiang Mai
Didn't take a great photo here for close up I thought it would be better to show the size of this place, It really is huge. Actually this part of town is really growing up and for those who want to buy a house I honestly think this is one of the best areas to buy right now. Forget Hang Dong! The website says it opens in 12 days. I honestly can't see it actually complete in 12 days, looks like at least 2 more months till completion. Check out the website http://www.promenadachiangmai.com/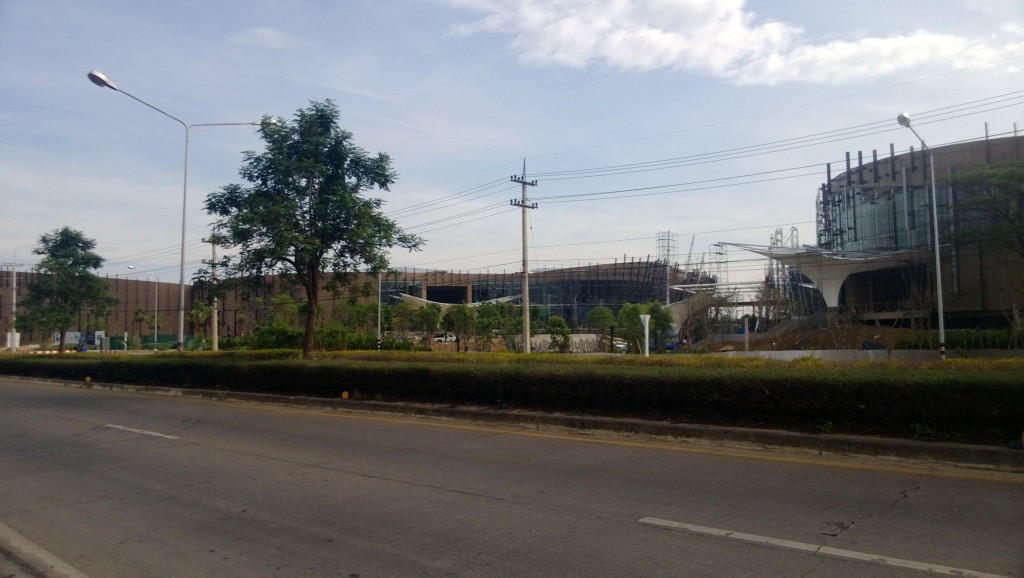 New McDonalds
Not sure what they are calling this place, but it's a good location especially for car traffic. No Sign of Maccas yet but the back shopping part looks like it's coming along well. Looks the same as Star Avenue.
Maya Shopping Mall
Honestly I think this is a great location but it's also a terrible location. Traffic on this street is already the pits and having a mall is only going to increase congestion. It's coming up fast and i'm not surprised if it opens within the next 6 months. The Maya Shopping Mall will be the place all the Chiang Mai uni kids will hang out.
Central Festival Chiang Mai
I really like the position of this Shopping Mall, it's supposed to be bigger and badder than the Central Festival in Pattaya but they won't compete on the view, not like you see the view from inside a mall anyway. Still from the Night Bazaar if there is no Traffic it's closer to get to than the Central Airport. It looks really big too!
Sonic Playground
I really was getting into the idea of this club, next to differ it showed promise, I was hoping to see a lot of progress here but sadly doesn't look like anything is actually happening, perhaps it's all being down on this inside atm I don't know, right now all you can see is the sign. Maybe they are still looking for investors, interested check out their site http://www.sonicplaygroundcm.com/
 Burger King at Thapae Gate
Well this was inevitable, the restaurant down stars of the M hotel (formerly the Montri hotel) sucked ass Big Time and I was amazed it opened so long. Now there's a Coffee Club and a Burger King at the location. Wow that happened super quick!
Related Posts: