Changes in Chiang Mai a Year on
Chiang Mai is changing all the time but because it happens at a gradual pace when you look at the subtle differences each day you kind of don't really see things happening. I was going through some old posts fixing them up when I found the Changes in Chiang Mai post. Those changes are now far behind us as the city in just a span of a year has come a long way.
Roads in Chiang Mai
A year ago I was super excited that the local counsil had finally fixed up the sunday walking street, driving along on a scooter would seriously make your butt hurt! So when that was done along with the drainage system upgraded I was super happy. But now most of the major thoroughfares in Chaing Mai have been at least resurfaced riding around Chiang Mai is now much more fun.
Road changes havn't all been for the better, the number of Chinese drivers with their feet peddling a scooter or walking a bicycle keeping to the right and overall erratic behavior has exploded.
The locals on Chang Moi road are still defiant in keeping their street "Bar Free" erecting more signs along the road. I can totally understand the locals they don't want the street turn into a Farang ghetto and just because Spicy moved outta there doesn't mean it's not going to happen, it's inevitable at least in my opinion.
Shopping Malls
All but one of the Big new malls are complete. The best mall by far is the new Central Festival which has ice-skating and everything but McDonalds and Fuji. The new Maya Mall at the end of Nimmanheimen does have the Fuji and the best cinema in Chiang Mai. Promenada mall, the one that opened...twice. Still struggles and mostly because 70% of the population live near a different mall! While the location is out there and even I criticized it a lot, it does have one thing going for it and that's as a dinner destination. Before for a nice meal and view you would go down by the river, well for something different try Promenada, at night by the patio is just as good. Not to be missed at Promenada is Thailands best fusion restaurant Mix. The mall that I've really been interested in seeing open is the Platinum fashion mall.
Nightlife
Even with the curfew over things still aren't back to what they were before. Some nightclubs and bars have been forced to close before 1am including Zoe and Spicy. Actually Spicy must be going trough some tough times because they even turned the downstairs front part into a coffee shop. Honestly how many people are going to go to spicy for a coffee?
The new club we've been promised for years it seems Sonic Playground still doesn't look like it's going anywhere. I contacted them last year they said the end of this year so does the sign yet I still don't think it's going to happen. I remember they built Infinity in less than a year! Maybe i'm just impatient. Will follow up if I have any new developments but at this stage looks to me they didn't get their investors whatever and it's dead in the water.
The problems with the curfew have hit everyone even the Karaokes which are normally viewed as immune to any shut downs or curfews had to chain their doors the other night as a convoy of military personal with a gun so it was pretty spooky. With the doors locked everything looks closed but in true Thai style the parties still going on inside.
Few new open beer areas for the Thai's have sprouted up along the freeways notably Next Bar and the bar on top of Star Avenue which has become a hip place for Thai's with cars. Actually the success of the Star Avenue mall is not at all surprising. If there's Indians involved it normally does work.
2am in the morning and you want a burger the only options were McDonalds and Mikes. Well Mikes is no longer. It's now called Big Burger.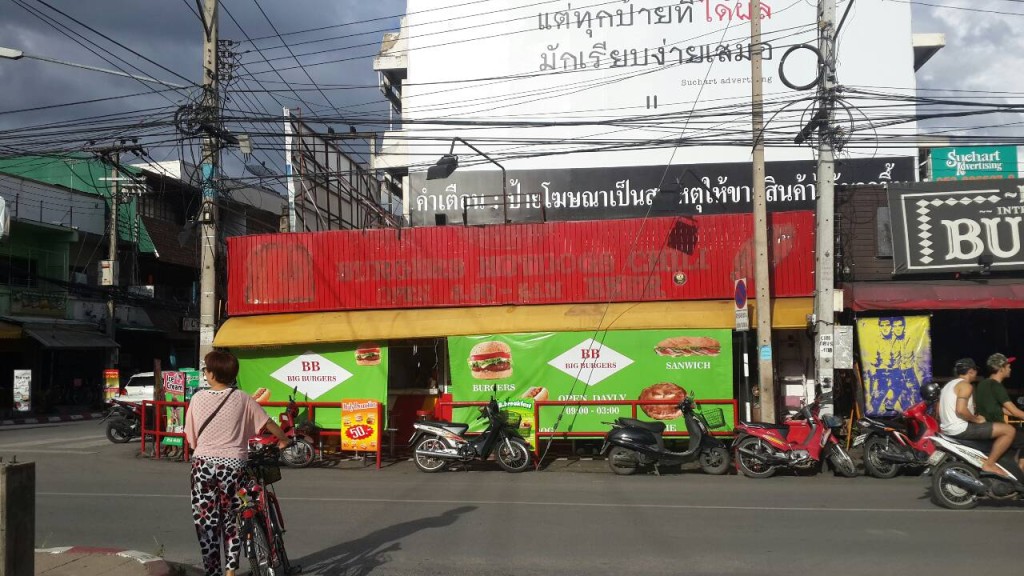 The gay area beer bars that were next to the Foxy Lady GoGo club are now demolished and it's now a car park, some of the owners went and moved shop to the area of little shops behind the jack van.
Zoe has a promotion going for a free drink if you write a review on trip advisor check it out.
Seems like the only real party places open after 1am in Chiang Mai now is the area around Inifinity nightclub which at least last night was open till 4am. The cops raided Warmup the other night checking Id's and Passports! If this persists I might have to move from Chiang Mai until things come back to normal.
Guest houses in Chiang Mai
Several years ago there was a boom in construction of Guest Houses and accommodation for nightly visitors inside the city, the land was cheaper and there was still opportunity. Now with the price of land there has been a shift for investors to move to condos and other real estate. This has been good for those who were able to buy into years ago. One of the most successful in Chiang Mai is the Mini Cost Guesthouse, ranked #1 in lonely planet because of it's excellent location and right next Cooking Love which is at the top of Tripadvisor.
Bus Stops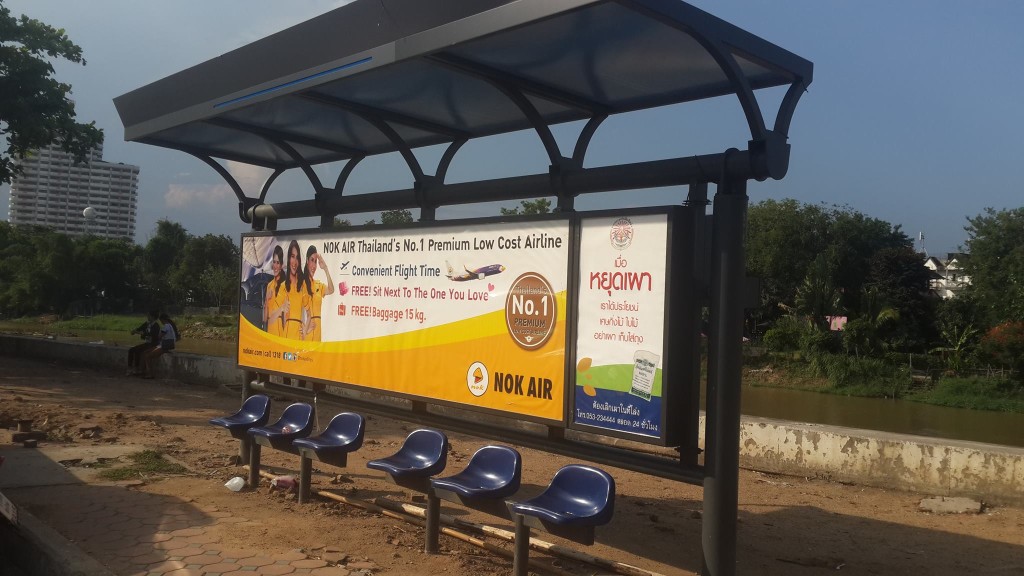 I don't know how many other people have noticed this but all over the city all these bus stops have been erected. So there's a bus service in Chiang Mai? As far as I know, no. Or at least I don't know about it I'm assuming again that no one else knows because there is never anyway sitting at these stops. In fact most of the bus stops are in places where I just don't see anyway going to sit down at. Near the translation there are several all within 50 meters of each other that again no one sits a and because no one sits on them they are just caked with just making it so no one can sit down anyway. They all do of course have advertising so at least someone is making money out of it, don't worry transport if you live in Chiang Mai you need wheels!
Did I miss any details? Let us know in the comments below.
Related Posts: