Spicy Nightclub Chiang Mai
Spicy Nightclub in Chiang Mai is about the most notorious and the longest running nightclub and late night establishment in Chiang Mai. Chiang Mai citizens and countless number of tourists have enjoyed (and more than a few that didn't) for decades. It's moved locations and moved back again but has and probably will be known as the late night club you can find hookers, tourists and desperate bar girls. Spicy Nightclub originally known for it's spicy fish has also been known to many stabbings, fights, and the place guys think they have something to prove.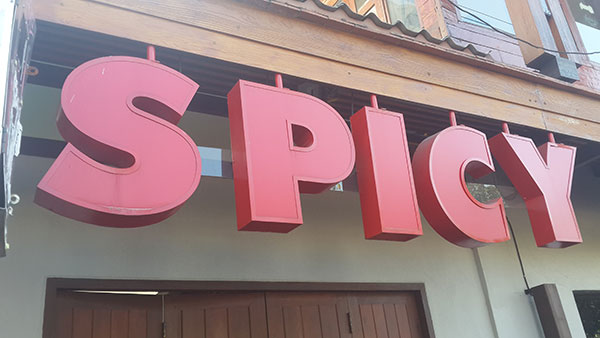 Your night at Spicy won't be dull, I was unlucky enough to get bitten by a Farang and all manner of weird shit goes on in this place. Over the years the crowd has changed and on a recent trip there just to scope things out the new setup they have in there makes it bigger than it ever was before they've tried to put the kitchen back in but doesn't look quite right, the fake cafe out the front being a front for the night club inside but hasn't helped as these days the closing time is about the time when people would start going there 1am.
Now when you walk into this place you immediately know that you're not going to expect a Bangkok nightclub experience. There is there long chair table where people are sitting down and this is the corridor into the club with lockers you can lock your stuff in, it's the strangest nightclub i've ever been too.
So as you can imagine most of the place is full of bar girls and prostitutes hence why it doesn't really get busy until late. Spicy Nightclub Chiang Mai is a located just a 3 minute walk from the famous Thapae Gate, but you could ask any taxi driver or virtually any Thai person where Spicy is and they should be able to tell you.
Although the bad repuation for fights it can be a decent place especially if your looking for a hook up. I don't personally go there anymore since the night a Thai guy pulled a knife on me, but i still recommend others to go there at least once. If you like load music and easy girls check it out.
There is also a Spicy nightclub in Bangkok which used to be so much different than it is today, you'll find all sorts of creatures there too, though i only recommend going once you've been everywhere else.
Map of Spicy Nightclub Chiang mai
Related Posts: