How to Really Buy Thai Hookers In Bangkok
I'm about to tell you the secrets to paying for sex in Thailand that no one ever tells you about. You might have heard some of this before but I doubt all of it, if there's anything I've missed add it to the comments below. Basically it's a collection of random conversations I've had while negotiating having sex with Thai Hookers. That's right, negotiating is in bold and it has nothing to do with money.
The shortcut
Before I get in to the how's, where's, and why's, I want to point out the total game-changer in town. When I originally wrote this min guide Bangkok was a very different scene. Street and bar prices were low, while Escort agencies were overpriced. Boy have things changed. smooci.com turned the Bangkok scene on its head, creating a next generation booking system which brings the best agency girls, street hookers, and bar girls all to one place. Not only that but they have created a totally next generation system, with high choices, low prices, genuine reviews and honest ratings, and a GPS tracking system which lets you track your date to your door, Uber style!
Who's On Top?
This is probably the most important question I ask, why? Because i'm not paying for sex and doing all the work, there's nothing like riding the bull, but late at night after a few beers I'd rather be ridden. You'll be surprised how many times a girl will turn YOU down because she really doesn't want to work for her few thousand baht!
How Long?
When the girls say short time, how long really is short time? How long it is really depends on how long you can go for. If she's into you, you'll get an extra shot however for the most part short-time specifically means until you finish. Finish early, well, shame on you anyway.
Overnight
Long time is particularly favorable to the Go Go man. Long-time if you don't already get it means that you take the girl overnight, possibly for weeks or days. The advantage of long-time is you can get a better discount and get a smoking girl for the whole week, great for guys who don't want to rape and pillage all of Thailand but don't want to deal with the hassle of a girlfriend. I don't recommend anyone take a girl long-time. So much can go wrong it's really not worth the extra shot in the morning, you can read how i got ripped off doing the same thing. Personally when i wake up in the morning i wanna throw up, especially after a late night at the bars.
Things that can go wrong:
She can steal your shit.
she'll wake you up at 6am and say the nights over and you don't even get that extra shot.
You might wake up and she's already gone
Your half asleep thinking it's your g/f and you don't rubber up
She can steel more shit
She won't leave!
I don't even let college girls sleep the night! I'm not dealing with any BS. I'll get a curtain hotel or short time room somewhere and do this, fuck dealing shit in the morning. The morning should be left to check emails run errands and plan the next night with your mates.
Back in the day, girls would join the industry because they wanted to find a guy to marry, these days they join the industry solely for the money, so less and less girls want to go long time anyway because they need to get back to the boyfriend/kid/mom & dad whom they are lying to about their current occupation.
How Much?
Doesn't matter what people say the current prices of sex are in Thailand, everyone is going to have different experiences and even the girls can quote two guys different prices. You're always going to get the best deal for those girls who are just into you. Obviously if you look like you just walked out of a magazine you'll be paying just the bar fines for the finest hookers Thailand has to offer. But if you're like the rest of us and whacked by the genetic stick your best bet is to negotiate. How much money to pay a Thai hooker is a whole discussion of itself which lucky for you i have written about in the article how much for sex in Thailand.
Do you suck dick?
A friend of mine got a girl off Soi Cowboy the other day, when they got back to the room she asked for an extra 1000 to suck his dick without a condom. wtf, you either do it or you don't, that's just ridiculous. Which goes back to the first statement on paying for a Thai Hooker, be sure to ensure you ask her about everything you want to do, there's no use being a shy little dick about it. Does she take it up the ass or doesn't she.
The Girlfriend Experience
This is one question that is impossible to ask for or negotiate and honestly, becoming difficult to find. The girlfriend experience is supposed to be your way of pretending to have a hot little Asian minx who has fallen head over heels in love with you and of course fucks you on demand. The only way it works is if she convinces you that she's in love with you. Then ultimately, asking for help with the dying buffalo or what's becoming increasingly common these days is I need to make my car payment.
Why is she even working here?
Ask a bar girl in the 90's why she's working here and she would have said, "to find a farang boyfriend". These days she's going to say that the money she needs every month can't be matched by any other job. Simply put, go go girls are super high maintenance, bar girls are lazy and poor, and street hookers are desperate or junkies. Too many guys treat whores like little princesses, trust me, she's not!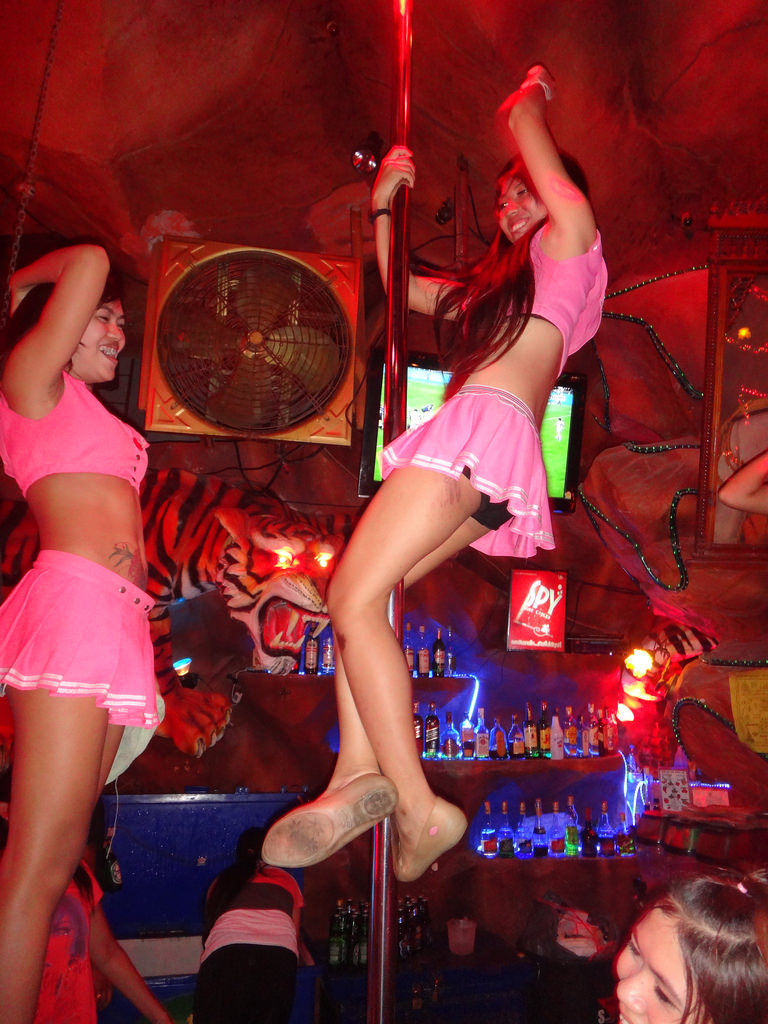 When to Pay?
Some places have rules like, you have to pay everything up front at the bar before leaving, others just make you pay the bar fine. It's, probably better for the establishment to just accept the bar fine, however for the girl its better to get everything up front because there are some dicks who don't pay and run out. People have often said to me they don't like paying in advance because they may not get the performance they hoped for. I've tried both ways and i honestly don't see any difference. It's not when you pay that's important, it's what you are paying for! And that's why this article has stressed on exactly what your paying for, have everything agreed to up front, pay the money and it's unlikely you'll never be disappointed.
Related Posts: