New Nightclub Sonic Playground Chiang Mai
Chiang Mai nightlife scene is getting prepared for a big boost in 2013 with the opening of the first ever day club in Chiang Mai. In fact Chiang Mai isn't getting just the Day club it's also getting a whole entertainment complex to the size of 4000 square meters! This will be the biggest entertainment complex in Northern Thailand and likely the best nightclub club in Chiang Mai when it opens, Sonic Playground.
You may not know what a Day Club is so quick explanation. A Day Club is similar to a nightclub but of course it's going on during the day! You are still must show ID and be of age, alcohol is served and typically a DJ playing house music or at least something electronic. There are pools surrounding the DJ and people revel in shallow pools of water. Surrounding the pools are typically lounge chairs and cabanas. Sonic Playground in Chiang Mai will have more of a swim up bar and the pools are likely to be deeper than the ankle.
Full plans of the new entertainment complex in Chiang Mai which they are calling Sonic Playground which will enevitably just be "Sonic" are still coming out but we already know they have begun construction at the Chang Puak Site and it looks big. In fact if you ever saw the ladyboy show at The Playhouse it's the same exact location, the show wasn't that great either. It's located behind the tops super market on Chang Phuak Road just look for the Mecure Hotel it's located down the Soi on your right.
The good thing about this new location is it has plenty of parking which I honestly believe makes or breaks a club in Chiang Mai. According to Angel Capital Marketing the owner was raising capital and finding shareholders in the club to the tune of $350,000 USD. This kind of complex will likely cost a few million which is considerably more than any other establishment currently in Chiang Mai.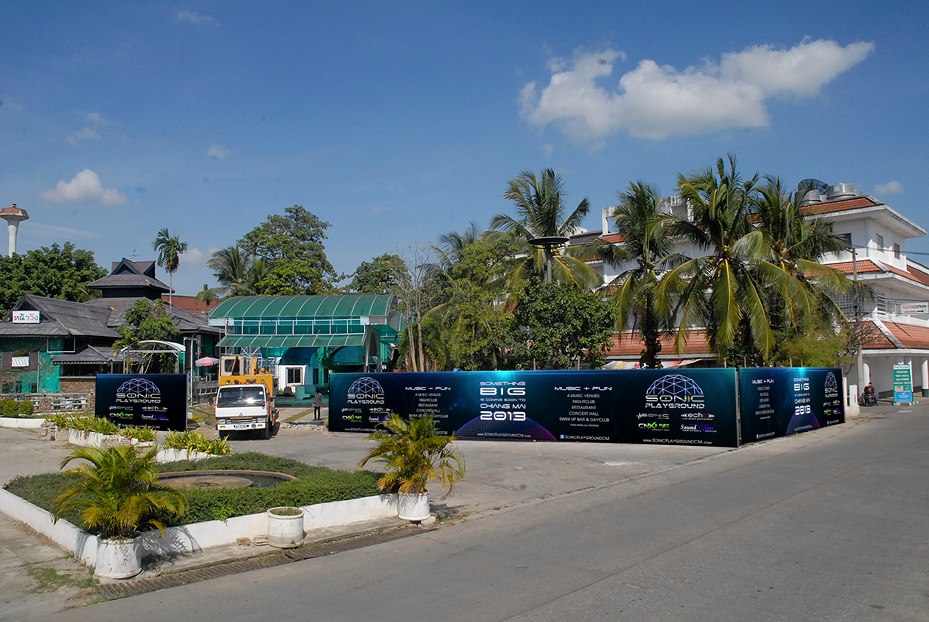 Construction of Sonic Playground Chiang Mai
Investment into Chiang Mai doesn't stop at this nightclub/day club there has been a massive investment into the city of late including a dozen shopping malls, large housing tracks on the other side of ring road. The development of some high rise residential on the ring road with that it brings quality accommodation, quality shopping and quality nightlife and who can't miss the 2 billion baht (60 million USD) convention center that will bring huge numbers of people to Chiang Mai.
I'm really excited about all the development and especially for things to do during the day like the new Ice Skating Rink at the Promenade and skateboard ramps making Chiang Mai more lifestyle friendly.
Related Posts: