Pattaya Nightclub Reviews Pt. 2
As promised, here is the 2nd and final part of the in depth reviews of the best discos in Pattaya. I'm taking all of the guessing out of the equation for you and giving you all of the pertinent details to keep you well informed.
Mixx Discotheque
Mixx also has a location in Bangkok, while the one in Pattaya is located across from Bali Hai Pier on top of Lima Lima with an entrance to the side of the building and up the escalators. Mixx is separated into two rooms: the one on the left of the entrance features electronic house music, while the one on the right has dj's who play a mix of Hip Hop and pop. The two rooms are very large and could both easily function as their own separate clubs. They are also connected by a little hallway in the back. Between the two rooms, Mixx brings in more people on nightly basis than any other spot in Pattaya, other than Insomnia. Mixx is pretty dead until midnight but then it starts packing in people until dawn on the weekends.
The house music side has many Eastern European men and women. Some seem to be on vacation, while some others may work in Pattaya. There's no doubt that some of the Russian women come after their shifts at their Gogo's, but this hardly makes them approachable. Like the tourists, they're just there to have a good time and they kind of stick to their own. Meanwhile there are some Thai freelance girls in this room, but nothing like the other side. The ambiance is nice on this side of the club and there is plenty of places to sit even if you're not buying a bottle. There are two large VIP sections if you like to burn money. The drinks at Mixx are overpriced; so I recommend filling up your tank elsewhere and sipping on a drink or two there just to keep your buzz going.
The Hip Hop side is like a different world; and on weekends it's usually the most packed place in Pattaya. There are no less than 100 freelance girls at a time in this room during peak hours on a weekend.. Some discos mostly have girls who come from bars after their shifts are over, and while Mixx gets a steady supply from bars as well, you also find a lot of girls who are 100% freelancers. You'll find a cute girl or two in the crowd because there are just so many of them, but the average girl on this side of the club won't impress. It's a really fun place and there's really nothing else like it. The girls seem to love the music on this side; I suppose they favor the "hits" more than the house music.
Mixx is expensive, overwhelming, and the girls aren't the best looking, but it's still a good time! You can stumble out of there with a girl or two on your arms and watch the sun come up right across the street at the pier. So while I think it has it's weak points, I have never heard of anyone coming out of there saying, "I didn't enjoy myself." As long as you go in with a good attitude and a smile on your face I can pretty much guarantee that you'd have a good time there, provided that you aren't seeking the best looking woman.
Lucifer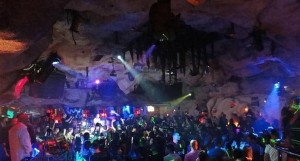 In the interest of full disclosure let me start by saying that I had one of the worst club experiences imaginable at Lucifer. One night just as I was beginning to enjoy myself around 1AM, the music suddenly stopped, the lights came on, 20 police stormed in, and one man got on the microphone and starting shouting, "piss, piss, pee pee, piss piss." Police were not letting anyone in or out and started separating people into groups of farang and groups of Thai women. Initially they made it seem like they were going to piss test everyone there for drugs; I was actually a bit nervous because I just got back from a trip to California where marijuana certainly made an appearance into my body. This was obviously just a bit of paranoia on my part since they were testing for hardcore narcotics, but trust me; the entire scene was enough to make you mental regardless of whether or not you did anything wrong. It started getting unbearably hot and there was no way to get water and no way out. However you're picturing the madness in your mind, it was probably worse than that; the 20 or so police men were stomping through the place shouting at everyone in Thai as the temperature just seemed to be getting hotter and hotter mostly due to the all of the lights of the club being turned on to their brightest. I apologized to the girl I was with about 20 minutes or so into the situation and told her I needed to go. I went up to the entrance of the club and looked the police man directly into the eye and told him in Thai that I'm too hot and I'm going to leave now. He showed me a bit of mercy and after a quick pat down he let me out; I believe I was the first person to actually leave. Apparently they made a single file line and started slowly patting people down and letting them go one by one, drug testing only some of the females. It took hours for them to empty out the club.
This situation I encountered left a bad taste in my mouth towards the club just out of human nature; I just get bad vibes by being there. But in all fairness, raids like this have happened in other clubs and they do happen in Pattaya. It's completely unpredictable; perhaps the owner of the club was late on his "special taxes." All I know is that it ruined my night and I felt more like a foreigner on that day than any other time since I first came to Thailand years and years ago. I do go out a lot, so I guess the chances of me experiencing something like this are better than for most.
That situation aside, Lucifer is an interesting club. There is only one entrance in the very font to a smaller front room which is more of a bar with live music. I actually like this room if I just want to get a drink with a friend because you have a great view of Walking Street with Lucifer being directly in the middle of everything. The large club room is in the back. It's a very big room with some live acts, and Dj's who spin mostly Hip Hop. The club is not set up well; there are tables and chairs basically on the dance floor and the live music stage is in the middle of the club but faces only half of the crowd. The back of the club has the most appealing setup but you have to walk all the way around the club to get there through crowds of people in walk ways that are more narrow than they should be. I can actually say that the setup of the club is bordering on being horrendous. However and perhaps most importantly, there are some sexy girls at Lucifer from time to time. I don't know why but it really doesn't matter; because I have seen some very horny and very sexy girls. The funny thing is after all of the negative things I wrote about the place, most of us would still have to agree that it's a spot worth going to; and that just goes to show what really matters about any spot in Pattaya – the girls!
Related Posts: