Spicy Chiang Mai Closed
So last night I'm out with a mate on a mission to find some pretty young girls not that hard in Chiang Mai but I havn't had much luck lately and figured it's Friday night so lot of girls done with school should be out ready to meet someone new and who better than a Farang with a sweet tooth for Uni girls 🙂
First stop on the trail was Lee La Karaoke, my favourite Karaoke joint in Chiang Mai listed on the Chiang Mai mongers map. Now this Karaoke is cheap probably cost you about 350 baht an hour including drinks some food and the girls. We stayed about 2 hours and got out of there at midnight. Thing about this Karaoke is the girls don't leave the shop but they are super fun if you know how to play it. They don't speak Thai but if you go with someone who does you'll have a good time. Really fun girl there is called Fai one in the video. If you've never been to a Karoake before this place is a good start I know i've taken dozens of guys there now trick to Karoake is to go often enough that the girls know you and to pick the right girls!

Next we drive to Zanta cafe it's one of only two underage clubs in Chiang Mai and it's a great spot to pick up young Thai girls. By underage I don't mean 12 year olds either underage in Thailand is typically girls under the age of 20 meaning they can't go into clubs like Infinity Warm Up and Monkey which actually suits me because 18-19 are the best ages as they are just more energenic and willling to do whatever you want.
We get to the club but apparently the place has run out of beer, not sure how a pub runs out of beer but they have and since my mate doesn't drink whisky I get in there and just say let's go. Out in the car park though there are a group of girls all about 18-19 so I strike up a conversation asking them where I should go to get some beer (yeah like I don't already know right) well they tell me to go to Differ (my next stop anyway) I tell them to come along but as usual they are a bit hesitant one girl is super eager though and even when her friends walk away into the club she's giving me her phone number 1st year girl at Rajabhat university.
Next stop on the tour is Differ nightclub another underage club hidden away that rarely sees any farang. Now both these clubs are difficult for the farang to hang because the songs are Thai the crowd is young and no one speaks any English. We buy an overly expensive beer and chill for about 20 minutes the girls at this place though are very friendly and not stuck up like they are at warm up and monkey. I eye out some bird who was happy to clink glasses with me, good looking 19y/o and lives around the corner from me. Perfect, got the number her friend is ugly so mate tells me to move on, done.
Out of Differ now head over to Farang land and since Zoe closes early these days 1:30 we drive past Spicy but I totally forgot that the place is closed now for the next few months to do renevations I guess well maybe they should do something about the smoking in the place because it's a bit out of control now. You know I wonder how they get away with that since the cops stopped the smoking in the pubs along Loi Kroh how about doing something about the Spicy club huh? hmmm

So against my better judgement I say why not check out Hot Shots. We drive down there to check it out. Now I don't know about the rest of you guys but see in a Thai place I feel at home I know how the score works and I have a lot of luck with young University girls that have never even met a Farang before but at a place like Hot Shots spicy and shit I am like a fish out of water I can't explain it I just can't hang well and honestly the girls there want nothing to do with me, not that I'm that interested in them anyway it's just I don't have much luck. Maybe it's my Thai ability that they know they can't scam me or something.
So we're in there and we get a table with a couple of 30y/o's who seem to be alone yet the 30y/o Chiang Mai girl i'm eyeing seems to be more interested in the Thai guy sitting at the next table than she is into me so I thought I'd go try hitting up one of the darky bar sluts. Now here's the thing I'm at the underage clubs cute thin good looking young girls are all smiles handing out their numbers yet I go up to these skanky bar sluts and you know what they say...you're old see look at your wrinkles! Huh, this coming from some isaan girl who's had three kids looks like she spent her best years in a brothel on Soi 6. And that's the kind of attitude I get from the bar hags too and I know how Thai people are right they don't think it's rude to call someone fat old or point out anything wrong with someone like their skin their nose their eyes their hair but with there stupid western female attitude makes me want to vomit and I wonder how anyone can spend more than 5 minutes with these hags.
I guess if you speak little Thai or your just super drunk which I wasn't you could do it. But I don't see why you would unless your on vacation and that's what these slags are looking for their looking for the guy on vacation just looking for a good time little drunk and doesn't know that when he takes her home her body is going to look like she's been hand washed on a large stone. Fuck you.
After my one beer in the place I'm done I tell me mate that too and we go outside in the carpark where we meet 2 really nice girls from Payap university and that's why you go to Spicy or Hot shot on a Friday night cause you can meet some "good girls" who come slumming it looking for Farang. So I have no luck with the 30y/o Chiang Mai girl who is overweight and not good looking, the black bar slut makes fun of me, but an 18y/o from a prestigious University really white skin is so eager she asks me for my number! And asks us to go out more. Good thing she has a cute little friend for my mate too his first of the night. I call the girl later and ask her why she's interested in my I'm overweight old and bald and she says to me "no problem I like so much" 🙂
So I guess in Thailand I'm the kind of guy that young 18-20y/o's like and dark bar sluts and older Thai girls just don't want nothing to do with. I guess I can live with that, I wonder though you guys find that you attract or have the most luck with a particular Thai girl group, let me know your experiences in the comments below.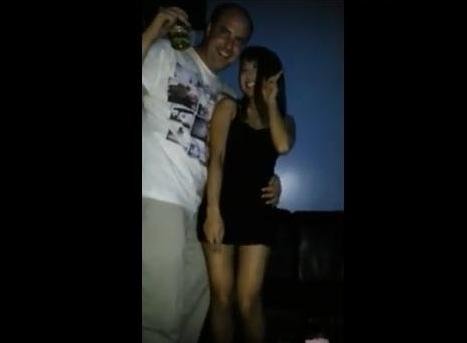 Related Posts: