Cultural and Scenic Tours Chiang Mai
Are you coming to Chiang Mai for a holiday or vacation? Maybe you live here and have some family/friends coming to town that want to get and and experience the great activities and tours that Chiang Mai has to offer. I've nearly done every tour and activity you could imagine in Chiang Mai, some are really fun like the ATV tours and the gibbon experience and others like hiking the mountain to see the long necks are some cool cultural and scenic experiences you can do too.
Adventure Tour of Chiang Mai Hmong Hill Tribe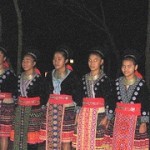 Some of the best tours in Chiang Mai are the ones that get you out of the city. The Mae Taeng area of Chiang Mai is without a doubt one of the most beautiful areas surrounding Chiang Mai. The Hmong Hill tribe tour takes you out of Chiang Mai into the surreal mountainous and rain forest covered area. The Hmong Hill Tribe tour isn't a hard tour you won't be out of breath and you won't have to climb any mountains. It's a 3 day trip but you get driven around and when it's hot trust me you'll appreciate that.
Mae Ping River Cruise and Temple Tour Chiang Mai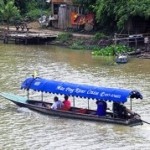 You know Chiang Mai only has one decent river cruise and that's probably because most of the time the Mae Ping river is pretty shallow. They dredged it a fair bit in town but for the most part it's not that deep so large ships can't navigate it. The Mae Ping river cruise takes you by long-tail down the river where you stop at interesting temples my favourite the Wat Chedi Luang. It's easy a half day tour and something you just couldn't do yourself because it's by boat. It's definitely a different way to see the city of Chiang Mai.
Chiang Mai Thai Cooking School Cookery Course
Learning to cook Thai at a Chiang Mai Thai cooking school is not only fun but very rewarding. An interesting fact about the cooking schools here is none of them teach you how to make Northern food. Which is probably because northern foods are terrible! The great soups and Curry's of central Thailand are way better anyway so if your interested in learning a few new meals to cook back home why not spend a day at the school it's really fun but tiring as well. Best done in the cooler months because it's super hot.
Chiang Mai Elephant Safari, Ox-cart Ride and Bamboo Rafting Tour
I've never been on this particular tour but I have been past to see their operation a dozen times. I've some similar elsewhere but this place has one of the biggest setups I've seen. I really like the Ox-cart ride I don't know why. One thing they don't tell you is they have these rare white Buffaloes there good for some photo's. If you have sandals I'd wear them over flip flips and take a hat because the sun is brutal.
Full Day Tour of Doi Inthanon National Park Chang Mai
If you didn't bring a warm jacket then i'm telling you not to go on the tour of Doi Inthanon National Park. This tour takes you to the highest spot in Thailand on top of the Inthanon mountain and it is freezing. The winding road up the mountain is absolutely stunning with rice terraces, strawberries, apples and all sorts of plantations. It's really beautiful and if it wasn't because of how long it takes to get their I'd probably go more often. It's a really long day and you have to change to a few different vehicles to make it up the mountain. Only if your in Chiang Mai for more than a week would I suggest going here.
Long-necked Women, Elephant and Boat Ride Mae Hong Son
If you like pristine virgin rainforest's and spectacular scenery then a visit to the Mae Hong Son region of northern Thailand is a must. About 3 hours out of Chiang Mai you can see the long necked women and have an elephant and boat ride all in one. This is one of my recommended tours and something everyone should do. Make sure you have some travel sickness medicine (super cheap) as the windy roads to Mae Hong Son are well known for making more than a few travellers sick including myself!

Long-necked People, Hill Tribes and Long-tailed Boat Trip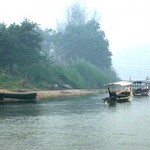 This tour is just like the previous one where you go to the long necked people but it's at a different village and not in Mae Hong Son actually it's closer than Mae Hong Son. The long tailed boat ride is really beautiful where you'll see encampments by hill tribe villages along the river as well as beautiful lush rainforest's. Take a hat and sunscreen and sunglasses where possible.
Golden Triangle and Chiang Rai Scenic Tour
To do the golden triangle and Chiang Rai properly you really need like 3 days because there is so much to see and do. The drug museum alone is a place you could spend hours at. So what you really need is a private tour and minibus where you can tell them exactly where you want to go and what you want to do. The minibus isn't really that expensive and if your in a group a private option is the way to go.
Elephant School, Horse Carriage City Tour Lampang and Lampoon
Lampang is such a cool town and really not that far from Chiang Mai. If you have some time just take the bus down there and spend a few days in this really interesting town. There are horse drawn carriages, beautiful temples and beautiful countryside not to mention some of Thailand's best grown fruit and veggies. The Lampang elephant training center was the first recognized place in Thailand for training elephants and is one of the largest.

If you come to Chiang Mai Thailand and want to do any of these cultural tours or any kind of tour, you can book them on the links given and I would do that if I didn't have much time say was coming to Chiang Mai in the evening and want to go out on a tour the next morning. Alternatively you can always contact the hotel or guest house and they i'm sure will be happy to help.
Related Posts: