How to recover deleted files from your camera free
So my girlfriend came back the other day from Suphan Buri province a day late albeit because of the floods, and she must have taken over 200 photos and then she plopped in the thumb drive and instead of moving them she hit delete! now when you delete files from a thumb drive or handy drive they don't go into the recycle bin.
Needless to say she was kind of upset, she started doing searches on the computer to find all the photos but only found pictures of other girls that I had downloaded photo's from using MSN and skype, ouch she wasn't too happy about that and I was in the shit for an hour or two. So the only way to make it up to her was to figure out how to undelete the deleted files.
How I recovered files from the handy drive for free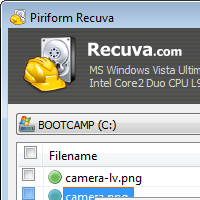 I did some searching on the interenet for the keyphrase same as you would but kept on loading all these stupid programs that would make me pay money for a license key. I was kind of annoying until I found this one program called Recuva by Piriform and decided to write this review. Yes it is 100% free but it's also a pay as well. The free version has no support so it all depends on what your looking to do with it. if you only just deleted the files and it's on the handy drive just like what happened to us the free version of the undelete and recover software is just fine. You need some super duper features and need help with the program than you may as well pay for the upgraded version it's pretty cheap anyhow.
Click here to go and download the undelete software for free.
What I will say is this, if you are trying to undelete files from your harddrive for free then you need to make sure you install and save the program into a thumb drive is possible. If you save it to your hard drive you risk overwriting the deleted files that your trying to recover. If you do there is no way you will ever be able to recover them.
Hope this helped, it sure did me, my g/f is super duper happy and totally forgot about all the girls photos she found on the computer and actually let me pick one to take out in the next few days. Thanks Recuva undelete file software for being free and saving my ass!
Related Posts: