Renting in Thailand
One of the big worries people have about renting in Thailand is losing their deposit because let's face it there's plenty of Thai's here they only see dollar signs when they meet a westerner. So get ready for this, if the landlord decides that they don't want to give you your deposit back there's F*all you can do about it! Well that's not exactly true, you can try to go to the police but they aren't adjudicators in these matters unless there's a real crime like they stole money from you, but they didn't! You GAVE them the money! So the only thing you can do is go to the consumer protection police and lodge a complaint there, it'll go to court after a few months time and even if you win they still might not pay anyway so to put it basically you're F*cked.
This scenario might make you think Thailand's laws are whacked but it's not that much different from back home either, the difference is really that people here are more likely to want to try to take advantage of you especially since going to court would take months and you're leaving the country next week! Don't think either that if you rent your condo off another expat that you're deposit is any safer. Because they are renting privately there will be no social profile that you can attach to the property so that even if you are scammed there's no way for you to use social networks to warn others if you are scammed. I've seen plenty of expats who never go their deposits back from other westerners so be warned.
TIP: Most Thai's are as ignorant of the law as most foreigners if you really have been scammed simply threatening to go to the police can get you your money back pronto.
If you decide to rent living with a Thai girl then I suggest you put the place in her name because believe me you need an exit strategy. Some guys go to the craziest lengths to conceal themselves in a breakup out of fear. Fear that his former Thai partner might come at him with a pair of scissors and yes this really happens. Thai's are Loco when it comes to love. By renting a condo in her name gives you the ability to pay a few months rent and run away guilt free.
Things to know about Renting in Thailand
One of the best things about moving to Thailand is the investment cost. What I mean by this is unlike England, Australia, USA there are no investments you need to make like having to buy a car, furniture, etc. Think about if you were to move to Sydney, you would need to rent a condo, buy furniture, invest in a  car, in fact if you moved to California and you're a digital nomad good luck even trying to find someone who would rent to you. If you've got no credit history no one want's to rent to you! In Thailand you have none of these problems your investment here is nothing and you can start living here without having to buy all that crap.
Internet in Thailand
What I can suggest to anyone who uses the internet for work at home is to not use the local WiFi if that's all you can get in the apartment then i suggest you move to a condo because this is probably the single most important factor when renting. Ideally you will want to get your own line. Most internet service providers will ask that foreigners pay no less than 6 months advance for a dedicated line. Don't get grumpy about this it's just the rules, alternatively put it in your girlfriends name and you pay month to month. The closer you are to Bangkok the faster the internet will be.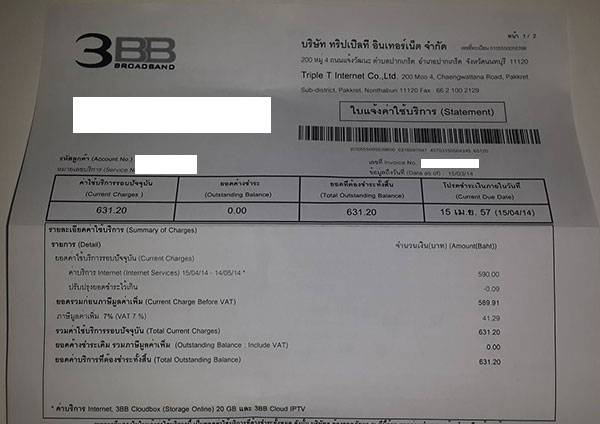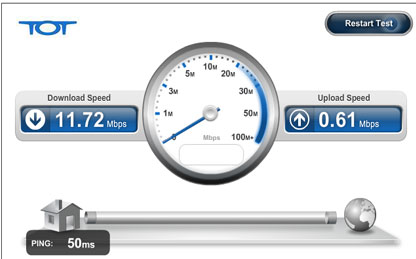 Types of Rental Property in Thailand
Condos
Apartments
Shop Houses
Detached Houses
Townhouse
Condo's are the most popular type of residences for those in their first few years in Thailand and even beyond, some don't mind living in a condo but others like myself can't stand them. Problem with Condo's especially for old folks is noise, not everyone sleeps the same time and the majority of Thai buildings have super thin walls. Either you're the one making the noise or your the one who complains about it. Apartments don't have all the facilities that condos have it's just simply the room, no other amenities and are typically small and mostly Thai residents.
The best value for money in Thailand property is the townhouse, there is no yard to maintain you'll get at least twice the space of a condo at the same cost and the added benefit of it feeling like a house. Noise is less of an issue provided the moo bahn has a no dog policy. And that's one thing you should always be wary about renting a townhouse or a detached house. Find out if the surrounding neighbors have dogs. Before renting make sure you do a walk around about 1-2 am in the morning slide your feet along the road making that scratching noise and see if any dogs start barking!
Unless you know the exact Moo Bahn you want to rent in trying to find a house for rent is an impossible task especially if you are new to the country and speak little Thai. The best thing to do is to find a good real estate agent (I've listed some below) and tell them what you are looking for and they will drive you around to look at properties they have. This beats sitting on the back of a scooter in the sun driving aimlessly looking for "for rent" signs. This is also how I found my new place through Perfect Homes in Chiang Mai.
Real Estate Websites in Thailand
DDProperty - This is the biggest and best property site in Thailand
Perfect Homes - Chiang Mai's most respected real estate agent perfect for those looking for a house or business.
Amazing Properties - Bangkok's most respected real estate agent
Pattaya Condo - Pattaya's best Condo website
What do Utilities cost in Thailand - Electric / Water
How much you spend on electric and water is of huge debate because it all depends on how much time you spend inside playing video games with the air on in all rooms or compared to the guy that spends his day at the pub and crashes at home with the fan on. Your bills are going to be completely different.
Before renting always ask what rate the electric is charged at. If you're in an apartment then likely it'll be whatever the rate the apartment block asks for typically around 6-8 baht a kw/h. The government rate is 4.1 baht  kw/h (depending on where you live). For an experiment I turned on two air conditioners 24/7 over the course of a month  as well left the lights on all day and night as well as the computers phones etc  and my bill as shown below came to 3000 baht. I would imagine if your a bit tight on the electric you would pay 1/4 of this. Water is very cheap as you'll see as well.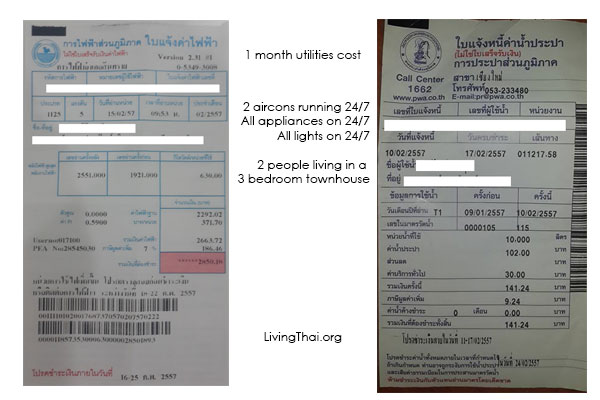 Deposits
I spoke earlier in the article about how you can get ripped off by the owner not refunding the deposit. Hell if you trashed the place I'd understand but even though there are those that rip you off there are more that are pretty fair. The deposit for renting in Thailand is standard 2 months rent. So if you're paying 15,000 baht a month you'll need 30,000 baht deposit and 15,000 baht the first months rent for a total of 45,000 baht to move in.
Furnished / Unfurnished
Furnished apartments are good for the most part however more than likely you'll be sleeping on a cheap ass mattress. If you intend to live in Thailand for a long time I suggest you buy a decent mattress and put it in your room. I swear the reason there's so many grumpy old guys on Thai Visa is because they're all sleeping on those hard cheap-ass Thai mattresses that make you wake up and feel like you need to stab somebody.
If you're renting a house or townhouse there's more chances that you'll have to furnish which means more of an investment cost. If you intend to spend the next five years in Thailand it won't be such a bad deal but will cost you a few thousand dollars for a townhouse and around 5000 for a house depending on your tastes.
You may have trouble finding an unfurnished condo in a decent area and block.
Before diving right into a 12 month rent I suggest you spend the first weeks to a month in Thailand at a Guest House which will give you time to figure out exactly which part of town you want to move to.
If you have any suggestions or comments on renting in Thailand please leave a comment below.
Related Posts: