Tim Sharky, Stickman, and the Tourist Police. Huh?
I was at a party the other day when a guy was telling me about how Tim Ward in Pattaya who claims that money and gold were stolen from his apartment. Now I have no real comment on the guy personally, don't know him, and since he doesn't drink and only fucks crack whores I doubt we'd have anything in common. Now if you havn't heard about it go check out the story on his website. If that is even his site.
So while I don't have a comment on Sharky the man I do have a few things to say about this particular story. First of all it's ironic that he calls the Thailand police the Mafia. It's my understand and please leave a comment to correct me if I'm wrong but the word Mafia applies to organizations that run protection rackets which is a well known fact of life for the bars and clubs in Pattaya but they normally also sell drugs and loan sharking. Wait a minute isn't Tim Ward known as Sharky as being the loan shark king of Australia? Talk about calling the kettle black.
My mum always said those who live in glass houses should not throw stones.
Tim's claim that he's going to take on the Thailand Police Mafia is the dumbest thing I've heard this guy said. The only people equipped to take on the Thai Police is the Thai Army and Tim you're a big dude but you aren't bullet proof. Tim's claim that if he gets shot that it wasn't suicide is also really stupid. I think the guy ate a stupid pill recently, no one has to shoot you dude cause the police if they wanted to could arrest you at any time one charge that comes to mind would be distributing pornography online, you know, all those Thai Skanks naked in your apartment you post on twitter!
Will Tim get his shit back? Well I doubt he can even prove it was there to be taken in the first place unless he has receipts for his gold and photos/withdrawal slips for the cash. Tim just needs to suck this shit up and understand that he's made some of the dumbest moves you can do in Thailand. You claim to be a rich dude Tim, why don't you do what all other rich people I know do, have cameras INSIDE your apartment!
What you should not do in Thailand
1. Leave money and jewels just lying around
2. Fuck with the Thai Police
3. Make a Thai lose Face
If I had a bunch of money lying around and was broken into why the hell would the money still be there? If I was broken into I'd check to make sure my valuables are still there then stick them into the safe asap not just lying around. Unless I had a death wish I wouldn't be pointing fingers at the police besides the fact that your story doesn't add up you have no chance of getting your money back. Ever!
Tim probably doesn't know about the blue diamond affair. If the Saudi Royals can't get their Jewels back I don't care even if you're connected to ISIS and unleash a wave of suicide bombers onto Pattaya Police station you aren't getting your shit back and calling out the Police for running a criminal enterprise is only going to get you deeper down the rabbit whole. Let it go.
Soon after I heard about this story I got some random messages from the Thailand Tourist Police on Line who sent me these really random images about what to do and what not to do in Thailand.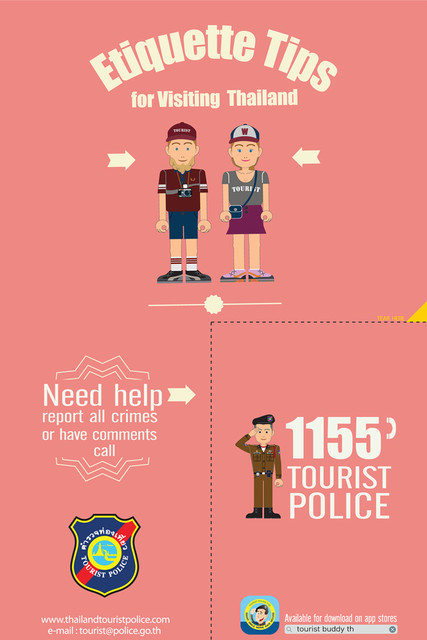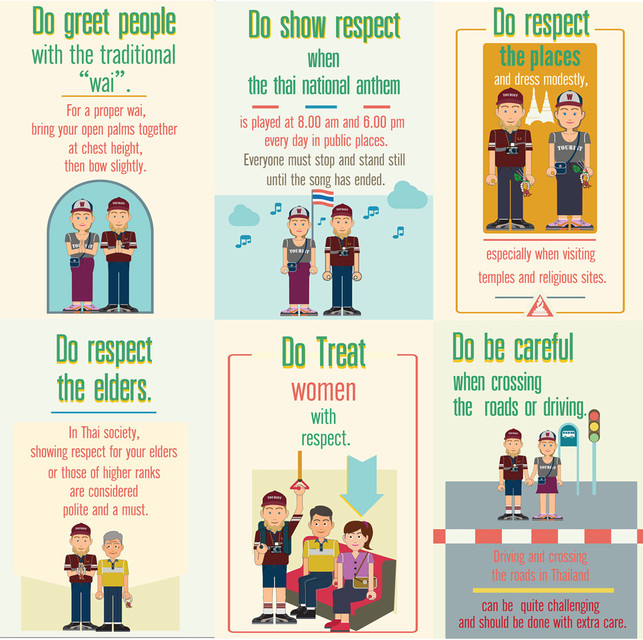 While I agree with some of the points here the Don't engage in prostitution is of real concern to me. If it were a serious crime then why is it so prevalent? Why is it you can buy pussy pretty much everywhere in this country? Apart from that one I'd agree to pretty much everything else although things like treat women with respect might be better taught to Thai men.
Maybe it's the stars that have aligned to make otherwise well known people in Thailand to turn completely daft. Sharky's rant on the police and then Stickmans rant about a soapy massage in Bangkok. For a guy who's lived in Bangkok for a decade how the hell could you have never been to Colonze before. I could understand teachers etc (oh wait he was one) but a guy that's been writing about the seedier nightlife in Bangkok for 10+ years. I'm honestly surprised.
During Stickmans 1400 word essay on the goings on in the Soapy massage, it turns out he didn't even do the deed. His claim that the massage girls are polite compared to the ill mannered Bar girls is the dumbest thing I've ever heard also, and this is based on your experience where? At Colonze, the place you didn't even pick a girl?
His claim also that Colonze is not a place to party it's clear this old timer rarely goes anywhere. Colonze is an awesome place to party take 4 blokes down there you'll get a free bottle of red and if you pay for the Suite room (which is awesome by the way) You can have you're own private party swinging if that's your thing or the bigger rooms have a private tub also. Why the hell would you go Colonze only to tell the guy you only like dark girls and walk out. Not a place to party lol guys check out the suite room and tell me you couldn't have a party here ey?
According to Paul  otherwise known as The Stickman, GoGo bars are the place to party. Unless you've never been to a gogo bar in your life they are probably the worst places to party, you can party at the club, at karaoke, and in upscale Soapies, or at the many pool parties around the city but party in a Go Go bar unless you have a private room is by his own admission, boring.
The whole GoGo scene has gone downhill since the late 90's when all the girls started actually putting on clothes, some still have naked girls but it's a far cry from what it was. If you want to party with a bunch of Naked girls in Bangkok the place to do that is somewhere like Colonze and NOT Nana Plaza.
So this week I learned Sharky is taking on the Police, Prostitution is highly illegal, and Bangkoks seedy nightlife blogger/columnist actually doesn't know shit about nightlife in Bangkok. The weeks not over yet anything can happen.
Related Posts: