What you can do with $200 dollars a day in Pattaya
This article is Part 3 in a 5 part Pattaya series that covers the following topics
I originally titled this post "what you can do with $100 dollars a day" but changed it to 200 just to be more exciting and to account for accommodation. Two hundred dollars a day in Pattaya will go a long way, and if your spending anymore than that your going crazy. $200 a day US is about 6000 baht, including accommodation is a lot of money to be going out in Pattaya.
With $200 dollars or rather 6000 baht in Thai money is the ultimate Pattaya experience and for one week in Pattaya if you spend $1000 - $1400 dollars your sure to come home with some lifelong memories. Now i'm sure there are people out there
Hotel In Pattaya 1000 baht
To start with, you've got a big budget of 6000 baht, you could stay in a hovel of a room for 500 baht a night but let's upgrade a bit, it's your week long vacation in Pattaya and you deserve a little bit of luxury. You can't upgrade too much though because the expensive hotels charge you money to bring a girl back to your room. You want to look for a decent bachelor hotel room in Pattaya. Luckily I know just the place, the siam sawasdee hotel is priced just right at about 900 baht per night which still leaves you with lots of spending money. Best part about the hotel is they don't charge to take girls back to the hotel.
Go Go clubs Pattaya 3000 baht
So forget beach road and the beer bars, you have some dosh in your pocket, you want to get the goods. And the only way to get the top quality girls in Pattaya is to check out the go go clubs. You still have over 5000 baht in your pocket and for 2000 baht you can get the youngest hottest girl in the go-go bar for an hour or two. Take your time and check out a few clubs though, you want to find the best looking girl you can for under 2500 baht. For this money you will get some really really good looking Thai girl.
Nightclubs in Pattaya 1000 baht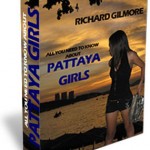 Now you could spend way more than 1000 baht at nightclubs in Pattaya however I'm getting too old to hear super sonic loud music and prefer to just hunt for girls. But a trip to the nightclubs in Pattaya are a good way to get out of the room for a bit and you never know what you'll take out of the club, many times I've been out to the clubs and never left with a Thai girl but some other girl tourist which is always good for something different. Budget yourself to this much and see if you can't get something to come home too.
Dining in Pattaya 500 baht
Again you could probably spend more money on eating in Pattaya, but if your like me, you save the bucks so you can get something extra special in your bed at night. The hotel room you book should have a free buffet breakfast, take advantage of that and eat a Thai meal for lunch. You don't want to go out on an empty stomach so spend the rest of your food budget on a good western meal that will keep you going till the wee hours. Many hotels have really good buffet dinners for around 300 baht, these are great because you stock up on all your salads and fruits that give you energy for all the young Pattaya girls!
Late night short time Take home Girl 500 baht
Before you head home by yourself with no money left, oh wait, you still have 500 baht, no problem! You can find cheap entertainment along beach road promenade that runs down from walking street all the way to your hotel. So take a stroll and see if you can get something for short time for 500, no need for overnights (beach Thai girls are into scams so best not for overnight) but for 500 you should get something OK. Remember tomorrow is another day.
In summary you could spend way more than $200 dollar a day in Pattaya, you could add a soapy massage, fine dining etc. And before you know it you could be spending $500 a day. I don't know anyone that goes there and get's that crazy though. Watching your money and budgeting well you can have an awesome time for $200 dollars a day. Your balls could get very sore but you'll have a blast!
Anyone care to tell me how much you average for spend per day in Pattaya?
Related Posts: