6 Good Wearable Video Cameras
Do you like to bike, ski, skate, canoe, hike, party, how about creating a video of your adventures using a good quality wearable video cam that plugs right into your iPhone or Android phone recording your every move. Imagine the ease it would be to transfer what your seeing straight to YouTube or Facebook.
Living in Thailand I get to do a lot of cool things and meet all sorts of weired people. I say weired people because it's those folks that are different that leave more of an impression on me. I could see using a wearable video camera to record conversations and adventures I go on. Also I'm sure it would be good for viewers too I doubt anyone really wants to see my mug.
Holding a camera walking around a lot of places can feel a little weired to some people too, I know if I'm holding a video camera and shooting like a scene and other people are in view you feel like your invading their space, but if it where say stuck to my hat and i'm just walking around normal it wouldn't be as invasive.



Looking around for a wearable video cam that actually takes good quality shots I had to find something that records at at least 30 frames per second. Don't buy a wearable video camera that has less than 30 fps per minute or it will look like your viewing the video under water.
Looxcie LX1 Wearable Bluetooth Camcorder, iPhone and Android Compatible
One of the cheapest but still half decent wearable camcorders available. This camcorder fits snugly around the ear and is blue tooth enabled so you can basically beam videos to your iPhone. The nifty part about this device is it continually records up to an hour of video. Basically keep recording and edit later. But the only problem is you have to have a smart phone to operate the camera and without one you can't use it.
Looxcie LX2 Wearable Video Cam for iPhone and Android - Retail Packaging - Black
The Looxcie LX2 is a huge improvement on the LX1 and has a far superior lens and frame rate. Record at 30 fps or stream live at 15fps which will get you a picture but if you move your head a lot the picture will come out fussy but still a really cool concept if you wanted to stream live a picture through your iPhone. While this model does the job for the price the problem is still the time it takes to get your video to the phone which can take up to 15minutes for just 5 minutes of video. If you intend to use this thing a lot then your better off looking at some of the better wearable video cameras further on the list.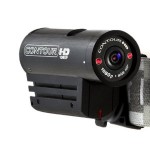 For those who love sports you'll love the ContourHD helmet cam! Not only does this helmet video camera record in High Definition HD it was designed specifically for those who skate and ride. Record your downhill mountain adventure in awesome quality. There is no link to a smart phone however it does record to a microSD card which can be transferred to most devices. It comes with a 2GB SD card but make sure you go and get the SanDisk 16 GB Class 2 microSDHC Flash Memory Card because the battery has enough power to record up to 16gb of data or about 3 hours.
ContourROAM Hands-free HD Camcorder (Newest Model)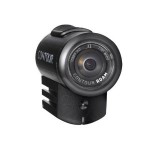 This is the ultimate hands free wearable HD video camera, skiing, surfing, snowboarding, yes this camera is waterproof and is perfect for the adventurist. The guys in Iraq and Afghanistan rave about this waterproof wearable video camera because of it's compact design and durability. Basically you can get mud all over this sucker and it will still be recording that's how perfect it is as a wearable video cam.
The ContourGPS wearable video camera has the unique ability to geotag not just photos but your video as well. With iOS and android support via blue tooth it is one of the most connected wearable video cameras available. As a helmet cam this one is awesome with the best video recording quality available no wonder soldiers love this camera. You can't do live streaming though if you want that go with the Contour Plus helmet cam.
The Countour Plus helmet cam has all the same features of the ContourGPS but has one of it's best features which the ContourGPS doesn't have a HDMI cable to your iPhone which allows you to stream video at 30fps!

Related Posts: