Direct Track still down after 5 days
Direct Track is an affiliate platform that allows websites A to connect to publishers of website B. Let's say website A has a program let's say a Dating network then people who run blogs, forums and such are website B. Website B can generate revenue by linking to website A and if a sale or lead is generated then website B can get paid.
Direct Track is a massive network of affiliate programs and offers where you can sign in get a link send traffic to the link then get paid when someone buys something or when they enter their email address. Major websites use a system like Direct Track because the big affiliate marketers use their system to search for offers.
So how is this exactly affecting me and other bloggers and websites in Thailand? Well ThaiLoveLinks one of the biggest dating sites in Thailand and one of the biggest worldwide through Cupid Media switched over to using Direct Track several months ago. And the Direct Track website and system has been down for 6 days now! This means that anyone linking to their program isn't getting paid. In fact sales that I registered before the outage have disappeared pretty much all the money I made this month have gone. Thanks Direct Track!
This is what they say on the Direct Track website
Thursday afternoon (CST), Digital River experienced an abrupt and extremely rare hardware malfunction that impacted a disk array in one of our data centers. Our vendors have never seen a situation like this before.

As a result, some of our service areas have been impacted, including the services to the platform that supports your DirectTrack system. As a result, your system is unable to be accessed or process transactions at this time. We anticipate this will be the case until the hardware problem has been fixed.

We have all our best technical experts working along with our vendors top engineers - and they are doing everything possible to fix the problem as quickly as possible. To keep you up to date on our progress, we plan to provide regular updates throughout the day.
The commissions I get from linking to ThaiLoveLinks helps pay for this blog so basically I have to fork out the money myself this month to cover expenses. Which is a lot but I do a number of advertising in order to increase readership. I don't have a great deal of traffic maybe 1500-2000 people a day but imagine other networks in Thailand that use the same monetization methods. They've all lost out.
When ThaiLoveLinks switch over to Direct track I thought oh great because I really don't like their network at all it's always having problems and when they do I lose money. What's worse is that when it happened I got no notification whatsoever! I've since pulled the ads from my site until they get things up and going again.
When ThaiLoveLinks switched over to Direct Track it must have been really painful for people because you actually had to go in and change every single link you were using. Luckily for me when they did this I didn't have many links going to them in the first place but now I do, so will ThaiLoveLinks be switching over to another network in light of this and have to do it all over again, what a pain!
While there are literally hundreds of thousands of people affected by this problem some people are really loving it. Like Epic Direct one of the largest networks is totally eating it up. I bet they quickly hired more staff to handle and reach out to networks that were using Direct Track, if you were in management on a high profile site and this shit was happening and Epic Direct called you on the phone you'd be pretty tempted to switch over right now.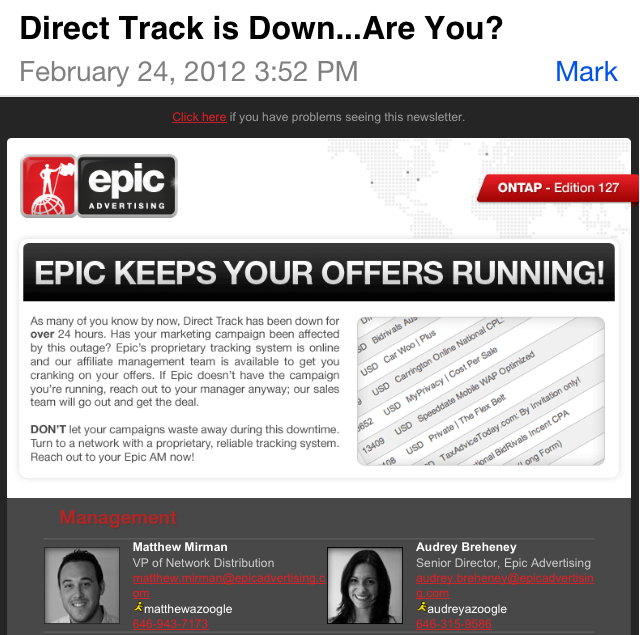 How on earth can they be down for this long? It doesn't even make sense. I know things can go wrong sometimes and hardware failures are a total nightmare but really it's like 4 or 5 days now and they still are not up. Someone is getting fired for sure if not strangelled. I remember one time I had multiple hardware failures a few arrays and a san that went caput! The network I ran was even bigger than Direct Track and we had things back up in 28 hours still that's a long time but the reason was because we hosted in Nevada and actually had to drive to California and pick up the hardware and drive back because our vendor didn't have anything closer. What on earth are they doing over there?
Direct Track had a crapy name before this happened with network outages all the time but this time their crap system has gone too far. If your with Direct Track now sign up to Epic Direct and call/email all your account managers and tell them to switch over to Epic to avoid these problems.
Are you affected by the Direct Track outage? Let me know below.
Related Posts: