Do Thai people hate Farang?
Hate is a very strong word and while I don't think Thai people hate Farang I still think there is a very ingrained dislike for the westerners. Thai's are very xenophobic and fear is ingrained in them like chili is with their food. So is it that Thai people fear Farang or do they hate us? I'd love to hear your ideas.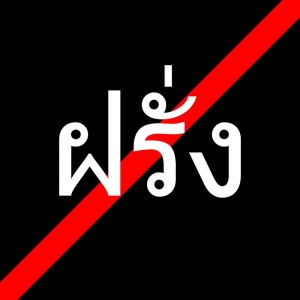 Me I believe that Thai people are simply scared of Farang. I see it everyday, their refusal to talk with me, Thai's blatantly ignoring me as if talking to me might somehow cause them to drop dead. This fear can easily seen by going to any Thai frequented restaurant and watch as the waiters fight over who is going to have to serve you.
Thai people are scared of anything different or unknown, take for example ghosts, the majority of Thai people are scared of ghosts, some claim to have seen them, but ask any Thai person if they know of anyone who has had something evil done to them by a ghost and you'll find no record nor will you find any reason to actually fear ghosts. So what is there to be scared of? Fear of Farang follows the same ridiculousness, in fact a Thai may never have even spoken with a Farang before yet they are scared to even make eye contact.
One of the strangest things about Thai's fear and hate of Farang is they keep trying to look like us, I was recently in Bangkok and saw so many girls with nose jobs, bleached skin, it's an obsession that is out of control.
I even found a facebook page titled "Hate Farang".
http://www.facebook.com/pages/เกลียดฝรั่ง/137101906424591
While many Thai's frustrate the the hell out of me I still have less "real" problems with Thai's than I do with Farang. So while most Thai's are scared of Farang and some even hate us, I still love the Thailand and the majority of Thai's.
Related Posts: