Eating off the side of the road in Thailand
I've seen some very sketchy places on the side of the road in Thailand, you see Thai people hate to throw anything away, so if their selling food today and it didn't sell, your likely to see that same food being sold the next day. Now under controlled circumstances that would be fine but how about the meat that was sitting in the open all day and then goes home to a fridge that isn't cold enough then sits in the open all day again before you eat it. That's how you get sick.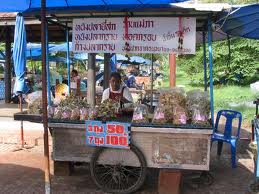 But is it OK to eat off the side of the street? Safe, i wouldn't say yes but you can eat of the side of the street in Thailand and not get sick if you know the right foods to eat. For example, pretty much all noodles for sale in Thailand on the side of the road are 99% OK, this is because Thai people eat noodles all the time and most places go through a lot of it, it's all very hot so germs are killed easier. Fruit is something else that's OK to eat and not get sick. Cakes on the side of the street are probably OK but don't think you're going to get anything tasty.
The things you shouldn't eat off the side of the street are any meets that they deep fry or bbq, these are the nasty ones that could put you in hospital, they may taste alright but more often than not the oil is masking the taste, do not eat it.
There was a case of an unsolved death at a Chiang Mai hotel, the deaths were first believed to be linked to food poison either eaten at the hotel or from some seaweed they ate off the side of the road. Actually the seaweed probably wasn't the cause at all since the hotel has now been shut down. Though I'm sure there are many cases of deaths being attributed to bad food cooked up and served on the pavement it's just difficult to trace.
Personally I'm always worried about eating on the side of the road but after a lot of trial and error I know which places I can eat at and not get sick and which places I can avoid. One thing I do like about the roadside stalls I can see immediately how sanitary or how well kept the cart is, this is a good indication but so is traffic flow, I'll never eat at an empty restaurant.
Someone else might have a different opinion from me but personally I think they should just rid of the whole selling food on the side of the road. For starters it takes away from legitimate businesses who pay real rent. For example I know a raelly good Som Tam place my girl likes to eat at. I've been going for years they are pretty popular but they have a huge amount of rent. Recently some chick works out a small deal with the temple pays something silly like 100 baht a day to be there and my shop well they pay 800 a day selling the same product. This is but one example.
Inevitably everyone who comes here for a while will have a meal sitting on a 50 baht plastic chair hoping that some car doesn't happen to smash into a bike and hurl it towards you're table (happen to me twice). For tourists please don't be a princess about shit either, put some chili in the food and god forbid some ice in your cup because whether you're on the side of the road or a restaurant in Thailand just remember it all comes from the same place.
Related Posts: