Haze and Smog in Chiang Mai
Unless you've been stuck in the cave for the past week you would have noticed the smog and haze that is hanging over Chiang Mai and many cities in the north of Thailand. It looks really bad but I really haven't noticed any health issues personally from the haze. It looks pretty bad though and hard to see the mountain which i live literally underneath.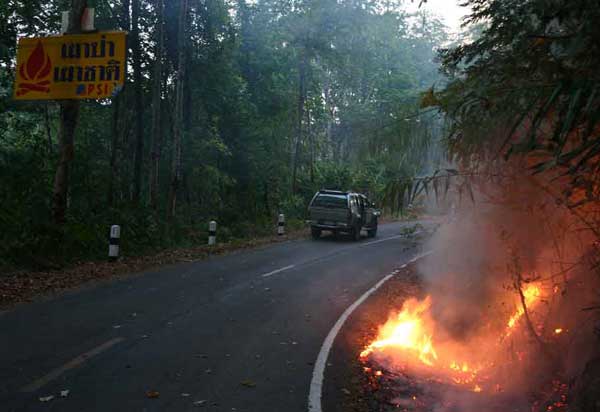 So by now you've seen or are living in the smog and if your in Thailand you've been hearing about it. But what everyone is not talking about is the real reason their are fires that are causing the haze and pollution at least I havn't read a publication that is really talking about it.
At first I thought I read somewhere that the fires were caused by people burning off their rice fields in order to replant it again. Since a lot of Northern Thailand is extremely dry right now not having had any rain for months I can understand how it seems an easy way to clear the land before the rains start coming back in a month or so. But when I asked a friend to drive me around the day looking for the fires I didn't see anyone burning off any rice fields is that what it really is?
So we head off the the Mae Ngat Dam in Chiang Mai for a swim and a some food and while sitting on the boat I could really see the smoke it was really heavy. The smoke seemed to be coming of the mountains and on a closer look I could see fire, in fact all the hills surrounding me were on fire.
There was a chap there eating lunch with us who was the ranger of the park. I was told that he gets paid to keep the people away who are burning the fields, he gets a rifle and is licensed to shoot those who start the fires. While he is sitting there eating lunch with us the fires are raging along in the hills and nothing seems to be getting done..hmmm. Case of bribery perhaps?
So I asked why on earth would you start these small brush fires in the forest what possible gain could you get from doing that? Apparently what happens is the ash that falls after the burning ends helps feed mushrooms. I can't remember what kind of mushroom but apparently you get a lot of money for mushrooms. Burning the forests produces tonnes of mushrooms that makes whoever get's them a lot of money. The people burning the forests are most likely not Thai but it makes you wonder if their isn't a Thai involved.
Whoever it is and it's probably a whole bunch of different mushroom gangs burning the forest it's just plain criminal. We have to suffer from extremely bad quality air because of these greedy thieves who think they can do whatever they want.
Since most of the burning is occurring in Thailand's National Parks hefty fines and jail time awaits those that are getting caught. But I've yet to see people being paraded in front of the cameras for starting fires in the National Park have you? In my mind this is more criminal than those getting busted with drugs. Destroying natural resources is a global crime that just isn't affecting the people living in Chiang Mai and Northern Thailand but the entire world.
Related Posts: