Mastering Online Dating in Thailand
Being single in Thailand has been revolutionized by the increasingly growing trend of individuals that choose online dating to meet people over other conventional means.
Many men that come to visit or live in Thailand don't realize how different Thailand's demographics are compared to Western countries.
Women outweigh men in Thailand, and there is a high percentage of homosexuality amongst males. In addition to this, many Thai women complain that there are not many eligible Thai men, due to the high rates of promiscuity that is part of the dating culture in Thailand.
Needless to say, as a foreigner, the odds are stacked in your favor and there is no need to settle for anything less than you feel you deserve.
Mastering online dating then is not just about knowing how to make contact with women, but also to find what you're looking for depending on your needs. In this post, I'll look at exactly this - what online dating to approach to take for different needs, which is reflected in the different types of women that you would like to meet.
For meeting other foreigners and Thais that speak some English for either hooking up or dating
Tinder: Tinder is an app available on both IOS and Android
That's right, good old Tinder. A lot of us may have had no luck with it back home, but out here it's a goldmine for connecting with middle-class Thais, as well as foreigners who are here for short-term travel or long-term residence. Since most of the women are used to getting overtly sexual messages, you can stand out to your matches by just engaging in a normal conversation and getting to know them. Having said this, the app is suitable for both dating as well as hooking up, so it's just about finding someone who's looking for the same thing as you.
For meeting Thai girls that really like foreigners for either hooking up or dating
Thaifriendly: www.Thaifriendly.com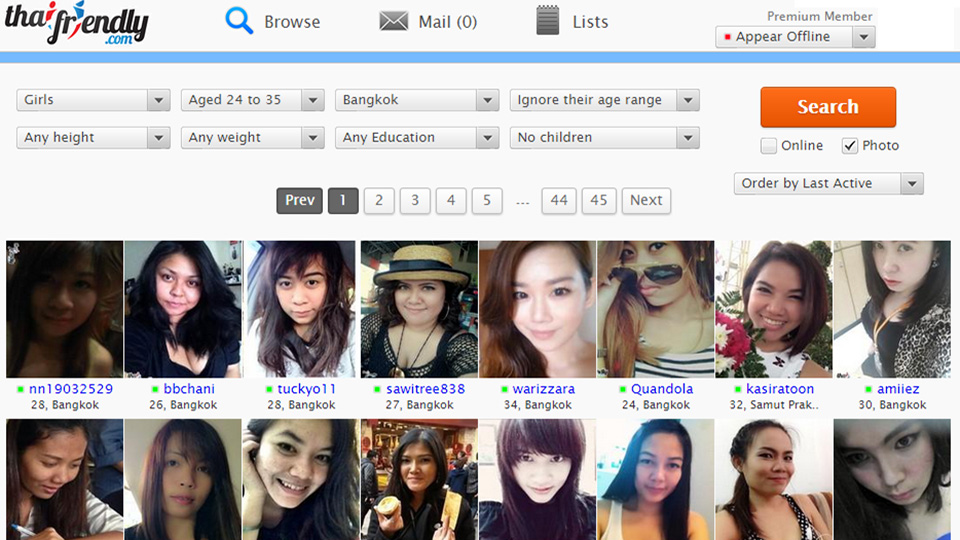 Amongst my social circle, 'thaifriendly' has gotten somewhat of a reputation of being a site where you can get girls pretty easily. I used it with consistent success for around 3 years, and went as far as purchasing a 1 year premium membership (which allows unlimited messages without the 10 minute waiting time between messages of a free membership). If you are new to Thailand, I highly recommend getting on Thaifriendly so you can properly scope out your options and get your bearings in the dating scene. Some words of advice are don't be too trusting of the women there, and don't try and find anything serious there, because just like you, the women are also mostly interested in 'friends with benefits'. Enjoy yourself and have fun, and for more serious dating keep reading on.
For a niche market of Thai women that don't have much experience meeting foreigners
Beetalk: Beetalk is an app available on both IOS and Android
Beetalk is a Thai app; pretty much created by Thai people for Thai people. As such, you will find the English level of the women there to be quite low, which gives a chance for you to practice your Thai phrases. The benefits of it being a 'Thai app' is that there are very few foreigners that use it, which will give you an advantage (notably less competition), as well as introduce you to 'normal' Thai women who have most likely never dated a westerner before. If you're new to Thailand that might not seem like a big deal, but after you've been here a while, you will realize that the less experience the women has with westerners the better! This is the app to use to find a more 'traditional' girl, which may present you with some culture clash, but may also be one of your best bets to finding a compatible long-term partner if you are a 'traditional' minded person yourself who appreciates when the girl takes care of the guy.
For Serious Relationships with educated women
OkCupid: www.okcupid.com
OkCupid is another international dating site that is being widely utilized in Thailand. The focus here is much less on hooking up, and more on dating and finding relationships. There are a number of expats that use it, so if you want to meet other foreigners for long-term dating, then it's probably a good site for you. However, the biggest demographic that use the site are educated Thai women who are 25 and above. Many have studied abroad and unlike the crowd you will find on 'Beetalk', speak English very well. As a result, you will find many of the Thai women are more 'westernized' and have busy careers, which is great news for a modern-minded person. You can expect to meet a woman that wants to split the bill with you, and if you do get in a relationship, wants to divide up the chores. For many foreign men in Thailand, this is why we left our western countries, but for others, there is no other way it should be.
Related Posts: